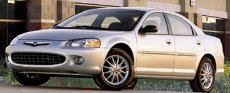 Back in 1996, the Cirrus surprised us by bringing European-style handling and space efficiency never found in other American cars. The latter was achieved by the first "Cab-forward" design in the industry. 5 years gone, I expect more to come from the new Sebring, the successor of the Cirrus. However, it seems that I have been too optimistic.

The first to disappoint me is the styling. Not only uncharacteristic, it still employ the organic theme that was fashionable 10 years ago but has been discarded by most other car makers now. Then I found it's a big car indeed but can't quite match its predecessor for space efficiency. Boosting a long wheelbase of 2743 mm, or 28 mm in excess of the American Honda Accord - the benchmark over there, and a very American-style length of 4844 mm, its cabin space still lags behind the Accord and the new Ford Mondeo. It's not cramped (neither are any other American cars), but could feel a bit tight for seating 5 tall adults in comfort.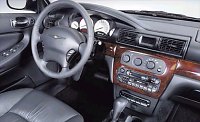 The cockpit is trimmed with cheap-looking plastics and fake wood assembled in traditional Chrysler way - large tolerance in assembly gaps. The design of dashboard and center console is boring, actually without any styling to talk about, although controls are simple to use. On the positive side, the front seats are supportive and sound-deadening is well executed to provide a quiet environment.
Sadly, unlike its predecessor, the chassis is tuned for comfort - that means soft suspension setting and light steering. There's a lot of roll into corner at speed, accompany with low grip and severe understeer, the Sebring is obviously not a car driving enthusiasts would opt for. The over-assisted steering has no much feedback.
Power comes from either a 150 hp 2.4-litre four-pot or a 2.7-litre V6 boosting a full 200 hp output, both are already using in other models. The V6 is only equipped with 4-speed AutoStick automatic whose gearchange is not as slick as GM's opponent. Downshift in manual mode could be slow, once again devoid of any driving pleasure.
Burdening by 1515 kg, even the V6 model can barely reach 60 mph in 9-point-something seconds. The four-pot model with manual transmission isn't much slower but the engine is rough and unwilling at high rev.
So it is rather disappointing to know that the new Sebring has not been built on the strength of Cirrus but has gone back to the old American school. In home country, I think it will be struggling to survive among Accord, Camry and Passat. Chrysler will sell it in European mainland as well, but I guess it will be just another flop the company has experienced.