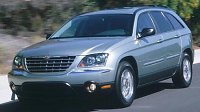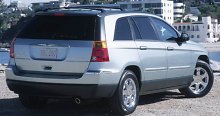 Following Crossfire, Chrysler Pacifica is another product engineered mostly by Mercedes-Benz in Germany. Such product development strategy helps improving the quality of Chrysler products while reducing cost through sharing components with its mother company. As long as the cars are good and reasonably priced, customers don't care where the car is engineered.

The Pacifica is developed by the same team who is currently engineering the Mercedes R-class. This imply that both cars share the same architecture, such as the front MacPherson strut and rear 5-link suspensions, the latter is taken from Mercedes E-class. Engine and transmission, however, come from Detroit. It is powered by Chrysler 300M's 3.5-litre V6, good for 250hp and 250lbft, and drive through the familiar 4-speed automatic with "AutoStick" manual-override function.

Both Pacifica and Mercedes R-class are cross-over vehicle - half-SUV, half-wagon. DaimlerChrysler believe car buyers love the high driving position and security feel of SUV but also the ride and handling of regular cars. Thanks to the high-spec suspensions, the Pacifica really rides as smooth as a regular sedan. It also controls body movement pretty tidily, but the limiting factor is the hefty kerb weight of 2120kg, actually matching a real SUV. 5-meter length and 2-meter width also make it feel bulkier than a regular sedan. Off-road handling matches the like of BMW X5 and Volvo XC90 in most conditions, thanks to a simple but effective viscous-coupling 4WD system.

With 2.1 ton to pull, the 3.5 V6 feels short of power. 0-60mph takes an estimated 9.5 seconds, very slow indeed. The Chrysler V6 is not renowned for refinement, but in this application it needs to rev higher thus noise problem is particularly serious.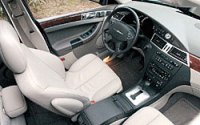 The interior of Pacifica meets almost the standard of Mercedes-Benz (admittedly, this is partly because Mercedes' own standard has dropped a lot in the past few years). In fact, the Pacifica uses many Mercedes components, such as the seat adjustment control mounted on the doors. Plastic material is the best we have seen in a Chrysler. Fit and finish is very good. This is the biggest surprise of the car.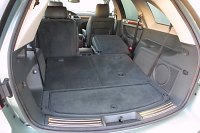 The interior is big, but it offers just 6 seats, not very efficient for a car so big and heavy. The 6 seats are distributed evenly in 3 rows. The first 2 rows have plenty of head, leg and shoulder room. The 3rd row has limited legroom thus is more suitable for short passengers or children. The last 2 rows can fold flat onto the floor to load cargo. However, no matter cargo-carrying capacity or the flexibility of seating cannot match a real MPV, not even Volvo XC90. For example, if you need to take 5 people, one of them has to tolerate the cramped last row. If you need to take some more luggage than the limited cargo space in the 6-seat configuration, you must fold down the third row and then you get only 4 seats left. In contrast, XC90 and all MPVs offer the more useful 2+3+2 configuration.

Pacifica is not a bad car, but if it could be lighter, faster, quieter, more efficient and more flexible, it would have won our love. It is just not good enough.