Chrysler PT Cruiser

Debut: 2000
Maker: Chrysler
Predecessor: no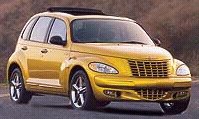 This is the third Chrysler production car developed from a retro-style concept car. The first is Viper, then Prowler. Both of them are just low volume sports cars. In contrast, the PT Cruiser is intended to be produced 100,000 units annually in Mexico. It'll also be exported to Europe as well as right-hand-drive markets. Without the success of New Beetle, Chrysler might not have dared to make a high volume retro car. However, compare with the Beetle, PT Cruiser seems even more retro, American said it reminds them the "hot rod" of the 30's while Englishmen said it looks like their London Taxi.

Unlike the Beetle, PT Cruiser is more than a life-style vehicle. It is simply a retro version of Renault Scenic mini MPV. From the 5-doors hatchback design you'll know it doesn't think in traditional American way. Instead of seeking room from length, width and wheelbase, it follows European and Japanese way to raise the roof, at 1600mm it equals Scenic's. The exaggerate high roof allows more upright chairs to be used thus benefit leg room front and rear. Because of the excessive head room, the rear passengers sit higher than the front thus see clearly the scenery in front. Like Scenic, the chairs can be folded or detached to form different configuration, from 1-seater to 5-seater, or provides a large loading area, or provides a small table. There is also a slidable shelf at the cargo area.

However, we can't conclude that it has a brilliant packaging. Like the Beetle, a retro shape usually works in conflict with space efficiency. As every cars before the WWII has extended wheel arches, the designer (a young guy just graduated from art college) also gave it these things. As a result, the effective width of the cabin is far smaller than the track and body width suggest, hence limited shoulder room and prevent the 5th passenger from sitting comfortably, especially is PT is already narrower than the Scenic by 14mm. Therefore when the Scenic has 3 independent, detachable rear seats, the PT can just offer a 65 / 35 split rear seat.

Another problem of being retro is the lost of "cab-forward" design. The windscreen is rather near the driver. Moreover, the front of the car is rather long by today's standard, thus explain why PT is longer than Scenic by 154mm. The wheelbase is also 36mm longer.

The third problem is that the triangular shape of the engine compartment prevent a V6 from installing into. Therefore the engine line-up is limited to Neon's 2.0-litre sohc 16V (132hp) and Stratus / Voyager's 2.4-litre 16V (150hp / 167lbft). European version may be offered with Euro Neon's 1.8 unit or a 1.6-litre produced in the joint venture with BMW in Brazil.

Many components share with Neon (the development cost is just fraction of the latter), including the aforementioned engine, the 5-speed manual box and the front MacPherson suspension. Because the need of a large cargo space without obstructed by the rear suspension, a new torsion beam design is used instead of Neon's strut. This is very common for European hatchback but not so in the States. A four speed automatic is carried over from the existing parts bin accompany with the 2.4 engine.

The cabin is covered with cheap plastic that rarely seen anymore in Europe but not in the States, especially is in Chrysler's showroom. Quality of assemble falls behind competition. Dash and controls are simple and function-bias, but it seems lack of any more sophisticated gadgets, say, satellite navigation. Well, I know this is the United States, but at least there must be a place reserved for the installation of such equipment for the overseas market. For those who've seen Fiat Multipla and New Beetle, the cabin of PT seems lack of design and color.

On the road

Surprisingly, PT Cruiser handles and rides competently. Despite of the 1.6-meter height, it stays flat at corners and overcomes twisty roads fluently. Steering feels meaty and direct. Gearshift is quick and precise. Braking is fade-free, with a progressive feel at the pedal.

Ride quality is equally impressive - smooth, quiet and composed. Few American cars deliver such an enjoyable driving experience. Not even the Neon on which it is based. Here, the new rear suspension and European-style tuning must be appreciated.
The above report was last updated on 1 Mar 2000. All Rights Reserved.
PT Cruiser Turbo

The turbocharged version of PT Cruiser is a wolf in sheep's skin. Under the bonnet is the same powerful engine as Neon SRT-4: it has 2.4 litres of capacity and a turbocharger to produce 215hp. Even though with a class-topping kerb weight of over 1500kg, even with 4-speed automatic gearbox, the PT Turbo is still able to knock 60mph in 7.2 seconds, thanks to 245 pound-feet of torque.
Externally, you won't guess this level of performance. The PT Cruiser Turbo does not differ from its lesser models. There is no additional aero kits, no big intakes, no pronounced wheelarches etc. Funniest of all, the PT looks like a London taxi.
In terms of handling, you can't expect much excitement from its heavy, high-center-of-gravity chassis. Although the PT is a hatchback, its hot version is not exactly a hot hatch. It won't turn into corners as agile as a proper hot hatch. It won't resist body movement as well. It won't stop as quick too. Chrysler is sensible to keep its suspensions setup and tyres not overly aggressive. This means the PT Cruiser Turbo rides better than most hot hatches, especially on bumpy roads.
See it as a warm hatch - a quicker version of the PT Cruiser - and you will see the PT Turbo make sense. It has the same practicality of the PT, such as spacious cabin and flexible cargo carrying space that runs close to a mini MPV. On the top of that are easy-to-access performance and decent cruising comfort.
The above report was last updated on 18 Feb 2003. All Rights Reserved.