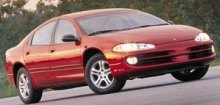 Chrysler's highly-hoped big-size sedan has already launched in the late 1997. As usual, it is the biggest family sedan in the market, offering class-leading cabin room and boot space under a very competitive price. Look at the external dimensions : Length : 203.7in, Width : 74.7in, Wheelbase : 113in, it is as big as Cadillac Seville ! No wonder the swoopy roof line can hardly hurt its interior space. Is there any drawback ? Yes, weighing at 1600kg, it feels slower than its Japanese competitors.

The model featuring in here is the Dodge Intrepid. Like its predecessor, Dodge Intrepid emphasis sports car styling. Sleek nose, tilt windscreen, swoopy roof....its look delivers a sports car feeling that it actually does not has.

New engine is the biggest improvement. Both 2.7 litres and 3.2 litres V6 are made of aluminium alloy, the former employs double overhead camshafts so that good for 200hp / 190lbft, the latter remains sohc but a variable-resonnance intake manifold and longer stroke enables 225hp / 225lbft. The 2.7 revolves and sounds eagerly, mainly because of shorter stroke and dohc, but it lacks sufficient torque to match with the heavy body. Therefore the 3.2 suits the car better. No matter which one, "AutoStick" 4 speed semi-automatic is optional.
Although chassis has been strengthened and suspensions has been improved, Intrepid still handles averagely. Excessive weight and dimensions handicap its dynamic. What about refinement ? Ride is OK, sound-insulation is good, build quality lags behind Japanese rivals. Worst of all - Chrysler used to be well known for reliability problems, although the new Intrepid is still unknown, buyers should take the risk into account.