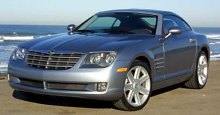 Designed in America, named as a Chrysler, but engineered by Mercedes and assembled in Germany by Karmann. Is it an American car, or a German car, or an American-German car? Chrysler admitted it is developed base on Mercedes SLK and employed 39% Mercedes components, so, is that meaning the remaining 61% content is American, like some American magazines said? No. With a bit common sense and a bit understanding about how car industry work, you will know the non-Mercedes parts are either made by Karmann itself or supplied by mostly European suppliers. Crossfire is strictly a German car.

The concept was born in 2001 Detroit Motor Show, well received by the public thus immediately got greenlight for production. The stunning look of Crossfire was penned by Andrew Dyson in America. It follows Tom Gale's school of radical, emotional yet retro styling theme which brought Viper, Prowler and PT Cruiser straight into production. However, the Crossfire's shape is more practical, less nonsense for production than the aforementioned cars. Under the hands of German engineers, it was further rationalised. Anyway, this is still one of the most stunning-looking production car you can see on the road.

To save money and cut development time, Crossfire is built on the Mercedes SLK floorpan. This seems not very promising, because the SLK is now 7 years old and is to be replaced next year. The Chrysler version shares the same 2400mm wheelbase and is merely longer, wider and taller by a whisky. That guarantees the engineering work is relatively easy. However, one thing giving it an upper hand over the Mercedes sister car - its closed roof make the chassis a lot stiffer than the SLK.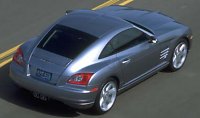 Sharing an old Mercedes platform is not necessarily a bad thing, you know, because Mercedes is Mercedes while Chrysler is just Chrysler. If it were by Chrysler itself, will the Crossfire get a rear-drive layout? or a lightweight 215hp 3.2-litre V6? what about a 6-speed gearbox and a world-class 5-speed automatic? will it get double wishbones front and multi-link rear suspensions? undoubtedly, most of the answers would have been "No" if it were done by Chrysler.
So, is it a coupe version of SLK? surprisingly, the Chrysler version is superior in dynamics. It is simply better than SLK320 in every way. For example, the V6's installation is better, smoother and generates sexier exhaust resonance. Suspensions make better use of the stiff chassis and provide a more compliant ride yet crisper body control. Even the traditionally dull recirculating-ball steering system now delivers plenty of feedback. Mercedes's engineers seemed save nothing for themselves and do all they know to improve every area of the SLK platform.
The down side? the Mercedes 3-valve V6 starts showing age now by the way it respond to throttle input. It is still smooth and delivers plenty of torque, but BMW and Audi build better 6-cylinder engines. Besides, brake feel is numb. However, the biggest flaw is the 6-speed manual gearbox. Like that in the Mercedes applications, shift action is rubbery. The 5-speed automatic is a much better choice.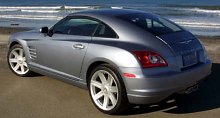 What will it rival with? Audi TT is most obvious, then there are BMW Z4, SLK itself and Nissan 350Z. As the Crossfire is built in Germany, actually in the same line where Karmann used to build SLK, it won't be as cheap as the Chrysler name suggest. Expect it to cost the same as the 225hp Audi TT in Europe. The good side is that build quality is German-grade.
Is it our cup of tea? I'm afraid not. The 1388kg Crossfire powered by a 215hp engine accelerates from 0-60mph in 6.5 seconds, far slower than Z4 3.0 (5.4 sec) and 350Z (5.4 sec) and edged out by Audi TT V6 (6.1 sec). Its engine is relatively civilised and performance is relatively relaxed. While handling is fine, you can't (or you won't) enjoy shifting gears by yourself. Moreover, beside a Mazda RX-8 it seems overpriced and not good enough.