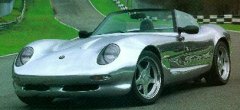 It is amazing that after 4 decades the Seven still provides remarkable handling and driving fun, however, its styling is by no means remarkable. To be fair, I should point out that Lotus was not really intended to "style" this car. Its look is pure functional. However, 4 decades is long enough. And it's time to facelift the Seven. As a result, Caterham re-enclosed the car with a beautiful composite body, aluminium honeycomb side impact protection and created the 21.

We cannot say 21 is the rebodied 7, but it is not far away. 21 is 90kg heavier than the 7, so acceleration would be slower, although the overwhelming smoother body would add another 15mph. Even though it accelerate slower than the 7, its 0-60mph time 5.9sec is still outstanding enough to compete with Lotus Elise. While the Elise has better handling, Caterham's self-built 6-speed box strikes back convincingly.

In terms of comfort, 21 has improved a lot over the 7. It has radio, windows (though not winding windows - you have to take it off to have some fresh air), an all-weather soft roof and comfortable seats. Driver and passenger also get more shoulder room and leg room. However, it still lags behind the competition, since 7 is too bad in this respect.