| | |
| --- | --- |
| Published in 1998 | All rights reserved. |

Launched in 1957, Seven was the first road-going Lotus. Although Lotus has officially ceased its production in 1973, the production right was succeeded by Caterham and it is still in production now and even at a rate of 1,000 per year. If you do not count the Brazilian built Beetle, Seven would be the oldest car you can buy.

In those days, its tubular steel spaceframe chassis was an advanced design, just like the aluminium chassis of Elise in today. As it is as light as 575kg, the Rover K-series engines can push the car from zero to 60mph in just 6sec. Top speed is let down by the poor aerodynamics, since its creator Colin Chapman was more concerned the acceleration and cornering stability.

Seven is a minimalist. It got no radio, no air-con, no glove box, no door and no roof. But the advantage is the optimal weight saving, which transfer to the super steering response and adjustability in corner. No car could provide more pure driving fun.

Verdict: not rated

| | |
| --- | --- |
| Published in 1998 | All rights reserved. |
7 Superlight R500



Imagine a car with 190hp, weighing at only 470kg, no roof, no windscreen, no equipment, exposed wheels....you might have been thinking a Formula 3 racing car, no, it is a road car, Caterham Superlight R.

Superlight R is almost a racing car, in fact, its theory is every bit the same as racing car. Power comes from the race-tuned Rover 1.8 litres K series 16 valves, with 190hp at nearly 8,000 rpm and 150lbft peak torque. This engine is so racy that it can't pass emission and noise regulations, so import to US is infeasible. In Europe, people can buy this car in kits form to avoid violating the law.

All panels are aluminium, without glass and soft roof so that the kerb weight is reduced to record low. This further improve the already excellent handling of the car, while 0-60 is also benefited - my estimation is 4 seconds flat.

Recently, Autocar magazine performed a test in Nurburgring track with this car against Porsche new 911 Carrera (300hp), Ruf 911 CTR2 (520hp) and Nissan Skyline GTR (280hp, 4wd, 4ws), the lap time is amazingly found as follows:
Caterham Superlight R .......... 8 min 6.2 sec
Ruf 911 CTR2 ....................... 8 min 15.0 sec
Nissan Skyline GTR .............. 8 min 28.1 sec
Porsche 911 Carrera ............. 8 min 38.4 sec

Benefited by the light weight and superbly balanced chassis, the Superlight R ran considerably faster than others in bends, although it lost a lot of time in fighting with drag in straights. Road tester found it handles very much better than others, it is virtually a racing car.

Nurburgring is usually regarded as the best place to test a car's real world performance - it has high speed straights as well as a hundred bends with different speeds. The Superlight R broke the track record for non-modified road car, so, maybe we can call it "the fastest car in the world". Hard to accept ? Ferrari F50, McLaren F1, Nismo Skyline 400R and Porsche 911 GT1 (this is really a racing car!) might be faster, but until they are tested in Nurburgring, the Caterham still remains to be the King.
Verdict: not rated

| | |
| --- | --- |
| Published on 29 Nov 1999 | All rights reserved. |
7 Superlight R500




Pressurized by arch-rival Westfield's FW400, Caterham has upgraded its racy Seven Superlight R into the R500, the name implies 500 horsepower per ton. Weighing in 460kg, the R500 is 10kg lighter than its predecessor but still yet to match the 400kg of the FW400, which has full-carbon fiber chassis instead of Caterham's traditional tubular space frame. However, modifications to the VHPD engine squeezed another 40hp, that makes a total of 230hp. No wonder in terms of power to weight ratio the Caterham beats the Westfield.

Weight saving is by means of lighter material used. In this aspect, magnesium is the best material to replace aluminium in engine sump and wheel hubs; Apart from the nose cone and wings, carbon fibre now spreads to the wind deflector (which is used instead of windscreen to further reduce weight), rear view mirrors, sill protectors, dashboard and bucket seats. The instrument reading is implemented by digital LCD like racing cars.

Then comes the power. The 190hp VHPD is already a Very High Performance Derivative of the Rover K-series (as its name implies). The 1.8-litre unit is now further enhanced by forged steel crankshaft and con-rods, Cosworth-made lightweight forged pistons, larger ports, higher lift camshafts and a touring-car-styled roller barrel throttle instead of conventional butterfly throttle. The roller barrel reduces pumping loss by its lack of air resistance. As a result, it pumps out 230hp at 8,600rpm and 155 lbft at 7,200rpm. Given sufficient run-in, it can spin to the 9,200rpm red line ! even more revvy and more efficient than Honda's mighty S2000. Admittedly, the Caterham complies with looser emission requirements because it falls into the low-volume type approval scheme.

It is a surprise to find that the R500's engine is more tractable than the Superlight R. Not just Caterham's boss said so but journalists also found so. At low speed it is not as difficult to drive as the R. At high speed it displays superior performance. Caterham sees this car as a true successor to the Seven JPE of 1992. If you don't remember, you are reminded that the mighty JPE was powered by a 250hp engine derived from Opel's 2-litre 16V, weighed 540kg and still holds the British 0-100mph-0 record of 12.41 seconds. To challenge the JPE's record, a perfect launch is require, so Caterham has given the R500 a traction control. Without the electronics, you had better to up shift with a lightening action, otherwise wheelspin will spoil the chance.

Although claimed to be capable of taking just 3.4 sec to 60mph, the roofless machine is primarily designed to eat bends on race tracks, so are its radial tyres. Extra care must be taken to prevent over press the throttle in low gear corners, as the surge of power will induce oversteer. Always remember it is a 500hp/ton supercar.

In late '99, it set a new lap record of Nurburgring in 7 min 55.21 sec, marginally faster than the previous record holder Porsche 911GT3.
Verdict: not rated

| | |
| --- | --- |
| Published on 10 May 2005 | All rights reserved. |
7 CSR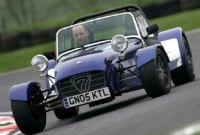 It has been more than 5 years since I last wrote about Caterham Seven, but compare with the 48 years history of the car, this is nothing. Unbelievably, almost half a century after Colin Chapman put the Seven into production, the car received its first thorough redesign.
Externally, the Seven CSR260 still looks like a classic Seven, but underneath the skin is a new story. Its tubular spaceframe chassis is derived from the previous wider body SV (which provides more room than traditional Seven), with 25% increase of torsional rigidity. All suspensions are new – the long-serving non-independent de-Dion rear axle is finally replaced with modern double-wishbone. It gives far better wheel control and ride quality, lifting both handling and ride. The front suspensions are also converted to double-wishbone, whose springs and dampers are moved to inboard, operated by pushrods, in order to improve aerodynamics.
You may notice the wheels are now much bigger and wider, almost like Formula 3 wheels. They grow by 2 inches in diameter to 15 inches, and wear 255/40 tires at the rear, compare to the 215/50 tires used in the previous Seven R500. These are half-slick tires developed specially by Avon.
In the past decade the Seven was powered by Rover K-series engines. In the previous
R500 Evo, the hottest K-series engine was so highly tuned that it could produce 250 horsepower from 2.0 litres of displacement. The downside was lack of mid-range torque and reliability. Because of this, Caterham turned to engine expert Cosworth for a new engine. (Coincidence or not, this also saved Caterham when MG Rover bankrupted.)
Unbelievably, the Cosworth 2.3-litre 16V engine was developed based on a Ford commercial van engine. However, virtually everything has been changed. It has bespoke cylinder head, intake manifolds and exhaust, valves, camshafts, pistons, forged connecting rods, aluminum block, dry sump lubrication...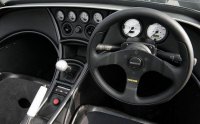 There are two stages of tune for the engine. The cheaper CSR200 produces 200 horsepower at 7000 rpm and 165 lbft at 5750 rpm. The hotter CSR260 has lightweight forged pistons and racing-style roller barrel throttle (which reduces air resistance) to produce 260 horsepower at 7500 rpm and 200 lbft of torque at 6200 rpm. Caterham says the CSR260 can sprint to 60 mph in 3.1 second, beating a McLaren F1. Its 155 mph top speed also sets new standard for the Seven.
On the road, the first thing you notice is how much more supple the CSR ride. Thanks to the extensive tuning work spent by Caterham, they found a perfect damping setting – on B-roads it rides even better than Lotus Elise. The independent double-wishbone suspensions have much longer travel and therefore absorb bumps with ease. They also keep the tires perpendicular to the road regardless of bumps, thus generate more grip and predictable handling at all conditions.
The CSR is 100kg heavier than R500 Evo, but at 570 kg it is still 300 kg lighter than a Lotus Elise 111R. No wonder it steers, accelerates and stops with incomparable responsiveness. The tiny steering wheel transmits streams of information in the same way as racing cars. This is not only the fastest, but also the best handling and best riding Caterham Seven ever produced. The only thing you have to consider is price: a factory built CSR260 costs £36,500. That almost matches a Porsche Boxster S.
Verdict: not rated

| | |
| --- | --- |
| Published on 17 May 2008 | All rights reserved. |
7 Superlight R500 (2008)



| | |
| --- | --- |
| | New R500 has many things mirroring the old one, including its ability to thrill its drivers... |
9 years ago Caterham produced the famous Superlight R500, a Seven with a power-to-weight ratio of 500hp per ton. It could beat any supercars of its days in racing tracks, no kidding. Time seems frozen for the following years. Today, what appears in front of us is again a Superlight R500, again with 500 horsepower per ton, virtually the same appearance and construction. In order to make it as light as possible, Caterham forgos the more modern CSR chassis and adopts the older Series 3 chassis, which has a narrower body, non-independent rear suspensions by means of de Dion axle and Watts link and smaller 13-inch wheels. In other words, everything sounds like the original R500.

What really distinguishes the new car is engine - a Caterham-tuned Ford Duratec 2.0-liter 16V engine. It is the best compromise between the old Rover K-Series 1.8 engine (whose power band was too peaky) and the CSR's long-stroke Duratec 2.3-liter engine (which is not that smooth and free-revving). Again, all the high-performance components - in particular roller barrel throttle bodies - contribute to very high efficiency. Max power is 263 hp at 8500 rpm, 30 up from the original R500. Max torque is 177 lb-ft at 7200 rpm, 22 up. There is much stronger mid-range torque so that the driver no longer needs to squeeze the engine so hard.

Partly due to the heavier engine, the new R500 is 46 kg heavier than the old car. However, at 506 kg it is still comfortably lighter than CSR, let alone any other sports cars on the market. Like CSR, it employs carbon-fiber nose cone, wings and dashboard. Seats are made of Kelvar. Thinner gauge aluminum body panels complete the lightweight package.

Due to the lack of aerodynamic consideration, the R500 could top only 150 mph on highway. However, on twisty roads I can't think of any cars capable of beating it. Should you work hard, it will accelerate from rest to 60 mph in 2.88 seconds. Through bends, its superiority is even more obvious. Low center of gravity, racing-style adjustable suspensions, semi-slick Avon CR500 rubbers and strong braking contribute to immense cornering prowess. Its lightness and agility translate to incomparable speed and driving excitement. I am glad that the new R500 not only shares the same looks and power-to-weight figure with the old car, but also the same talent to thrill its drivers.
Verdict: not rated

| | |
| --- | --- |
| Published on 6 Nov 2014 | All rights reserved. |
Seven 620R




6 years have gone since my last take on the Caterham Seven. While many other cars could complete the whole lifespan in the same period, the Caterham changed little – in fact, it has not changed much since its birth 57 years ago as Lotus Seven. However, in recent years it faces serious threat from Ariel Atom, a new flyweight road-legal track car which is not only far more modern in design and technology but also better to drive. Caterham knew it has to respond quickly. In late 2013, it replaced the long-serving Superlight R500 with this new 620R.

The 620R is not going to rewrite the formulas. In fact, it looks remarkably close to the last R500, with the chief difference lies on an additional nose intake. This intake draws more fresh air to cool the now supercharged engine. Based on the R500's 2.0-liter Ford Duratec 16V, a centrifugal supercharger is bolted on to boost its output from 263 to 310 horsepower at 7700 rpm. Maximum torque is lifted from 177 to 219 pound-foot, and it arrives at a high 7350 rpm. Such a peaky manner is no surprise to me, because a centrifugal supercharger delivers its best at high rev. To a flyweight machine with limited traction, the linear or even peaky power delivery is actually a good thing, allowing the driver to manage the power more easily. The 620R tips the scale at 545 kg, which returns a power-to-weight ratio of 569 hp per ton. Although it doesn't quite meet the target of 620 hp/ton, it is still higher than many supercars.

Another important change is the use of a sequential gearbox with 6 forward ratios. Although the gearshift is accompanied with crashy noises, skipping clutch action makes acceleration so much more seamless and lightning quick, taking full use of its enormous power-to-weight ratio. How fast is it then? Caterham claims 0-60 mph is achieved in 2.79 seconds. If you can find a high-grip track and manage the start-up traction skillfully – there is neither traction control nor launch control on this classic – you could find it even quicker. Only a handful of supercars could beat it for up to 100 mph. Even fewer could dare to race against it around a twisty race track – the tighter the turns, the more likely the Caterham can excel. Its wide-track double-wishbone front suspensions and de Dion rear axle might be no different from the R500, but the new semi-slick Avon ZZR rubbers shod around the magnesium wheels afford even more grip.

Ultimately, the Caterham is still more difficult to handle than Ariel Atom. Its front-engined layout means less traction to rely on, and the old-fashioned rear axle fails to offer optimized grip on bumps. Its steering is very quick at just 1.93 turns lock-to-lock, but it is also very hefty. Other controls are equally physical, although they deliver race-car-like direct feel. Used as a road car, the 620R is a joke. Lacking any weather protection or even a windscreen, you have to wear a helmet and have yourself exposed in frenetic wind and noises – especially that crazy exhaust bark. The suspension is hard for typical British B-roads. It feels more at home on race tracks. After all, this is primarily a race car. Making it road-legal just allows you to drive it straight from home to tracks.

Verdict: not rated










Seven Superlight R500



1999

Front-engined, RWD

Tubular steel spaceframe

Aluminum, carbon-fiber

3380 / 1575 / ? mm
2225 mm
Inline-4
1796 cc
DOHC 16 valves

-
-
230 hp / 8600 rpm

155 lbft / 7200 rpm

6-speed manual

F: strut
R: de Dion axle + Watts link

-
F: 185/55R13
R: 215/50R13

460 kg

145 mph (est)

3.4*

8.1*


Seven CSR 260



2005

Front-engined, RWD

Tubular steel spaceframe

Aluminum, carbon-fiber

3300 / 1685 / 1140 mm
2315 mm
Inline-4
2261 cc
DOHC 16 valves

-
-
260 hp / 7500 rpm

200 lbft / 6200 rpm

6-speed manual

All: double-wishbones


-
F: 195/45R15
R: 255/40R15

570 kg

155 mph (c)

3.1 (c) / 3.3*

7.6*


Seven Superlight R500



2008

Front-engined, RWD

Tubular steel spaceframe

Aluminum, carbon-fiber

3300 / 1575 / 800 mm
2225 mm
Inline-4
1999 cc
DOHC 16 valves

-
-
263 hp / 8500 rpm

177 lbft / 7200 rpm

6-speed manual

F: double-wishbone
R: de Dion axle + Watts link

-
F: 175/55R13
R: 205/55R13

506 kg

150 mph (c)

2.9 (c)

-










Performance tested by: *Autocar










Seven 620R



2013

Front-engined, RWD

Tubular steel spaceframe

Aluminum, carbon-fiber

3300 / 1575 / 800 mm
2225 mm
Inline-4
1999 cc
DOHC 16 valves

Supercharger
-
310 hp / 7700 rpm

219 lbft / 7350 rpm

6-speed sequential

F: double-wishbone
R: de Dion axle + Watts link

-
F: 185/55R13
R: 215/55R13

545 kg

155 mph (c)

2.8 (c)

-










Performance tested by: -









Copyright© 1997-2014 by Mark Wan @ AutoZine