Bugatti Veyron EB16.4

Debut: 2005
Maker: Bugatti
Predecessor: EB110


Ferdinand Piech – the Father of EB16.4

All ambitious emperors want to leave their names in history by doing great things. They built great castles, great walls, statues, towers… During the 1990s, Volkswagen boss Ferdinand Piech was the Cesar of European automotive industry. His power reached the peak in the late 90s, when he bought Bentley, Lamborghini and Bugatti in a row to form a formidable empire together with VW, Audi, Seat and Skoda. By then he was approaching retirement, therefore, he wanted to create a really wonderful car as a conclusion to his life-time achievement. What could be better than creating the fastest and the most powerful road car ever appeared on the planet? The story of Bugatti EB16.4 started there.

When everybody thought difficult to break the 240.1 mph record set by McLaren F1, Ferdinand Piech set his sight further: he wanted a full 1000 horsepower to realize 252 mph (406 kph). He knew that would not be easy to achieve, but his engineering experience told him it is possible.... Born as the nephew of Ferry Porsche, Ferdinand Piech is a car guy in blood as well as a great automotive engineer. During the years as Porsche's engineering chief, he created the most powerful racing car in history, Porsche 917/30 Can Am. That car produced 1100 horsepower reliably and reached 240 mph consistently in racing. No one else know more about power and speed than him. Later, he joined Audi and headed the engineering department. During that period he created another masterpiece – the Quattro 4-wheel-drive system. Incidental or not, 4-wheel-drive and 1000 horsepower turbocharged engine are exactly the two technologies that realize the Bugatti EB16.4...

When Piech promoted to the top position of Volkswagen group in 1993, he started realizing his pursuit of engineering excellence at a larger scale. He financed the sophisticated W engines program, which eventually formed the powerplant of EB16.4. But the most ambitious move was his purchase of Bentley, Lamborghini and Bugatti in 1998. He had big plans for Bentley and Lamborghini to broaden their market positioning and multiply sales volume. Now we know both purchases are highly successful. The question mark lies in Bugatti. Bugatti went burst in 1995. Piech bought only the right of the brand name rather than the assets left from the EB110 era. He wanted to position Bugatti above Lamborghini and Bentley to be the group's top brand, producing the rarest, fastest and the most expensive cars in the world. One can easily see it won't make money for Volkswagen group. Apparently, the investment in Bugatti was not driven by commercial reasons but the passion of Ferdinand Piech: he wanted the marque to realize his dream of creating the 1000 horsepower supercar.



The long long road to 252.95 mph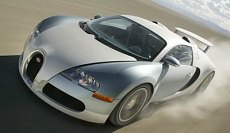 In the beginning, the development program went smoothly. When Piech unveiled the EB16.4 prototype in Frankfurt motor show 2001, the car was almost production ready – its design was already finalized, as were the 1001 hp W16 engine, the 7-speed DSG gearbox and the 4-wheel-drive system. Delivery was planned at early 2003. Unfortunately, the following testing found the car had serious overheating and handling problems. Although the engine had no problem to deliver 1000 horsepower on test bench, Volkswagen's engineers underestimated the difficulties to cool it in the car and handle the tremendous torque it generated. The delivery date delayed again and again to the point that people started speculating it could be simply canceled. The situation went so bad that Volkswagen eventually replaced the Bugatti boss and chief engineer. Then all problems were examined again and tackled one by one....

In Feb 2005, McLaren F1's long-standing speed record was finally broken – not by Bugatti, but by Koenigsegg CCR. The new record was 241.0 mph, just marginally better than the McLaren's old record. However, Koenigsegg's celebration party didn't last long. In May, Bugatti finally got ready. A production spec. EB16.4 set 248.5 mph (400 kph) in Volkswagen's Ehra-Leissen test track. By August, the car was finally available in Bugatti's showroom. At the same time, the speed record was raised again to 252.95 mph (407 kph). Piech's promise finally came true, although it came two and a half years late.



The 1001 horsepower engine



Veyron EB16.4 is named after Pierre Veyron, a famed Bugatti racing driver who won Le Mans in 1939. EB is short-write of Bugatti founder Ettore Bugatti, while 16 is the number of cylinders and 4 is the turbochargers count. From its name you can already see how potent the car is.

Unquestionably, the highlight of the car is the W16 engine. It produces an incredible 1001 horsepower at 6000 rpm and 922 lbft of torque at 2200-5500 rpm. This is the first time a road car engine exceeds the magic 1000 horsepower mark. It has nearly 400 more horsepower than McLaren F1 and 200 horsepower more than Koenigsegg CCR claimed. Even compare with racing cars, it can easily beat all the current generation racing cars – F1 and endurance sportscars included !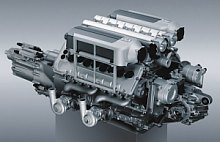 How can it generate so much power? The answer is a combination of large capacity and turbocharging. While McLaren F1 relied on a 6064cc V12 engine, the Bugatti has 7993 cc evenly distributed in 16 cylinders. A total of 64 valves are driven by 4 camshafts, each of them has infinitely variable cam phasing. That alone would have been impressive for any supercars, but Bugatti was not content. It added 4 turbochargers boosting a maximum 1.1 bar. Yes, the last time we heard about quad-turbo was from another Bugatti – EB110. You might remember that car was quite laggy because its V12 displaced only 3.5 litres. In contrast, the new Bugatti's 8 litres exhaust gas should feed the four turbochargers perfectly. Moreover, the turbochargers have variable geometry exhaust vanes to ensure they speed up more quickly.

The W16 engine has square combustion chambers each measuring 86 mm bore and 86 mm stroke. Compression ratio is 9.3:1, unusually high for a turbocharged engine. This is made possible by Volkswagen's FSI direct injection system, whose direct fuel spray helps cooling the combustion chambers thus improving knock resistance. It goes without saying that higher compression ratio leads to higher power.

Undoubtedly, the W16 engine is an engineering achievement. Apart from super powerful, it is also very compact. Basically, it is constructed by a pair of narrow angle (15°) VR8 connected to a common crankshaft at 90°. It is therefore shorter than a conventional V12, measuring just 710 mm in length. This allows the engine to be positioned closer to the center of the car.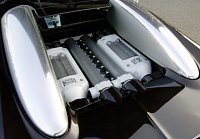 However, concentrating 8 litres displacement, 16 cylinders, 64 valves, 4 turbochargers, full variable valve timing and a high compression ratio into such a small package result in a lot of heat, just like the increasingly smaller yet faster computer chips. In fact, fighting against overheating was one of the most problematic issues during the development of EB16.4. Eventually, the W16 ended up with a 4-stage lubrication system, 2 big intercoolers and a total of 5 radiators, 3 located at the nose and 2 at either side of the engine. Besides, the engine cut-out is set at 6300 rpm.

Weight is another drawback. The engine and gearbox combined weighs an astonishing 650 kilograms, about twice the weight of other supercar powertrains.



First class drivetrain, traction and brakes



Like the engine, the gearbox of EB16.4 is also an engineering achievement. As no current gearbox can cope with 922 lbft of torque - not even in motorsport, Volkswagen asked British gearbox specialist Ricardo to design a dedicated heavy duty transmission. Not only capable to handle the tremendous torque, this gearbox has 7 speeds and Volkswagen's renowned DSG shift mechanism. It uses double clutches to pre-select the next gear so that the gearshift is seamless and responsive. It also provides a full automatic mode for lazy billionaires.

The gearbox locates in front of the engine and slots inside the transmission tunnel between the driver and passenger, just like Lamborghini Countach / Diablo / Murcielago to benefit weight distribution. The drive is then divided by a Haldex electronic-controlled multi-plate clutch (like Audi TT), normally 30 percent towards the front wheels and 70 percent passing backward through the engine to the rear wheels. Of course, in case of wheel spin, the Haldex clutch can send more torque towards the axle with more traction. For a car possessing one thousand horsepower, 4-wheel-drive is a must. The same goes for traction control, ABS and stability control. The Bugatti has all these things.

As no existing tires can withstand up to 400 kph, Michelin developed a set of Pilot Sport PAX run flat tires specially for the Bugatti. They measures 265-680ZR500 up front and 365-710ZR540 at the rear wheels, which roughly translate to 265/35ZR20 and 365/25ZR21 respectively. The rear tires are the widest ever produced for a passenger car.

The brakes are also no ordinary things. Similar to Ferrari Enzo's, they are supplied by Italian brake specialist Brembo and employs carbon ceramic discs to ensure superior stopping power and free of brake fade under hard use.



Chassis and aerodynamics





Unsurprisingly, carbon-fiber is the main material for the chassis and body. Most of the body panels are made of carbon-fiber except two parts: the shape of front wings is too complex to be fabricated in carbon-fiber, so they are made of aluminum sheets instead; Besides, the doors are also aluminum because Bugatti regards carbon-fiber doors sound too hollow when closing, not matching the quality feel they want to deliver.

The chassis construction is similar to Ferrari Enzo: a carbon-fiber monocoque houses the cockpit and works as a load bearing for the front and rear aluminum frames. Then the frames attach to double-wishbones suspension at each corner. The suspensions have a hydraulic system incorporated for adjusting ride height. This is very crucial for the high-speed stability and aerodynamics of the car. The ride height varies in 3 stages automatically according to speed (although the driver can also select each of them manually):

Below 220 kph (137 mph), the car has a standard 125 mm of ground clearance.


From 220 kph (137 mph) to 375 kph (233 mph), the ride height drops to 80 mm at the front and 95 mm at the rear. This not only lowers the center of gravity, but the inclined body also generates more downforce. In addition, the rear spoiler pops up from the body and its angle varies between 6 degrees and 26 degrees according to speed. In this so-called "downforce mode", the Bugatti can generate up to 350 kg downforce, although the drag coefficient increases from 0.39 to 0.42.


Normally the EB16.4 is electronically limited to 233 mph for the safety of its owner. To realize the promised top speed of 252 mph, the owners need to take their EB16.4 to Volkswagen's Ehra-Leissen test track. After a safety check, Bugatti will insert a second key to its dashboard to turn on the "top speed mode". In this way, the ride height drops further to 65 mm front and 70 mm rear, the front diffuser closes and the rear spoiler scale back to 2 degrees only. As a result, drag coefficient lowers to 0.36, allowing the Bugatti to exploit the remaining 20 mph.
The question is how to stop the car from top speed. Apart from the aforementioned carbon ceramic brakes, the Bugatti also learnt from Gordon Murray's McLaren F1 and Mercedes SLR to adopt "air brake" - the rear spoiler pop up and raised at maximum angle during deceleration, using its aerodynamic drag to slow down the car more quickly while pressing the car firmly on the ground to make better use of the brakes.



Best technologies, highest price and heaviest weight



As seen, whenever a technology helps realizing the performance, Bugatti would adopt it regardless of cost. Although it has no much innovations or ground-breaking ideas, Bugatti EB16.4 is definitely the world's most technological complicated car ever made. Naturally, it is also the most expensive supercar ever made, selling at 1 million Euro excluding tax. That's twice the price of Ferrari Enzo ! Bugatti wants to build 300 cars in 6 years, but so far only 41 paid orders have been received...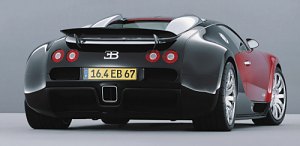 Another price it paid is weight - a dry EB16.4 already weighs 1888 kg, add engine fluid and fill its 100-litre fuel tank to 90 percent full (as DIN kerb weight counts) will take it close to 2 tons ! comparing with the 1138 kg McLaren F1 and 1365 kg Ferrari Enzo, the Bugatti seems like coming from another planet !

Use a calculator and you will be surprised that its power-to-weight ratio is actually lower than McLaren F1, then followed very closely by Ferrari Enzo. This doesn't affect its advantage in top speed (which concerns about power and drag) and straight line acceleration (because it has overwhelming advantage in torque and traction), but when all three cars are put in the same racing circuit, which one will return the quickest lap time ? the answer is not so clear.

Think deeper, if we race them in the circuit for 60 laps, do you think the heavyweight Bugatti would finish home first without suffering from brake failure, overheating of various kinds, crash or losing too much time in refilling its thirsty quad-turbo W16 ?

Sure, Bugatti said this car was not designed for racing, unlike McLaren F1 (which was a consistent FIA GT winner), Ferrari Enzo (no one will doubt its racing genes) and Porsche Carrera GT (the record holder of Nurburgring lap time at 7min 32sec). Most strange is: although the Bugatti was seen testing in Nurburgring for 2 years, no lap time was ever revealed. The only scene spy photographers saw was one test car crashed and smoke emitted from other cars. If Bugatti really want to prove it is the fastest car in the world -

in the real world

, then it should set a new record at Nurburgring.



Design and Cabin



The Bugatti has a supercar shape, being low, very wide (at exactly 2 meters) and muscular. But unlike McLaren F1, its design is not instantly beautiful. To link with the marque's glorious history and avoid being seen as a Volkswagen product, its designers deliberately inject the classic / romantic theme of Bugatti Type 57SC into the modern mid-engined body. This include a Bugatti trademark grille and two-tone color scheme. However, every time I see its pictures I can't help thinking a big cockroach (that dirty insect !). Try to imagine if the car is ordered in black and brown color scheme… oh…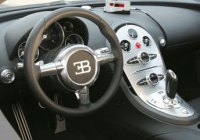 The interior is much better. While most other supercars emphasis on lightweight materials, the most powerful car in the world can afford a luxuriously decorated cabin. This is an environment fully trimmed with leather, Alcantara and milled aluminum. And they are mixed and matched in a tasteful way. As you expect from the company which builds Volkswagen Phaeton, Audi A8 and Bentley Continental Flying Spur, the build quality of the Bugatti cabin is superb. Everything is carefully crafted. What it lost in exterior design has been regained in the cabin.

Like other supercars, its carbon-fiber monocoque has a high and wide sill to block access. Once you sat in the leather-trimmed carbon-fiber bucket seats, you will find it can only manually adjust for fore and art and seatback angle. Likewise, the steering wheel requires manual adjustment. There is plenty of headroom in the cabin, but like many old generation supercars, visibility is very poor, blame to the thick A-pillars and the lack of rear quarter windows. Basically, you cannot see all four corners, thus parking in tight space will require the 6th sense.



On the Road



So, how does it drive on the road?



The most impressive is how fast it accelerate. The Bugatti can accelerate from standstill to 100 kph in 2.5 seconds. That translate to 0-60 mph in 2.46 seconds. For reference, the previous record holder McLaren F1 did that in 3.2 seconds. No match at all. Here, the Bugatti's superior torque (922 lbft at 2200 rpm versus 479 lbft at 5600 rpm), 4-wheel-drive traction and wider tires are the decisive factors.

Roll on, the gap between the new and old record holder widens even further. The Bugatti takes 7.3 seconds to reach 200 kph (124 mph), while McLaren needed about 9.6 seconds. The Bugatti reaches 300 kph (186 mph) at 16.8 seconds. The McLaren did that in about 22.4 seconds. The Bugatti touches the 400 kph (248.5 mph) mark at 55 seconds. The McLaren... sorry, it could not reach that speed. EB16.4 not only beats all oppositions, but it is actually in a class of its own !

Even more impressive is how easy it achieves such performance. You might think the acceleration experience is dominated by wheel spin, thundering engine noise and shockwaves that every gearshift send to your back. No, the Bugatti is far calmer than imagined. Its 4-wheel drive chassis takes off with no wheel spin. Its 16 cylinders and four turbochargers sound more like a couple of big V8s working in sync rather than a high-screaming V12 shouting at full volume. And the DSG 7-speed transmission shifts so seamlessly that acceleration is almost uninterrupted. The Bugatti is so refined that, the only signals telling you the storming acceleration are the speedometer and the quick-passing scenery.


Drive it slowly, you will be amazed that it is as easy to drive as a luxurious saloon. The steering is linear and nicely weighted. The throttle pedal is easy to modulate. The engine is linear and free of turbo lag. The ride is also very calm, maintaining composure over bumpy surfaces. In this way, you can't help thinking the 2 tons of weight is worth spending.

In twisty roads, the Bugatti handles very well indeed. Its rock-steady body control and tremendous traction are the most impressive. It also steers accurately and stops brilliantly. However, the weight slows down its chassis response somewhat – although much better than originally imagined – thus it does not feel as agile as a lightweight sportscar like Carrera GT, Enzo or McLaren F1.

In the hands of keen drivers, the lightweight sportscars may be more exciting to drive. The Bugatti's strength – refined and easy to drive – becomes exactly its weakness, because it does not have any emotion to inspire its drivers. Like many people said, bad women are the most attractive. If supercars are all about sensation, then refinement is better to be reserved for Grand Tourers.

However, for all that unpreceding level of power and speed, sophisticated technology, build quality and refinement, Bugatti Veyron EB16.4 is unquestionably an engineering achievement. It will be a milestone in automotive history. That is exactly what Ferdinand Piech intended. To Piech, the retirement present may be late, but it's worth waiting for.


The above report was last updated on 1 Nov 2005. All Rights Reserved.
Veyron performance test by C&D


ln the December 2008 Issue of Car & Driver, Bugatti Veyron was put to test and recorded the fastest third-party performance data so far:


| | | | | |
| --- | --- | --- | --- | --- |
| | Bugatti Veyron | Bugatti Veyron | McLaren F1 | Koenigsegg CCX |
| Test source | Manufacturer claim | Car and Driver (2008) | Autocar (1994) | Sport Auto (2007) |
| 0-60 mph | 2.46 sec | 2.5 sec | 3.2 sec | 3.8 sec |
| 0-100 mph | - | 5.3 sec | 6.3 sec | - |
| 0-124 mph | 7.3 sec | 7.7 sec (approx) | 9.6 sec (approx) | 9.3 sec |
| 0-150 mph | - | 11.3 sec | 12.8 sec | - |
| 0-186 mph | 16.8 sec | 19.4 sec (approx) | 22.4 sec (approx) | 21.9 sec |
| 0-200 mph | - | 25.5 sec | 28.0 sec | - |

Although it was still comfortably faster than other supercars, it didn't quite match the manufacturer's figures. By 200 mph, it was only 2.5 seconds quicker than the 15-year-old McLaren F1. This reaffirm our believe that the Bugatti is the greatest supercar today, while McLaren F1 is the greatest supercar of all time.


The above report was last updated on 1 Nov 2008. All Rights Reserved.
Veyron Super Sport

| | |
| --- | --- |
| | 268 mph assures Veyron to bow out on top of the speed chart |

People said the Super Sport edition of Veyron is a response to SSC Ultima Aero, which edged out Bugatti's world speed record by 3 mph in 2007. That might be true to some extent, but that doesn't mean its top position was threatened by the American supercar anyway. In fact, Bugatti was not too concerned about the defeat. It knew Veyron was by all means faster in the real world, thanks to its clever 4-wheel-drive, dual-clutch transmission and electronics aid. Moreover, the poorly finished, outdated-looking American rival had no chance to steal any sales from itself. Until now, Bugatti had sold 295 Veyrons, and there is still a healthy waiting list.

However, production of Veyron is coming to the end by 2012. To bow out high, what could be better than being remembered as the world's fastest road car again ? Therefore it created the Super Sport. Only 30 units of this swan-song edition will be built. Each costs an eye-watering €1.65 million before tax.

What the staggering price brings is extra power and performance. By installing four larger turbos, whose maximum boost is lifted from the previous 1.3 to 1.5 bar, accompany with larger intercoolers and lower back-pressure exhaust, the 8-liter W12 engine now produces 1200 horsepower at 6400 rpm, a net gain of 200 horses. Similarly, peak torque increases by 20 percent to 1106 pound-foot. Incredible numbers become even more incredible.


| | |
| --- | --- |
| | NACA ducts on roof suck air to the 1200hp engine |

Apart from power, aerodynamics is also crucial to achieve higher top speed. The SS differs mainly from the previous Veyron by extending the roof to cover partially the engine compartment, and the roof-mounted air scoops have been replaced with NACA ducts recessed on the roof, which generate less drag and turbulence. The front air intakes get larger while two more intakes are added underneath the headlights. At the back, double-diffusers are employed, and the rear spoiler now deploys at 113 mph instead of 137 mph.

And the result ? Back in July, a Veyron SS rewrote the world speed record again at Volkswagen's Ehra-Leissen track. It achieved a 2-way average of 268 mph, i.e. 15 mph up from the previous Veyron and 12 mph faster than Ultima Aero. It is likely to keep the Bugatti on top until its retirement. (note: SSC is designing the second generation Ultima Aero, but don't expect to see it on the road any time soon.)

Bugatti certainly hopes so, because the aerodynamics of Veyron would not permit any higher speed. The bloke who drove the record run said it became very unstable at above 260 mph, so unstable that it was virtually undrivable. In top speed mode, the car scales back its adjustable spoiler and produces only 50 kg of downforce. That's the reason for its instability. The risky attempt shows that Veyron is running out of development potential.


| | |
| --- | --- |
| | Only 30 cars are scheduled to be built |

Although a weight reduction of 50 kilograms is not much to a car weighing nearly 2 tons, it is still better than nothing. The Super Sport cuts weight by using a new, directional carbon-fiber tub and by converting the aluminum doors and front fenders to carbon-fiber (now all body panels are carbon). Less weight helps sharpening its handling a bit, as do a slightly wider rear track, stiffer springs and anti-roll bars and faster-reacting Sachs dampers. The Michelin tires, however, remain unchanged as they are too expensive to redevelop. As a result, customer cars are electronically regulated to 258 mph to avoid damaging the tires.

On the road, the Super Sport is found slightly sharper than the regular car. It displays less roll, more high-speed stability and a quicker response to steering input. Thanks to the better dampers, it actually rides better than before. The extra power can be felt, though not as big as 200 horsepower suggested. This is because the original Veyron was already a land missile. In fact, the same launch control fails to achieve any faster 0-100km/h (62mph) sprint (still at 2.5 seconds). At higher speed, the SS starts showing its superiority. 0-200km/h (124mph) is reached at 6.7 instead of the previous 7.3 seconds, and 0-300km/h (186mph) is done at 14.6 instead of 16.8 seconds. The lightning acceleration is accompanied with a louder, thunderous noise.

However, what makes the Bugatti so special is still its combination of huge performance and civilized driving manner. At regular speed it is calm, comfortable and easy to drive. Once you open the tap, the shockwaves of g-force press you firmly on the backrest. With four-wheel drive, stability control, powerful brakes and well modulated controls, you know you will be safe in anything other than extreme conditions – a sharp contrast to its behavior at over 260 mph. Until now, no other supercars have ever achieved such a versatile character. It is sad that Bugatti will not produce a successor to Veyron. We will definitely miss it.


The above report was last updated on 25 Oct 2010. All Rights Reserved.
Specifications
General remarks
Layout
Chassis


Body
Length / width / height
Wheelbase
Engine
Capacity
Valve gears
Induction
Other engine features
Max power
Max torque
Transmission
Suspension layout

Suspension features
Tires


Kerb weight
Top speed
0-60 mph (sec)
0-100 mph (sec)
0-150 mph (sec)

0-200 mph (sec)


Veyron EB16.4

Mid-engined, 4WD

Carbon-fiber monocoque, aluminum subframes
Carbon-fiber, aluminum
4465 / 2000 / 1205 mm
2710 mm
W16
7993 cc
DOHC 64 valves, DVVT

Quad-turbo
DI
1001 hp / 6000 rpm

922 lbft / 2200-5500 rpm

7-speed twin-clutch
All double-wishbones

Self-leveling
F:265-680ZR500 (265/35ZR20)
R:365-710ZR540 (365/25ZR21)
1888 kg (dry) / 1950 kg (kerb)
252.95 mph****
2.46 (c) / 2.8* / 2.6** / 2.5***
5.5* / 5.5** / 5.3***
11.3***

24.2** / 25.5***

Veyron EB16.4 Super Sport

Mid-engined, 4WD

Carbon-fiber monocoque, aluminum subframes
Carbon-fiber, aluminum
4465 / 2000 / 1205 mm
2710 mm
W16
7993 cc
DOHC 64 valves, DVVT

Quad-turbo
DI
1200 hp / 6400 rpm

1106 lbft / 3000-5000 rpm

7-speed twin-clutch
All double-wishbones

Self-leveling
F:265-680ZR500 (265/35ZR20)
R:365-710ZR540 (365/25ZR21)
1840 kg (dry)
268 mph****
2.46 (c) / 2.6* / 2.5**

5.0* / 4.9**

10.2*

22.2*
Performance tested by: *Autocar, **R&T, ***C&D, ****Bugatti
Copyright© 1997-2010 by Mark Wan @
AutoZine