Bristol Fighter

Debut: 2004
Maker: Bristol
Predecessor: no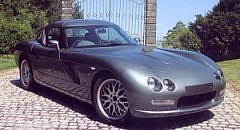 If you have £230,000 to spend on a supercar and you are tired of those "mainstream" brands like Lamborghini, Ferrari and Porsche, or you just don't like Pagani Zonda, or you are simply a bit mad, you may buy this Bristol Fighter. It has a 525 hp V10 engine, will go to 210 mph and finish 0-60 in 4.0 seconds. Moreover, no more than 20 cars will be built per year in Bristol's rather ancient and human-intensive factory, making it a perfect car for collectors.



The company



Bristol is a small British luxurious car specialist, mostly unknown to the rest of the world. Previously being an aircraft maker, it diversified into car production business in 1946. As the aircraft division merged with British Aerospace in 1960, the car division went into private hands. Company owner Tony Crook is a strange guy. He kept the company ancient and low key. He never really advertised his cars, never allowed motoring journalists to drive his cars. This made Bristol the most mysterious cars in the world.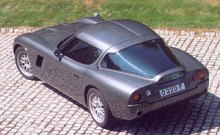 So, what cars does it offer? in the past 30 years, Bristol produced just a single model, although it appeared in various forms and names. It was originally called 603, then Britannia, Brigand and eventually Blenheim. The latter has been running from 1994 until today. These cars, like their maker, were the strangest in the world. They had a strange look, an ancient Chrysler pushrod V8 and an outdated chassis, but strangely, the body panels were made of aluminum like aircrafts. As strange as the contemporary Rolls-Royce, they did not disclose power and torque figures. But strangest of all, although they cost as much as Rolls-Royce, Bristol still found a dozen or so loyal customers a year to keep its workshop, its sole showroom in London and its sole salesman (i.e. Tony Crook himself) surviving. This is probably the strangest story in automotive industry.


If Bristol continue surviving in that way, it would not have caught my interest. Luckily, changes started happening since 1997 when Toby Silverton entered the scene. Crook eventually sold the company to Silverton in 2001, by then the latter was already developing an all-new Bristol, the Fighter. The Fighter is a 2-seater GT. Unlike Blenheim, it is thoroughly modern – well, almost modern. Although you still can't compare it with proper modern supercars, you can't help amazing how well Bristol did from its small workshop.



The Fighter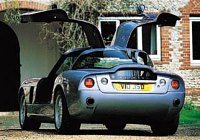 From any angle, the Fighter is an unusual machine. It is not especially beautiful, but its semi-retro shape is definitely unique. The first you will notice is how tall, narrow and short it is compare with other supercars. For example, it is 84 mm taller, 113 mm narrower and 236 mm shorter than Mercedes SLR McLaren. The tall bubble roof is designed to accommodate passengers up to 6' 7" tall. The narrow and short body allows it to slip in towns and typical British back roads easily. Regardless of the usual supercar rules, Bristol really does things differently.

To ease access of the cabin, Fighter employs a pair of Mercedes 300SL-style Gullwing doors. Cross the not-too-wide sills and drop onto the electrically adjustable leather seat, you can enjoy vast of head and leg room. A usefully large luggage loading area is also found under the liftback, behind the occupants. Thanks to the low waist line, slim pillars and wrap-around glass shields, the Fighter offers incomparable forward and rearward visibility. Bristol really does things differently.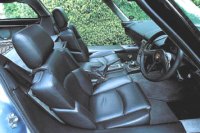 The Fighter was designed by ex-Brabham and Aston Martin racecar engineer Max Boxstrom. It is covered with aluminum body panels in Bristol's tradition. The body was polished in a local university's wind tunnel and achieves a drag coefficient of 0.28, which is way lower than other supercars (Koenigsegg CC8S: 0.30; McLaren F1: 0.31; Lamborghini Murcielago: 0.33; Ferrari Enzo: 0.36; Mercedes SLR: 0.37; Porsche Carrera GT: 0.39). In addition to the small frontal area, the streamline body allows the 525-horsepower Fighter to reach 210 mph, theoretically.

Of course, you can question how much downforce it produces. Well, Bristol just enjoys doing things differently. I suppose it has never tested the car to 200 mph, neither have its customers. The target buyers of Fighter are not supposed to be very keen drivers. They are not supposed to chase Ruf 911s at Autobahn or exploit their cars at Nurburgring – I wonder what it would be under these circumstances. This means downforce is not its priority.

The chassis is based on a platform welded and fabricated from steel sheets, with box section sills, aluminum bulkhead and tubular roll cage as reinforcement. Floorpan is aluminum honey comb material. As mentioned, the bodyshell is made of aluminum sheets. Doors and tailgate are made of carbon fiber. The whole car weighs 1540 kg. Bristol must be proud that it undercuts the full-carbon-fiber McLaren SLR by 150 kg, as is the weight distribution of 48% front / 52% rear, which beats SLR by 1% each axle. This is achieved by placing the engine well behind the front axle.


Suspension is by double-wishbones all round. Setting of the springs and dampers are very soft by supercar standards, although they can be tailor set according to the taste of buyers. Large ground clearance is employed to deal with bumpy British roads. Wheels are moderately sized at 18-inch, wrapping with 285/40 tires. Braking is by 343mm ventilated discs all round, with 6 and 4 pistons calipers front and rear respectively.

Following the tradition of using Chrysler powertrain, the Fighter employs the 7996 cc V10 and 6-speed manual gearbox from the previous generation Chrysler Viper. The mega pushrod V10 was Bristolised (probably tuned by an American tuner), raising power from 450 hp to 525 hp at 5600 rpm. Maximum torque is increased further to 525 lbft at 3600 rpm. At high speed, the ram air effect generated by the nose intake even boosts power output to 550 hp !

How does it drive? Well, this is a good question. As Bristol never offered its cars for journalists to test, you can hardly find any information. Recently, Autocar finally borrowed a Fighter from an owner. Predictably, it found the car very special, powerful and fast. The Viper engine is very torquey, pulling the car from 0 to 60 mph without a gearchange. On the down side, the Viper's truck-like gearchange quality is carried over to the Bristol, although the latter made the gear throw shorter already.

Despite of the tremendous output, Fighter handles its power very well. Thanks to extra-long wheelbase and traction control (which comes from the Chrysler engine), it is pretty stable on highway and safe from oversteer in corners. Unfortunately, the test car was ordered with very soft springs and stiff dampers, thus it displayed a lot of body roll and a ride quality neither smooth nor stable. In this way, it does not handle and ride as you expected for a supercar, at least on this particular test car.

That said, Bristol Fighter is still the most unusual 200 mph-plus supercar in the world. Its interpretation is totally different from other car makers. However, £230,000 can buy you a Lamborghini Murcielago plus a Porsche 911, or a Maybach, or a new Rolls-Royce. So, is the Bristol worth it? you pay to be special.
The above report was last updated on 25 Jun 2005. All Rights Reserved.
Fighter S

If 525 hp and £230,000 are not high enough, Bristol can offer you a more powerful Fighter S, with 628 hp output and a price of £256,000 to show your social status. The V10 engine remains unchanged at 8.0 litres, but it gets increased compression ratio, ported inlet manifold, modified cylinder heads, lighter intake and exhaust valves, lighter tappets and valve springs, a high-lift camshaft, modified fuel and ignition mapping and revised exhaust manifolds and catalysts. The result is a McLaren-beating 628 horsepower at 5900 rpm (300 rpm up from the standard engine) and 580 lbft of torque at 3900 rpm. At high speed, the ram air effect increases power output to a Ferrari-Enzo-matching 660 horsepower. Strangely, Bristol did not reveal any performance figures for the Fighter S.

But Fighter S has no chassis upgrade to match its added power, therefore Bristol offers an optional R pack, which is also available to the standard Fighter. The R pack stands for "Roadholding". It includes 10 mm lower ride height, stiffer springs and dampers, increased steering caster angle, larger 19-inch wheels and grippier Pirelli P-Zero Rosso tires (285/35ZR19 front; 305/35ZR19 rear). It costs £20,000.

A further option is C pack (stands for "Competition"), which cost another £20,000. It includes 15 mm lower ride height, race-type springs, uprated adjustable anti-roll bars and an aerodynamic kit to increase rear downforce and bring drag coefficient down to only 0.255, the lowest record for production cars.
The above report was last updated on 25 Jun 2005. All Rights Reserved.