| | |
| --- | --- |
| Published on 2 Aug 2003 | All rights reserved. |

We must thank Dr. Ferdinand Piech, ex-boss of Volkswagen group, for bringing us Bentley Continental GT. If you remember, Dr. Piech used to be a fan of Bentley. His love of the British marque led to his decision to acquire it in 1998 and split it from the Rolls-Royce (which went to BMW) since 2003. Volkswagen invested a lot to modernize the Crewe factory and the development of the Continental GT. It gave the project the best engineers, the best stylists and the best high-tech components sourced from the Germany headquarters, for example, the W12 engine, the Quattro 4-wheel-drive system and the Phaeton's air springs and adaptive damping. 5 years past, the first Continental GT went out to the public. Everybody is waiting to see if it deliver a real Bentley quality, or if it is just a thinly-disguised Phaeton Coupe.

Let's talk about the styling first. We know this kind of prestige cars with glorious history is never easy to design. BMW already taught us a lesson: if you put too much weighting to traditional features, like the Rolls-Royce Phantom, you will end up with an ancient-looking car. If you modernize the design too much, like Aston Martin Lagonda of the early 80s, it will lose the connection with traditional values and then loyal customers will leave. Therefore the key to success is to make the right balance between modern form and function and traditional features. And the Bentley coupe did this perfectly.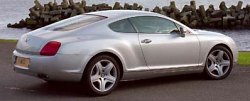 From outside, the new Bentley looks really fantastic ! on the one hand, it has the profile of a modern coupe - smooth flowing roofline runs from the steeply-raked windscreen to the fastback tail, high shoulder lines, low roof.... on the other hand, it has strong features of traditional Bentleys - the powerful nose, mesh grilles and the pronounced fenders which looks like men's muscles. In particular, the rear half of the car has resemblance to the Continental R of 1952 - the best-looking Bentley of all, no wonder Volkswagen decided to name the new car similarly. In my eyes, this is one of the most successful designs in the current generation. One that so rich of traditional feel without sacrificing any modern functions. Excellent !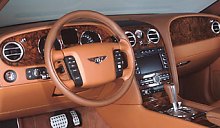 Open the door also open your eyes - wow, this is the best interior any money can buy ! the Continental GT costs £110,000 in UK, about 20% more than a Mercedes SL600 / SL55 AMG but is easily the cheapest Bentley. Even compare with the 2-to-3-times-more-expensive Rolls-Royce Phantom and Maybach, the Continental GT still shines in quality, and beat them painfully in style and taste. Volkswagen makes the best use of the experienced craftsmen in the Crewe factory to trim the whole cabin with the best quality leather and the best looking wood. But the most important is how they are put together to match colors and forms.

The thick leather seats are beautiful to look and even better to sit, thanks to built-in massagers. Although the roof looks low - a perception due to the high shoulder line, the front seats offers plenty of space. Continental GT is a real 4-seater. The rear seats are not super-spacious, but if the front occupants are willing to compromise a bit, it can accommodate four 6-footers.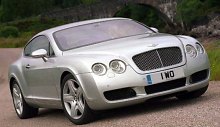 Now we can talk about the mechanical aspect. As you expect, the low-volume Continental GT (expect 3,000-3,500 units a year) shares many essential mechanical components with Volkswagen Phaeton (and therefore Audi A8). Basically, the whole drivetrain and suspensions come from Phaeton, thus its platform could be said as a cut-down version of the Phaeton.

In the Bentley, the 6-litre W12 engine is added with a pair of light pressure (max. 0.7 bar) turbochargers and intercoolers. Although it pumps out 560 horsepower, the W12 is far from stressed, as you can see from its specific output of just 93 hp / litre - pretty low for a turbo engine. The maximum torque of 479 lbft seemed rather low, especially for Bentley. Volkswagen's engineers could have squeezed more torque out of the engine, but the ZF 6-speed automatic transmission and the quattro drivetrain are unabled to cope, thus they have to limit the torque output. That's why the torque curve is flat - maximum torque is available from 1600rpm all the way to 6000rpm, almost like an electric motor. Volkswagen has another 6-speed transmission from Aisin which can handle 553 lbft, but it is designed for the Toureg SUV only.

Even so, the Continental GT is already very quick, if not as quick as Mercedes SL55 / 600 and CL600. 0-60mph takes 4.7 seconds, 0-100mph needs 11.8 seconds. Top speed is 198mph. Wow, almost a 200mph 4-seater !


However, the most impressive is how effortless to achieve such a storming performance. With the non-stop stream of torque from a little over idle, with the smooth ZF gearbox, good damping, quiet ride, remarkable high-speed stability and rigid chassis, the Continental GT covers ground at enormous speed without tiring its occupants. At high-speed bends, it does roll more than the ABC-equipped Mercedes SL, but never to the extent that affect your confidence. This just say it does not pretend to be a real supercar.

Ultimately, at tighter bends the Continental GT will shift from neutral to mild understeer and you will feel it start revealing its front bias weight distribution (57:43) and oh-my-God weight of 2385kg - 500kg more than SL55 AMG ! nevertheless, the GT remains composed, taming the unfavourable law of physics admirably with its tremendous 4-wheel traction, clever electronics and adaptive suspensions. That means at the limit the car remains secured and tidy. Again, this prove the chassis is well sorted.

Ride quality is always good, no matter at what speed, what surface, thanks to adaptive damping and air suspensions. Even on coarse surfaces it remains supple and quiet.

In many ways the Continental GT drives like a SL55 AMG. They are not real supercars, but they deliver supercar power and performance in a fuss-free manner and maximum comfort. The Mercedes has a slight advantage in speed, handling and price, but the Bentley shines in quality and accommodation. That means Continental GT is currently the best hardtop luxurious coupe on offer, while Mercedes SL is the best in the open-top world.

However, the most important to Bentley is: this car is a real Bentley, not a Volkswagen Phaeton Coupe. It definitely signals the revival of Bentley in the coming years. This would not have been possible if the marque were still in British hands or in the hands of BMW. Thanks Dr. Piech.
Verdict:





| | |
| --- | --- |
| Published on 7 Sep 2007 | All rights reserved. |
Continental GT Speed

Possibly feeling the pressure from Mercedes CL600 and CL65 AMG, Bentley produced the Continental GT Speed, a higher performance version of the original car. The name "Speed" reminds us the legendary Bentley 6.5-liter Speed-Six which won Le Mans in 1929 and 1930. That was a long time ago. The new Speed model is not a race car, of course, but it shares most of the same character as the old car, such as the combination of tremendous power, weight and bullet-proof reliability.

Compare with the regular Continental GT, the Speed has its twin-turbo 6-liter W12 engine boosted to 610hp (50hp up) and 553 lbft (+74 lbft). This is done by means of increasing turbo boost from 0.6 to 0.7 bar and by using high-performance pistons, con-rods and engine management system. The increased torque calls for a strengthened transmission. Performance is even more sparkling than ever: now it takes 4.3 seconds to go from zero to 60 mph, down 0.4 seconds from the regular car. Top speed is lifted by 4 mph to 202 mph. Yes, it is faster than Ferrari 612 Scaglietti. Unless you de-restrict the electronic speed limiter of AMG CL65, you will find the Bentley is the speediest 4-seater grand tourer in the world.

Predictably, to match the new-found performance, the chassis of this car has also been beefed up. Its suspensions are lowered and stiffened. Its bespoke 20-inch alloy wheels not only look delicious but also enable the fitment of ceramic disc brakes as option. Lower profile Pirelli P-Zero tires look really aggressive. The power steering has been retuned for more direct feel. To sharpen chassis response, the front suspension subframe is now mounted rigidly to the chassis. The rear setup is not as aggressive, but rear subframe is mounted on stiffer bushings. More aluminum parts used in the suspensions ease the pressure on the ride department. Combining with a lighter cooling system, it also contributes to a 35 kg weight reduction. Still, no one can describe the 2350 kg monster as featherweight.



At regular speed, the Speed model doesn't feel very much different from the regular Continental GT. After all, the latter has plenty of torque for disposal and its 4-wheel-drive chassis has always been surefooted, if somewhat uninspiring. Up the pace, however, you will find the new car corners flatter, balances better and understeers later. You can even apply power to neutralize its initial understeer. Keen drivers can finally find some fun in driving the big Bentley coupe !

However, to access its new-found capability, you will need to push it quite hard, which is ridiculously something people are unlikely to do with this kind of effortless grand tourers. The truth is, Ferrari 612 would deliver more driving excitement no matter at what speed. The same goes for Jaguar XKR Coupe. Bentley still needs some works before it can match the best of the best.

Verdict:




| | |
| --- | --- |
| Published on 19 Sep 2009 | All rights reserved. |
Continental Supersports

| | |
| --- | --- |
| | Silly name aside, Supersports is easily the best Continental GT to date. |

What would you call a Bentley Continental that is faster than the current 202 mph Continental Speed?

A. Continental Speedier
B. Continental Lightning
C. Continental Supersports

I definitely would not choose C, because the term "Supersports" usually refer to those lightweight track-oriented specials. A high-speed grand tourer has nothing to do with the moniker "SS". Unfortunately, Bentley obviously misunderstood the meaning of this word.

Continental Supersports is a performance upgrade from Continental Speed. By lifting turbocharger boost pressure and enhancing air flow to intercoolers, the twin-turbo W12 produces 20 more horsepower to make a total 630 hp at 6000 rpm. Maximum torque increases from 553 lb-ft to 590 lb-ft between 1700 and 5600 rpm. As a result, top speed is lifted to 204 mph. Besides, the engine has been modified to allow both petrol and E85 bio-fuel in order to stop criticism for its high emission level.

While a 2 mph improvement doesn't seem much, acceleration is definitely more satisfying. The Speed model takes 4.3 seconds to go from 0-60 mph. The SS improves that by a significant 0.6 seconds to only 3.7 seconds. 0-100 mph is reduced by more than a second to 8.9 seconds. This is made possible not only by the increased output but also a weight reduction of 110 kilograms and a 50% quicker "Quickshift" program available on the revised ZF 6-speed auto.


| | |
| --- | --- |
| | Lightweight treatment introduces these carbon-fiber bucket seats and takes the rear seats away. |

The weight reduction is mainly contributed by lighter forged alloy wheels (10kg), standard ceramic brakes (20kg), lightweight carbon-fiber front seats (45kg) and the deletion of the not-so-useful rear seats (though Bentley can fit them back on request). The latter is replaced by a parcel shelf and a reinforcement cross brace. Reduced weight aside, handling is also improved by changing the front-to-rear torque split of the four-wheel-drive system from 50:50 to a rear-biased 40:60. The rear track is widened by 50mm by pushing the wheels outward. The suspension and adaptive damping calibration gets sportier accompany with 10-15mm drop of ride height. The power steering and stability control have also been revised to promote sportier handling.

On the road, the car feels instantly sporty. There is a tight body control, a direct steering and instantaneous gearshift not found in the Speed model. The result is a much more satisfying drive to keen drivers. Its acceleration is astonishing, matching a 911 Turbo in straight line, though it can't quite keep up with the Porsche in the twisty due to its extra width and weight. However, the Supersports still preserves much of the ride comfort of the Speed model. The same goes for its luxury interior and impeccable built. It bridges the gap between traditional grand tourers and junior supercars without losing the merits of the former. Undoubtedly, it is the best Continental GT to date.

In England, the SS asks for £163,000, not overpriced compared to the £141,000 Speed and £124,000 GT. To me, the biggest problem is still its name. No cars weighing 2240 kilograms can be called "Supersports".
Verdict:




| | |
| --- | --- |
| Published on 10 Nov 2010 | All rights reserved. |
Continental GT update (2010)

| | |
| --- | --- |
| | Slightly faster, better to handle, better refinement and roomier... just not to call it the new generation. |

Bentley calls this the new generation Continental GT, but in my understanding it is actually a mid-life update, something like a Golf Mk6 or Passat Mk7. You don't need to be disappointed, because the original Continental GT is still fresh to eyes, and very capable on the road too. What it needs is only a minor facelift and small tweaks to its chassis and powertrain. On the new car, you can see the beautiful shape of the original car is kept intact, even though all sheet metal are said to be new. It just looks slightly crisper and sharper, thanks to subtle tweaks on the flanks, a lower and more upright front grille, reshaped lower intakes and new Mulsanne-style headlights (which incorporate LED elements). Hard points and all critical dimensions are practically unchanged, though it does gets wider front and rear tracks to improve handling.

Under the skin, there are quite a lot of tweaks. The 6-liter twin-turbo W12 has been tuned to deliver 575 hp, 15 hp up. Maximum torque is lifted from 479 to 516 lb-ft. The 6-speed ZF gearbox - sadly no 8-speeder - gets faster gearshift and the capability for double downshift, say, from 6th to 4th in one action. The Torsen 4WD system had its torque split changed from 50:50 to 40:60 for less understeer, like what the outgoing Continental Supersports has already done. All wheels grow an inch to 20.

A small diet, including lighter front seats, aluminum front fenders and boot lid, cuts 65 kilograms from the car, though it still weighs as much as 2320 kg. Performance is therefore marginally improved. Top speed remains at 198 mph, while 0-60 mph is cut by 0.2 sec to 4.4 sec. It is also a little bit greener, but for real improvement you have to wait for the new 4.0 twin-turbo DI V8, which will arrive in late 2011 and promise 40% reduction in emission.


| | |
| --- | --- |
| | Cabin looks mostly the same as before, which is not a bad thing. |

On the road, the new Conti feels fast and capable, with great stability and grip. Ride is still on the sporty side, even with its adaptive damping set to comfort mode – understandably, it needs a firm setup to counter its nose-heaviness. Understeer has been reduced, so the chassis is more reactive to throttle. The steering becomes lighter and less resistive, though it still lacks feel. The gearshift is still a tad slow these days. The big Bentley is unquestionably better to drive than before, but there is no confusion with a thoroughbred sports car like Aston Martin Rapide or Ferrari 612. Why ? because it is not very involving to drive hard. Bentley might say this is an advantage to a luxury grand tourer, but in my opinion modern technology should allow dual-purpose character. The outgoing Supersports model is a sportier and better compromise.

In fact, the biggest improvement we found on the updated Conti is actually its rear seat accommodation. Thanks to thinner front seats, rear passengers enjoy 46 mm of extra legroom, letting adults to travel more comfortably on short journey. Refinement is also markedly improved, as double-glazing and other noise insulation lower wind and road noise a lot. The cabin looks mostly the same as before, which is not a bad thing. Even after 7 years, the Continental's interior remains the very best, being elegant, easy to use and impeccably built.

Although there is no revolutionary changes, the updated Continental GT is better in every aspect - slightly faster, better handling, higher refinement and roomier. Most important, there are few alternatives could threaten its success - Mercedes CL looks not exclusive enough; Ferrari 612 is too expensive; Aston Rapide is too slow, ditto Maserati GranTurismo. It remains the definitive choice for most customers in this segment.
Verdict:




| | |
| --- | --- |
| Published on 27 May 2012 | All rights reserved. |
Continental GT V8

| | | | |
| --- | --- | --- | --- |
| | | V8 power returns to Crewe! | |
Since its birth in 2003, Bentley Continental GT has been powered by the unique twin-turbo W12 engine. The W12 is really a technical tour de force. It magically packs 12 cylinders into the space of V6, allowing the engine to be fitted to the front overhang of the 4-wheel-drive vehicle. Although its idea is highly admirable, I am afraid its days could be numbered. Volkswagen group seems to have either stopped its development or at least shifted its development into low gear. Why? Because compare with a brand-new V8 it has far less potential to cut carbon-dioxide emission. Moreover, the existing W12 is already 11 years old (remark: first application was the 2001 Audi A8 W12) and it leaves little room for further tuning, thus a full redesign will be necessary to take a leap forward. In comparison, a new V8 will be financially more sensible to develop because it can be used by a variety of Audi. After all, Bentley used to employ only V8 engines until its acquistion by the German. Traditionalists will be happy to see V8 coming back to Crewe.


| | | | |
| --- | --- | --- | --- |
| | | Taken from Audi S8, the 4-liter V8 is powerful yet efficient... | |

The 3993cc V8 in the new Continental GT V8 is basically the same as the one having just introduced to Audi S8. It features direct injection, cylinder deactivation (which turns it into a V4 under light load) and reversed breathing (intake manifolds at outside and exhaust manifolds located inside the V-valley). The latter is adopted to enable a cross-bank turbocharging system with two twin-scroll turbos. This quickens turbo response and enables the engine to produce maximum torque from merely 1700 rpm all the way to 5000 rpm. At the same time, a high boost pressure of 1.2 bar (versus 0.6 bar on the W12) leads to an excellent specific output of 127 hp per liter. The Bentley V8 differs from the Audi version in different tuning of intake and exhaust manifolds, which explains its slightly higher peak torque (487 lbft versus 479 lbft) and lower peak output (507 hp vs 520 hp). Besides, it has ditched the Audi's active noise cancellation system and active engine mounts.

The V8 engine also mates with a more efficient 8-speed ZF automatic transmission instead of the W12's 6-speeder. As a result, the car trails the flagship model by merely two-tenths in 0-60 mph acceleration. Top speed is down by 10 mph to a still remarkable 188 mph. Fuel consumption is reduced by a massive 36 percent, in which 20% comes from the engine, 6% from the gearbox and the remaining is down to new brake energy regeneration, on-demand power steering and low rolling resistance tires etc. Its CO2 emission of 246 g/km beats Ferrari California (299 g/km) and runs very close to Mercedes CL63 AMG (244 g/km) and BMW M6 (232 g/km), which is no small achievement for a car weighing as much as 2.3 tons !

| | | | |
| --- | --- | --- | --- |
| | | It sings much better than the W12, producing proper V8 rumble at low rpm and a thrilling howl as rev rises... | |

However, the benefit of Conti V8 is not all about greenness. It also sings much better than the W12, producing proper V8 rumble at low rpm and a thrilling howl as rev rises. This contrasts to the subdued noise of the W12 which used to be the weak point of the Continental GT. Its handling is also superior to the flagship model. Thanks to a 25 kg of weight saving over the front axle and sportier tuned anti-roll bar, air springs and dampers at the front suspension, the V8 model steers with new found eagerness. Turn-in becomes sharper and understeer is largely reduced. You still won't call it agile – certainly not in the same league as Ferrari California or Maserati GT – but its chassis is unquestionably much better balanced than the W12. In fact, it is even better to drive than the special edition Supersports.

With minimal loss of performance, huge gain in environmental friendliness, much improved aural appeal and handling, not to mention its 10 percent lower price, the V8 should make the W12 superfluous. Its only problem is the new 911, which is not only far sportier but now also a better GT.

Verdict:




| | |
| --- | --- |
| Published on 15 Feb 2014 | All rights reserved. |
Continental GT V8 S

| | | | |
| --- | --- | --- | --- |
| | | The power boost is probably too slim to be felt, but the sportier handling is evident... | |

As indicated by its name, Continental GT V8 S is sportier than the standard V8. Its engine ECU has been tweaked to produce an additional 21 horsepower and 15 pound-foot of torque, cutting 0-60 mph time to 4.3 seconds and lifting terminal speed to 192 mph. The suspension is heavily modified – ride height is dropped by 10 mm; Springs are stiffened by as much as 45 and 33 percent front and rear respectively; Dampers are retuned accordingly; Bushings are 70 percent harder; Rear anti-roll bar is 54 percent stiffer, while the front is unaltered, so it resists understeer better. Besides, revised front suspension geometry and steering assistance should improve steering feedback.

On the road, the power boost is probably too slim to be felt, but the sportier handling is evident. It masks its nose heaviness better, turns in quicker, corners flatter and in a manner closer to neutral. The ride is admittedly rather firm, but it damps very well, irons out a large part of the body motion and results in a fluency not found on the standard V8. As a result, you would feel more confident to attack corners. It still ain't a Porsche or Maserati, but for a 2.3-ton machine you can't help amazed by its new found agility and composure.

The only problem is competition. At close to £140K it competes head-on with the new Porsche 911 Turbo S. Maserati GranTurismo is cheaper, sexier and more engaging, if not as quick. BMW M6 is faster and sportier. Mercedes SL63 AMG is more versatile, and the beautiful S-class Coupe is just around the corner. Good though the S conversion is, it is not necessarily good enough to fend off the competition. After all, its basis is already more than 10 years old. However, among the Continental GT family, the V8 S is definitely the best effort yet.

Verdict:




| | |
| --- | --- |
| Published on 24 Oct 2014 | All rights reserved. |
Continental GT3-R

| | | | |
| --- | --- | --- | --- |
| | | A track car it ain't, the GT3-R is still the best Continental yet. | |

Bentley is a ridiculous brand. Its fame started at Le Mans, yet for the majority of its history it built heavyweight luxury cars. No one could imagine how its 2.3-ton-plus Continental GT relate to motor racing, yet recently it did convert the car into an endurance racing car, albeit taking part in less significant races. To further promote this image, it has introduced a limited edition road car called GT3-R.

Don't be fooled by its name, it is by no means a rival to Porsche 911 GT3 RS or Ferrari 458 Speciale. In fact, it is still very much a luxury grand tourer, just having given a slight edge in performance and handling compared to other Continental GTs. The surgery started from the engine. It is based on the 4.0-liter twin-turbo V8 instead of the heavier W12 as this can save 40 kg from the nose and benefit handling. Thanks to new precision-honed high-boost turbos, remapped ECU and titanium exhaust, its output is boosted to 580 hp and 516 lbft, versus 528 hp and 502 lbft on V8 S. This also eclipses Audi RS6 and RS7 to be the most powerful version of the 4.0 twin-turbo V8. The standard 8-speed automatic transmission is given faster shift patterns and it is linked to a shorter final drive ratio to enhance acceleration. 0-60 mph is reduced quite dramatically to 3.6 seconds, 0.4 ticks faster than even the W12 GT Speed. On the flip side, the shorter gearing drops its top speed from 192 mph to 170 mph.

Part of the enhanced acceleration comes from weight saving. By discarding the rear seats, using carbon-fiber front buckets, carbon-fiber interior trims (e.g. door panels and console), carbon ceramic brakes and forged 21-inch alloy wheels, it cuts 100 kg from the kerb weight, though it still tips the scale at nearly 2.2 tons. More could be saved if Bentley really tried, but it wants to keep the car luxurious, so all the sound insulation, double glazing and luxury equipment are left untouched. Outside, the GT3-R is best distinguished with its extra vents on bonnet, the side graphics and carbon rear spoiler. You will be lucky if you see one like this on street, because only 300 units will be built.

How does the GT3-R behave? To keener drivers, it is definitely the best Continental GT yet. The modified motor still delivers power smoothly, but the new exhaust produces louder noises and more aggressive pops and crackles on overrun. It feels quite fast, if not quite in the league of 911 Turbo. The firmer suspension setting results in tighter body control and faster response through the steering. There is an extra sense of precision and balance missing on its siblings – partly thanks to the added torque vectoring by brakes. Speaking of brakes, the huge ceramic brakes proved immense on the lighter car, allowing you to push it harder than you think possible. Don't get me wrong, the big Bentley does not come close to Porsche or Ferrari for agility, feel or ultimate cornering prowess. It is still very much a cross-continental luxury GT. The ride quality remains borderline acceptable for that purpose, although the large wheels and aggressive rubbers occasionally thump over sharp intrusions. While the running refinement might not be too much higher than a 911 Turbo, R8 or Ferrari F12, its quality interior is peerless.

The only problem is price. At almost £240,000 it costs 70 percent more than the base Continental GT V8 or Porsche 911 Turbo S, the same as Ferrari 458 Speciale and F12 Berlinetta, or two 911 GT3 with change. While 300 units sounds rare, the rest of the Continental GT range doesn't. I think only Bentley loyalists would consider it.

Verdict:




| | |
| --- | --- |
| Published on 17 Feb 2017 | All rights reserved. |
Continental Supersports (2017)

| | | | |
| --- | --- | --- | --- |
| | | Nothing this side of 2280 kg could be called supersports, but this Bentley tries to compensate with power, and a whole lot of power. | |

Just like the first Continental Supersports that Bentley built in 2009, the new Continental Supersports is not exactly a super sports car. Nothing this side of 2280 kg DIN could be. While the old car managed a thin link to the term "supersports" by stripping out its cabin, ditching its rear seats and cutting 110 kilograms in the process, the new car is not willing to sacrifice any creature comfort and luxury. This means, its cabin still serves four (well, 2+2) with all the classy woods, leather and flamboyant decors. What it does get is power, and a whole lot of it. Look at the spec. sheet, you will see some astonishing figures, such as 710 (the horsepower count) and 750 (pound-foot of torque), as well as 209 (top speed in miles per hour, which edges out Ferrari GTC4 Lusso to be the world's fastest luxury 4-seater), 3.4 (the time it takes to go from zero to sixty) and 7.2 (zero to 100 mph, which matches Nissan GT-R). Judging from figures alone, you might really believe its supersports claim.

The new SS has looks to support its claim, too. Unlike all other Continental models, it gets an aggressive nose consisting of larger intakes and sharper spoilers, as well as the extra bonnet vents with carbon-fiber finish – which sounds ridiculous if you consider that kerb weight. The side skirts and carbon-fiber rear spoiler are taken straight from the limited edition GT3-R, as are the 21-inch lightweight forged alloy wheels and huge carbon-ceramic brakes (420mm up front!). Those wheels and brakes cut unsprung weight by 25 kg. In addition to a titanium exhaust, the Supersports weighs 40 kg less than the Continental Speed from which it is derived. However, that represents only a 1.7-percent decrease.

The lower and stiffer suspension tuning is also benefited by the GT3-R program, as is the brake-actuated torque vectoring system (sorry, still no electronic differential). The 4-wheel-drive system is left unchanged with its 40:60 torque bias default since it keeps using Torsen C center differential. I think it could have been made more agile had it adopted a more advanced active center differential or active rear-wheel steering like some Porsches or Ferraris. Unfortunately, Bentley is not listening to us. Maybe it will do that on the next generation Continental which is only a year away, but as a farewell model, the Supersports is denied of those investments.


| | | | |
| --- | --- | --- | --- |
| | | It understeers not too much, but even with 4WD its traction would struggle to contain the massive torque... | |

The same can be said to the tweaked W12 engine. Although it is boosted by as much as 85 horsepower and 160 lbft of torque, this comes from simple means, i.e. larger turbochargers that raise boost pressure from 0.9 to 1.4 bar, revised intake and exhaust, strengthened bearings etc. Hope for direct injection and cylinder deactivation dies when you know Bentley is reserving its new generation W12 (first displayed and reported in May 2015, see our News) for its Bentayga SUV and next generation Continental. No wonder the Supersports returns only 18 mpg and emits as much as 358 grams of CO2 each km. A Mercedes-AMG S65 Coupe is rated at 23.7 mpg and 279 g/km, while S63 4matic Coupe is even greener at 27.4 mpg and 242 g/km. Both cars are barely slower than the Bentley.

In the real world, the Continental SS is very fast, of course, but you can say the same to the aforementioned AMGs as well as many super GTs or sports sedans these days. For example, the new AMG E63 S 4matic is two-tenths quicker to 60 mph than the Bentley even though it uses a much smaller motor. You can't ignore the shear mass of the Bentley, especially on tighter and twistier roads. You always feel the car nose-led, blame to its unhealthy weight distribution. This means, unlike a real supersports car or even a proper GT like Aston Martin DB11, you cannot push the big Bentley too hard. It understeers not too much, but even with 4WD its traction struggles to contain the massive torque. As a result, it calls for the old-fashioned "slow-in, fast-out" technique to attack corners. There is massive torque available from merely 2000 rpm, but you rarely have the chance to exploit its full potential. Even on a race track, except those very wide and filled with high-speed bends, it is difficult to lay down the power. The engine is titanic but the chassis fails to cope, which is frustrating.

What the Continental SS does best is still the GT-thing, i.e. high-speed running on Autobahn. It feels effortless to do so. It is very stable at high speed, and the suspension rides well, too. Sure, the aging Continental is no match for the newer AMG S65 or S63 for refinement, especially in terms of wind and tire noises, but it is still more comfortable to travel long distances than Aston Martin or Ferrari, not to mention its superior interior style and quality you would appreciate during the long journeys. However, the car is also very expensive at £213,000 (or £234,000 for GTC convertible). No wonder its production is limited to 710 units.

Verdict: