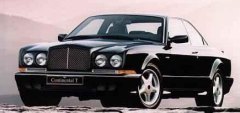 Bentley used to be the most luxurious coupe brand in the world. Now with the launch of Continental T, its prestigious status is further strengthened.

Continental T is actually an updated version of Continental R. With higher power ( 420hp vs 385hp ) and stiffer suspensions, it emphasis on more sportier image which may reminds the company's glorious racing history in pre-war period.

Its 2.5 ton weight is unquestionably the heaviest among all coupes in the world, because everything is heavy - huge body, lots of wood and equipments, huge leather seats, big V8 engine which is made of cast iron....no problem, because the combination of 6750c.c. and turbocharger can output a record-breaking 650lbft of torque ! That's 50lbft more than Aston Vantage 600 and 170lbft above McLaren F1 !

Yes, 155mph top speed and 6.0sec for 0-60mph must be impressive, but the handling is another matter. For such a huge car, it would be foolish to expect a high level of cornering ability. However, Bentley has never attempted to attract such demanding drivers. On the contrary, it is serious to offer first class quality and luxury that would never be matched by Mercedes-Benz. In this respect, it employed the best craftmen in Britain to hand-made virtually all parts like body panels, leather seats and wooden dashboard. Even if the Mercedes can provide the same build quality by robotic machines, Bentley's proud leather and wood-rich cabin is still unmatchable.