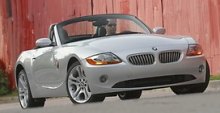 BMW's Z-line roadster started life in 1988 by the experimental Z1. In 1996, the mass production Z3 rolled off its sole production line in Spartanburg, USA. Unfortunately, this started an era some BMW fans would rather forget. The Z3 was a low-cost project. To save money, it employed a pair of trailing-arm suspensions from an old 3-series whose production was already phased out for 6 years when Z3 was launched. It was the first BMW built in the USA to take advantage of lower manufacturing cost, and unfortunately, the early production was criticized for lack of German quality. More unfortunate is that it was the first BMW styled by the controversial Chris Bangle. Its retro shape did not win many respect from the design world.

Fast forward to year 2002, Chris Bangle becomes chief of BMW design and his power rises to the peak in the Z4. My God, from photographs the Z4 looks really odd, disgusting and terrible. I nearly thought Bangle might have received money from Mercedes-Benz to ruin BMW... of course not. He seemed really a keen believer to the so-called "flame-surface" styling theme. In September, when I saw the real car in a motor show, it did change my view... a bit. I have to admit the more you look the less odd and less disgusting it is. Sure, it is by no means a beautiful car, it lacks a proper proportion characterizing all good sports car designs, but it is undoubtedly full of character. Like a Fiat Multipla, it is ugly yet interesting.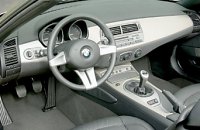 The interior looks better. The alloy-looking plastic dashboard and the compact twin-dial instrument reading follows the philosophy of "simple is beautiful". Nevertheless, I still prefer the traditional driver-focused center console. In terms of function, the cabin is hard to criticize. There is sufficient room for 2 people (Z4 is a strict 2-seater). The soft-roof is fully electric-operated and wind management is good.

The mechanical side shows no technological breakthrough, but at least it is a properly engineered BMW, unlike its predecessor. Predictably, all the most expensive components are shared with the 3 series, these include the 6-cylinder engine family, the front MacPherson struts and rear Z-axle suspensions. A new 6-speed manual gearbox, however, was never used in the 3-series.

The steel monocoque has doubled torsion stiffness from the Z3, this allow a firmer setup of suspensions for the benefit of body control yet improve refinement. During hard cornering or running on bumpy surfaces, the new chassis no longer creaks like the old one. Nor there is any body flexing. The new electrical-assisted steering doesn't transmit vibration or kickback to the driver. Unfond memory from the Z3 era is washed way.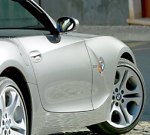 Predictably, the powertrain is wonderful. We have praised the 231hp 3.0-litre and 192hp 2.5-litre inline-6 (both with Bi-Vanos) many times. They are smooth, rev-happy and especially torquey from very low rev. The new 6-speed manual also live up to our expectation for BMW's gearboxes. The shift is slick and precise.

With the 231hp engine, Z4 3.0 can easily out perform a 2.7-litre Porsche Boxster. BMW claims 0-60mph can be done in 5.6 seconds, against Boxster's 6.3 seconds. Its 1290kg kerb weight undercuts a 330i by 220kg while nearly matches the Boxster and Honda S2000. On the other hand, its 221 lbft of maximum torque, with 90% of that from 1500 to 6000rpm, is a decisive factor for its superior performance.

While I mention Boxster more and more, I must point out that the Z4 has re-positioned itself to the same market segment as the base Boxster and Mercedes SLK, unlike Z3 which had 4-cylinder models which targeted at Mazda MX-5. This makes better use of the brand image to raise profit margin.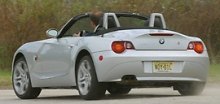 Unfortunately, that means the Z4 will inevitably be compared with the mighty Boxster. Faces a SLK, it's fine. Faces a Boxster, there is no chance. Undoubtedly, BMW has some ingenious engineers to make their cars almost as fun as Porsche, but unfortunately those engineers were not involved in the Z4 projects - or were they forced to engineer a less driver-focused roadster? despite of the shortened wheelbase and the lighter kerb weight, the Z4 is not fun to drive. Basically, it is tuned to be an inherent understeerer. Always understeer, understeer and understeer. Whenever you push it harder and faster, understeer will get into the picture. The harder it corners, the more understeer it shows. Now we don't know why BMW needs rear-wheel-drive and an engine locating behind the front axle to create an understeerer. Another problem is the new electric power steering whose feel fades away as speed increases. Sadly, a sports car without steering feel will never be a great sports car, nor a great BMW. Really, I cannot recall any previous BMWs were criticized as lack of steering feel.

No, Z4 is not as flawed as Z3 when it was launched. Its overall driving impression is better than SLK and Audi TT - admittedly, both are very old now. Its problem is the change of heart - maybe to please the American buyers, it is tuned to be easy to drive thus loses driver appeal that the M3 or even a 330Ci has. For an all-new roadster, especially for a BMW, this is hardly forgivable.