BMW M3

Debut: 2007
Maker: BMW
Predecessor: M3 E46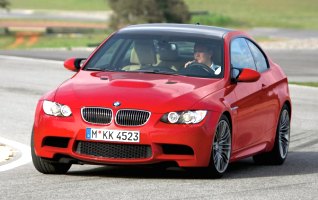 Ask car lovers which car they would choose if they can have only one in their garage, I suppose many would choose BMW M3. Undoubtedly, apart from M3, nothing else provides the same kind of performance and exciting driving dynamics while being so practical for everyday use. At a relatively affordable price, M3 offers tasteful styling, premium build quality, bullet-proof reliability and 4-seat accommodation. No wonder every year it attracted sales in excess of 10,000 units and easily topped its class.

Since its launch in 1986, M3 has never been seriously challenged – not even Mercedes' AMG division could do much to threaten its top dog status. However, the scene changed completely when Audi dropped a high-revving 4.2-liter V8 into its RS4. This engine pumped out 420 horsepower and was capable to rev to 8250 rpm, some 80 horses and 250 rpm more than the 3.2-liter straight-6 of the outgoing M3. Besides, it had the right chassis tuning to deliver equally exciting handling. As a result, many motoring writers put their votes on the Audi. Meanwhile, AMG put an even larger V8 into C55. Furthermore, an even more powerful C63, based on the new generation C-class chassis, is on the pipeline. M3 has never been subjected to so much pressure...


Inevitably, BMW now faces a serious question:

to go V8, or not to go

. I am always a supporter of straight-6 engines, because this configuration is simply smoother, more energy efficient, more musical to ears and cheaper to build than V8s. Moreover, it is the configuration that BMW is best known for. I suppose Munich also knows this, but unfortunately, it just can't accept an image inferior to Audi and AMG, so the power war among the German premium car makers eventually killed the 6-cylinder M3 and resulted in the first ever V8-powered M3 ! It gets more powerful, of course, but it also gets a great deal more expensive. Now it asks for £50,600, a 20 percent rise from the previous £42,500. That make it out of the reach of many previous customers. The days of affordable M3 has gone. Strangely, BMW still targets at increasing its sales to over 100,000 units during its life. How this can be achieved remains to be seen.


The new M3 is of course based on the E92 new 3-Series Coupe. From its appearance it is easily distinguishable from the regular coupe. Apart from the usual cooling and aerodynamic tweaks, several changes catch your attention, namely, the power dome on the bonnet (to leave enough safety clearance from the V8), the flared wheel arches (to accommodate the wide rubbers), the extra hot air extractors at the front fenders and on the bonnet. Oh, and don't forget the black roof panel. It is made of carbon-fiber reinforced plastic to lower the center of gravity, a technique learned from the last generation M3 CSL and then productionized in M6.



V8 engine



Naturally, we are most interested in its new engine. Calling it the first V8 used in M3 is not exactly true. In fact, a few years ago BMW wanted to race in ALMS and produced a handful of M3 GTR with a 4.0 V8 for homologation. However, the new V8 has no relationship with that engine. Instead, it is derived from the 5-liter V10 powering the M5. Sharing the same 90-degree all-alloy construction with bedplate design, the same cylinder spacing, bore / stroke dimensions and even up to small details like individual throttle butterflies, 32-bit engine management system, ion-current knock control system and super-high 12.0:1 compression ratio, you can see it as the M5's V10 with two cylinders chopped away. It is lightweight for its power, too. Weighing at 202 kg, it is 38 kg lighter than the V10 and even undercutting the old straight-6 by some 15 kg. Admittedly, the old engine employed cast iron block.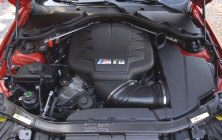 With a seriously oversquare profile for combustion chambers, i.e. 92 mm bore and 75 mm stroke, the M-Power V8 is clearly designed to rev high rather than producing strong bottom end torque. The use of low-friction Nikasil cylinder coating, Bi-Vanos variable valve timing and lightweight connecting rods made of steel-magnesium alloy (titanium is too expensive to BMW) also contribute to this high revving character. As a result, the V8 can rev to 8400 rpm cut-out without any hesitation. At 8300 rpm, it releases the maximum power of 420 hp – that's 77 hp more than the old car and levels with Audi RS4, though not enough to match the 457hp C63 AMG. After all, it displaces 2.2 liters less than the AMG mega V8. In terms of horsepower per liter, however, the BMW V8 is the highest among the three.

Less impressive is torque. The maximum value is 295 lbft at 3900 rpm, less than Audi's 317 lbft and actually no better than the twin-turbo straight-6 of 335i. BMW claims there is at least 90 percent of the maximum, or 265 lbft, from 2500 to 8000 rpm. Sounds good, but the 335i offers maximum torque from just 1300 rpm to 5000 rpm, while RS4 pumps out 285 lbft from 2250-7600 rpm. The lack of bottom end torque means you need to work harder on throttle and gearbox than the other cars to keep pace with them. It also means fuel economy is more likely to dip below the claimed 22.7 mpg, even though it gets the latest Brake Energy Regeneration system like other 3-Series siblings.



Weight and Performance




However, if we talk about straight line speed or track time, engineers will concern power to weight ratio more than torque. The key difference among the three German cars is weight: 1580 kg for M3, 1650 kg for RS4 and 1655 kg for C63. The M3 is lighter because it employs quite a lot of lightweight materials - aluminum suspensions, aluminum bonnet (like E46), composite fenders and the aforementioned carbon fiber roof - as well as it lacks the Audi's all-wheel-drive system and Mercedes' automatic gearbox. What cannot be explained is why it weighs 85 kg more than the 1495 kg E46 (note: all quoted figures are DIN kerb weight), especially considering it uses a lighter engine. Anyway, the new M3 returns a power to weight ratio at 266 hp/ton, significantly higher than the previous 229 hp/ton. It is also higher than RS4 (255 hp/ton), if not C63 AMG (276 hp/ton). At least we can say it no longer trails its rivals for performance.

In straight line, we estimate the E92 M3 can accelerate from rest to 60 mph in 4.5 seconds, three-tenths quicker than E46. 0-100 mph should be close to the mind-blowing barrier of 10 seconds. Many pricier sports cars or grand tourers would slip behind it, for instance, Porsche 911 Carrera S, Audi R8, Aston Martin DB9... The new M3 is undoubtedly a very quick car.



The rest of the car





As before, channeling the power to the rear wheels is a 6-speed manual gearbox (BMW may add a new dual-clutch gearbox later, so the SMG is no more). The E46's Variable M-differential has been carried over to distribute the right amount of power between the rear wheels, to enable power slide in corners in a controllable manner. The standard tires are Michelin Pilot Sport 245/40ZR18 front and 265/40ZR18 rear. They require the composite fenders to extend 20mm each side to cover them. Inside the wheels are larger brake discs, 360mm front and 350mm rear, but they are clamped by single-piston calipers only. As I wrote in AutoZine's News back in April, I have some reservation about their braking power.


The suspension components of M3 are mostly made of aluminum to compensate for the increased strength and firmer setup. A new option is electronic adaptive damping (called EDC), which offers 3 levels of driver setting - Normal, Sport and Comfort. This kind of electronic gadgetries can also be found on the hydraulic power steering, which offers Normal and Sport mode with different weighting. (Thankfully, no Active Steer in the M3) It also alters the throttle response. The stability control offers another 3 modes - On, Off and M Dynamic mode - with different level of intervention. These electronic gadgets means the drivers have plenty of toys to play with. They also partly explain the increased kerb weight.



On the Road



Enter the cabin, the mass production feel is a disappointment. Facing you is a plasticky dashboard without any bespoke alloy decorations, switch knobs, pedals or control gears, nor there are any extra leather upholstery. Basically it is indistinguishable from a £20,000 318i with the exception of the front bucket seats, but then the latter are not as exotic as they ought to be. You must wonder where your £50K is spent.

As expected, space up front is plenty while the two individual rear seats can accommodate 6-footers with decent comfort. The lack of rear doors might be a downside compare with RS4 and C63, but you can wait for the 4-door M3 which is expected next year together with the Cabriolet version.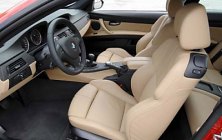 Fire the V8, the first thing you notice is how quiet it is compare with the old straight-6. At low rev it emits a subdued bubble. As rev rise its sound track migrates to something like a racing V8 with high pitch noise, but it still lacks the addictive, pulse-raising excitement of the old engine. Those expecting a muscle car kind of power delivery will be disappointed either, because the M-Power V8 runs with turbine smoothness and a surprisingly linear character. 6000 rpm is just the beginning, from there to 8400 rpm lies the sweet zone and the car is really flying. V8 or not, M3 remains as rev-hungry as ever. To access its performance, you still need to work hard on its slightly clonky gearshift and put up with a fuel consumption of 15 mpg or so.

We have no doubt that the new car is faster – BMW said it lapped Nurburgring in 8 min 10 seconds, 12 seconds faster than the old car, 3 seconds quicker than the current M5 and just 1 second behind M6. Yes, it is still some way behind the old M3 CSL, but that car employed semi-slick tires, remember. However, whether it can match the new C63 AMG is quite doubtful to me. As we know, the AMG not only have stronger power but also better brakes. In contrast, M3's single-piston brakes are prone to fade during hard use, especially on tracks. Just don't know why, BMW has never taken brakes seriously.

But that is only the beginning of its weaknesses. Unbelievably, the V8 power is wrongly mated with a chassis setup that gone soft. On mountain roads, the new M3 rides more comfortably, understeers more, rolls more on the turn-in and becomes more difficult to trigger power slide in corners, although once it is sliding the movement is progressive and controllable. However, the most disappointing aspect is steering, which lacks feedback from the front tires, so the driver can only guess how much grip left. That hurts driving confidence and stops the driver from pushing it as hard as previously possible. Even when you switch to Sport mode, the steering is still too light for keen drivers, and the numbness remains unchanged.

Sadly, the new M3 has lost the razor sharp character of E46. It becomes more like a M5 rather than a nimbler, more driver-focused and more entertaining machine. It might have a bigger heart, but it lacks a soul. Sorry to the fans of M3, perhaps it's time to try AMG...


The above report was last updated on 16 Jul 2007. All Rights Reserved.
M3 Saloon

| | | |
| --- | --- | --- |
| | | Coupe performance with sedan practicality |
You might remember BMW once offered 4-door saloon version of the M3 in E36 generation. That was a decade ago. Unfortunately, it skipped the 4-door in E46, giving rivals Audi RS4 and Mercedes C36 / C55 a good chance to establish a solid basis in compact performance saloon market. Inevitably, it has to respond with a new generation M3 Saloon.

Of course, this car is based on the chassis of E90 (3-series saloon) instead of E92 (3-series coupe). This mean it is a little shorter and taller than the M3 Coupe, but tracks and wheelbase are the same. The same high-revving 4.0 V8 offers very high performance. We are talking of 0-60 mph in 4.8 seconds, just 0.1 sec slower than the coupe because it is 25 kilograms heavier. These extra weight come from the additional doors as well as a standard steel roof instead of the carbon-fiber one reserved for the coupe.

Due to the higher center of gravity, the M3 Saloon loses a little bit body control to the Coupe, but it is still a very good driver's car in its own right. In return, it gets a roomier rear seat which offers more leg and head room. You have the chance of squeezing the third passenger into the rear bench because it is no longer two individual buckets as in the Coupe. The luggage volume also increases by 20 liters.

The M3 Saloon might claw back some sales, but Audi and Mercedes had already expanded their performance versions to wagon. We might see M3 Touring in the future.
The above report was last updated on 15 Feb 2008. All Rights Reserved.
M3 M-DCT


Twin-clutch gearbox was introduced by Audi TT in 2003. In the first 4 years, this technology was exclusive to Volkswagen group, which co-developed its DSG gearboxes with BorgWarner and produced them in its own transmission plant. However, as BorgWarner transferred its know-how and started supplying twin-clutch modules to German transmission giant Getrag, twin-clutch gearbox finally takes off. Getrag developed many applications for its clients, such as the Powershift gearbox of Ford Focus and Volvo S40, the GR6 of Nissan GT-R and the SST of Mitsubishi Lancer Evo X. The latest Getrag products are BMW M3's M-DCT and Ferrari California's unnamed unit. Both of them are based on a 7-speed, longitudinal mounted, rear-drive and high-revving concept. Today we concentrate on M-DCT.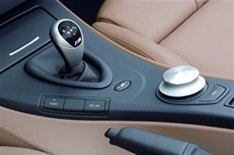 The designation M-DCT stands for M-division and Double-Clutch Transmission. It replaces the outgoing single-clutch SMG. The first application in BMW is the new M3, but I expect it will soon expand to M5, M6 and other mainstream BMW models. When you order an M3 with this option, you pay an extra 3,800 Euro and get a reasonable weight increase of 30 kg. In return, 0-60 mph acceleration is reduced by 0.2 seconds, while fuel consumption improves from 22.7 to 23.6 mpg and CO2 emission is reduced by 10g to 285g per km. These are official figures.

A recent comparison test conducted by Auto Motor und Sport found the M-DCT-equipped M3 Coupe did 0-100 km/h in 4.6 seconds (i.e. approximately 4.4 seconds for 0-60 mph), versus 4.8 seconds for the 6-speed manual car. 0-200 km/h sprint is also slightly faster: 16.0 seconds versus 16.3 seconds. Whether this slim advantage worth the premium depends very much on your view. Some people could spend 10,000 Euro on carbon-fiber and titanium stuffs to get the same improvement.

As before in SMG, the control system of M-DCT is versatile yet complicated - it offers 6 manual modes and 5 auto modes with different shift speed and smoothness levels. Gearchange can be made by either steering wheel paddles or conventional gear selector. Generally speaking, its shift quality is smooth and much better than the notorious SMG, but in some circumstances it is not as refined as other double-clutch gearboxes. Start-stop motion in traffic could be jerky. Full throttle acceleration in the sportiest mode, upshift could be quite violent. These weaknesses could haven been understandable for a single-clutch gearbox, but to a DCT it is obviously too flawed. Admittedly, the M3's wide rev band (8400 rpm) and quick engine response make designing a DCT more difficult than other cars.

To justify the extra cost, Getrag will need to work harder to improve the M-DCT over its life cycle. We shall see whether more time of development could benefit the version fitted to Ferrari California.


The above report was last updated on 7 Jun 2008. All Rights Reserved.
M3 GTS

| | |
| --- | --- |
| | Track-oriented BMW tries to challenge Porsche 911 GT3 RS... |

For reasons only God knows, these days road-legal racing cars are hugely popular. Many high-end sports cars are derived into track-oriented specials with striped-out interior, lightweight materials, optimized engine, rock-hard suspensions and semi-slick tires. Usually they are built in very limited numbers and sold at considerably higher prices than their base cars. Most ridiculous is, few buyers actually take them to motor racing events. Somehow, there is a solid market for these cars.

BMW is no stranger to track-oriented specials. You might still remember the M3 GTR and M3 CSL that Munich built in 2002 and 2003-04 respectively. The former was a homologation special for American Le Mans series, whereas the latter was a lightweight and tuned version of M3. Both were very expensive cars – the GTR was priced at a staggering £120,000 due to its rarity (only 10 were made), whereas the 1400 CSLs were sold at £58,500 each, 50 percent higher than the contemporary M3, or the equivalent of a 911 Carrera. We questioned its value for money then. The same can be said to today's M3 GTS.

The new M3 GTS stands between its two ancestors. Production is to be limited to 150 cars, and each will cost an eye-watering £102,000 before tax. That money will buy you a well-specced 911 Turbo or a 911 GT3 RS with change. Naturally, the latter is the benchmark against which the BMW should be judged. If the BMW could match the mighty GT3 RS, it might just beat any other rivals.


| | |
| --- | --- |
| | Enlarged V8 answered the complaint for the lack of torque in standard M3... |

On paper, M3 GTS has all the ingredients to challenge the Porsche. Its 4.0-liter V8 has been stroked to 4.4-liter, boosting output by 30 horses and 30 pound-foot of torque – now 450hp and 325 lb-ft in total – and the torque curve becomes slightly flatter. This should answer the complaint for lacking torque in the standard car. Channeling the power to the rear axle is a 7-speed DCT dual-clutch gearbox - contrary to Porsche RS, the BMW does not offer manual transmission. Closer ratios and quicker shift patterns differ this DCT from the one serving other M3.

Apart from more punch, the car has also undergone a strict diet to lose 70 kilograms of fat. Weight is saved by ditching luxury features (air-con, audio and sound insulation), by using plexiglass (polycarbonate) rear screen and rear side windows, titanium exhaust and composite materials on rear floor, door inner panels and center console. The standard front seats have been replaced by lightweight, glassfiber-backed racing buckets which comes with racing harnesses. The rear seat has been ditched in favour of a semi-roll cage and fire extinguisher.

Outside, the racing flavor continues with a deep lip spoiler and a huge rear spoiler. The latter is adjustable to vary downforce. The GTS also sits much lower than the standard M3 – 20mm lower in road suspension setting. In case of track use, ride height can be dropped even further thanks to the (manually) adjustable suspensions it employs. Predictably, the suspensions run more aggressive geometry and stiffer springs and dampers. Wider fenders accommodate slightly wider tracks and bigger 19-inch wheels. They are wrapped with Pirelli P-Zero Corsa semi-slick tires with larger footprints (255/35 front and 285/30 rear). Brakes, the weakest link of the standard M3, has been upgraded too. Now the single-piston calipers are replaced with 6-pot up front and 4-pot at the rear. Disc sizes are enlarged from 360 to 378 mm up front and 350 to 380mm at the back.


| | |
| --- | --- |
| | Tremendous adhesion offered by P-Zero Corsa tires... but ride is track-car hard. |

In reality, the GTS is obviously born for race tracks. If you drive it on a typical B-road, its hard suspensions might rock your eyeballs off. On a smooth race track, you will be able to appreciate the aforementioned progress. The first thing to notice is a stronger mid-range punch from the enlarged V8. It is not a day and night difference from the old engine, but you will sense the difference as you no longer need to squeeze the engine so hard. The second thing is the higher cornering adhesion provided by the P-Zero Corsa tires. As long as these rubbers are fresh, the cornering limit is so high that you will be difficult to unsettle the tail. Then other improvements come into play - the steering is heavier and more precise; the handling is sharper and body control is rock steady; the braking is finally excellent and matches the rest of the car; the titanium exhaust produces a more exotic sound; Everything points to the right direction, with the exception of ride quality.

Is it as good as GT3 RS then ? Well, not yet. In terms of straight line speed, the BMW takes 4.2 seconds to go from rest to 60 mph whereas the Porsche takes 3.9 seconds. By 100 mph, the gap is stretched to about 1 second. Flat out, although the M3 GTS is de-restricted to 190 mph, the Porsche is even quicker at 193 mph. After all, GT3 RS has the same horsepower count yet undercuts the BMW on scale by 160 kg.

In terms of steering, traction or real-world speed, the Porsche is also superior to BMW, though the latter is undoubtedly easier to control. However, while you can drive GT3 RS happily on regular roads, the same cannot be said to M3 GTS. It is a single-minded track car rather the a dual-purpose machine like the mighty Porsche. That is not good enough to ask for so much money.


The above report was last updated on 16 Jul 2010. All Rights Reserved.
Specifications
General remarks
Layout
Chassis
Body


Length / width / height
Wheelbase
Engine
Capacity
Valve gears
Induction
Other engine features
Max power
Max torque
Transmission
Suspension layout


Suspension features
Tires


Kerb weight
Top speed
0-60 mph (sec)
0-100 mph (sec)

M3 Coupe

Front-engined, RWD

Steel monocoque
Steel, aluminum, composites, carbon-fiber
4615 / 1817 / 1418 mm
2761 mm
V8, 90-degree
3999 cc
DOHC 32 valves, DVVT

-
-
420 hp / 8300 rpm
295 lbft / 3900 rpm
6-speed manual
F: strut
R: multi-link

-
F: 245/40ZR18
R: 265/40ZR18

1580 kg
155 mph (limited)
4.3* / 4.7** / 4.1***
9.8* / 10.2** / 9.4***

M3 Coupe M-DCT

Front-engined, RWD

Steel monocoque
Steel, aluminum, composites, carbon-fiber
4615 / 1817 / 1418 mm
2761 mm
V8, 90-degree
3999 cc
DOHC 32 valves, DVVT

-
-
420 hp / 8300 rpm
295 lbft / 3900 rpm
7-speed twin-clutch
F: strut
R: multi-link

-
F: 245/40ZR18
R: 265/40ZR18

1600 kg
155 mph (limited)
4.3***
10.0***

M3 Saloon

Front-engined, RWD

Steel monocoque
Steel, aluminum, composites


4580 / 1817 / 1447 mm
2761 mm
V8, 90-degree
3999 cc
DOHC 32 valves, DVVT

-
-
420 hp / 8300 rpm
295 lbft / 3900 rpm
6-speed manual
F: strut
R: multi-link

-
F: 245/40ZR18
R: 265/40ZR18

1605 kg
155 mph (limited)
4.1* / 4.6*** / 4.3****
9.8* / 10.5*** / 10.1****










General remarks
Layout
Chassis
Body


Length / width / height
Wheelbase
Engine
Capacity
Valve gears
Induction
Other engine features
Max power
Max torque
Transmission
Suspension layout


Suspension features
Tires


Kerb weight
Top speed
0-60 mph (sec)
0-100 mph (sec)

M3 GTS

Front-engined, RWD

Steel monocoque
Steel, aluminum, composites, carbon-fiber
4645 / 1804 / 1387 mm
2761 mm
V8, 90-degree
4361 cc
DOHC 32 valves, DVVT

-
-
450 hp / 8300 rpm
325 lbft / 3750 rpm
7-speed twin-clutch
F: strut
R: multi-link

-
F: 255/35ZR19
R: 285/30ZR19

1530 kg
190 mph (c)
4.2 (c)

-









Performance tested by: *C&D, **Autocar, ***R&T, ****MT
Copyright© 1997-2010 by Mark Wan @
AutoZine