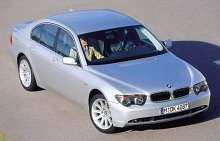 BMW's flagship 7-series does not have a very long history. It was first introduced in the early 80s as the company's big car. Getting more luxurious in the second generation, then adding more driver appeal in the third generation, the emphasis now shift to technology. Yes, I know every luxurious sedan calls itself high-tech, but the new 7-series is really a moving technology warehouse, and we'll see soon how it out-advance arch-rival Mercedes S-class. The question is just whether it make good use of the technology to improve comfort and dynamic.

Let us look at the car first. The 7-series is designed by BMW design chief Chris Bangle, who is my most unfavourite designer since his work in Z3. Unfortunately, 7-series is the first mainstream BMW designed under his full freedom, no wonder it is also the most controversial design BMW ever produced. Mr. Bangle seemed dislike the company's traditional evolutionary design. He tried to revolutionize, therefore introduced an odd headlamp whose upper edge incorporates signal lamp. More controversial is the high boot lid which looks like sitting on the tail rather than embedded into the tail. When questioned by journalists, Mr. Bangle spent hundreds of words to explain how beautiful this look and how it fulfils functional requirements. Rubbish. If I were him, I would have asked the journalists to look at the car for 100 more times. The more you see it, the more comfortable you feel about it. Yes, I am starting to love it now ...

Unarguably, the new 7-series looks solid and substantial, even bigger than its actual dimension. This doesn't mean it is small. The new body is 40mm wider and 57mm higher. Wheelbase is up 60mm to 2990mm, even longer than S-class. Therefore it is also a touch heavier than rivals. Suspensions remain loyal to the existing design, that is, MacPherson struts up front and multi-link at the rear, both mounted on subframe. The only major change is that they are constructed largely in aluminium to save weight and improve ride quality. Now here comes the new technology: the suspensions employ adaptive damping which is continuously variable according to road conditions and driving style. At the rear, self-leveling air suspensions can be ordered as option to further enhance ride comfort. Another new feature is an active anti-roll system similar in function to Mercedes' ABC. In BMW's language it is "Dynamic Drive". It employs hydraulic-actuated anti-roll bar to resist body roll in cornering, so the mechanism is more like Citroen Xantia's Activa rather than Mercedes's ABC which varies springing stiffness at individual wheels. When lateral force is up to 0.6g, it limits body roll to less than 1 degree. Above 0.6g, it allows greater body roll in order to give the driver more feedback of cornering state, this avoid repeating Citroen's failure. The use of Dynamic Drive allows softer suspensions tuning to enhance comfort without worsening handling. Furthermore, by applying different roll stiffness to front and rear suspensions, understeer / oversteer can be controlled.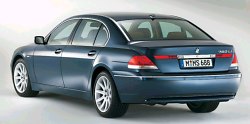 BMW rarely introduced a new mainstream model with new engines, but in this 7-series we can see a pair of new generation V8 as well as a new V12. Let's see the V8s first. They are the result of 4 years development, employing Bi-Vanos variable valve timing, a continuously variable length intake manifold (called DIVA, or Differentiated Variable Air Intake) and the famous 10%-fuel-saving Valvetronic throttleless intake system. The engine of 745i (actually displaces 4398c.c.) produces 333hp and 325lbft, stronger than all rivals bar Infiniti. 735i (actually 3.6-litre) produces 272hp and 266lbft. Other engines include the existing 3.0 straight-six (231hp), 3.0d turbodiesel straight-six (184hp) and 3.9-litre turbodiesel V8 (245hp). Range topping 6.0 V12 replaces the ancient 5.4-litre predecessor. It finally features 4-valve head, accompany with Bi-Vanos, Valvetronic and even direct-injection. It pumps out 408hp and a class-leading 442lbft of torque.
The 7-series also introduces the world's first 6-speed automatic transmission, supplied by ZF. Advantages are obvious: faster acceleration and lower fuel consumption. Despite of 1 more ratio, it is 18% lighter than the old 5-speeder and employs less components. The gearbox provides 3 operation modes: the normal Drive mode, the Sport mode which shift at higher rev and the Tiptronic-style Manual mode. The latter operates via buttons on steering wheel. Where is the shifter ? not in the transmission tunnel, it is mounted at the steering column.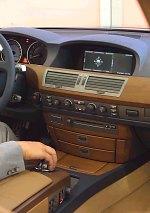 So what things engage the transmission tunnel ? it is a long armrest on which a silver rotary switch knob located. It is this simple knob control the controversial iDrive computer system. Basically, iDrive is BMW's version of Windows OS. Through the rotary switch (equals to your Mouse) and the big LCD screen located in center of dashboard, you can control up to 700 functions, ranging from the setting of adaptive damping, anti-roll control, gearbox mode, satellite navigation, climate control to audio. Alternatively, you can use voice recognition to control these functions, provided you can memorize so many instructions. Although BMW's ergonomic engineers spent a lot of time to design the OS as user-friendly as possible, there are still many journalists said it is annoying to use iDrive to activate some simple functions instead of a touch of a button. Some journalists, however, got used to it quickly and found it very interesting. In the age when computers and WAP mobile phones as popular as cars, perhaps our driving style should also adapt a bit. Anyway, BMW has left some of the most frequently used buttons on the dashboard, in the most logical position.
The design of interior is no less disappointing than the exterior. Chris Bangle this time sacrifice the traditional driver-oriented dashboard for a furniture-like layout. That said, you can never guess it is a BMW. The plastic hoods over instrument readings and LCD screen are particularly ugly. Even myself can design a prettier one. Nevertheless, the engineers still worked hard to compensate Mr. Bangle's faults. They trimmed the interior with high-quality materials, superbly comfortable seats and a lot of (optional) luxurious equipment. We have already said the car is bigger than rivals, so cabin space is generous for all occupants. If not enough, long-wheelbase version can be ordered as before.
On The Road
Now all the technology melts together and let's see how the 7-series drive.
First to praise is the 745i engine, which pulls the heavyweight newcomer so effortlessly. Infiniti might boost marginally more on-paper power, but the high-tech BMW V8 is obviously more powerful and torquey from low to mid-rev. BMW's claim of 0-60mph in 6.1 sec should be fairly accurate. Simultaneously, it is also very smooth and quiet, simply Lexus-matching. Even at redline, it still spins freely and eagerly.
There is no test data about fuel consumption available, but the combination of Valvetronic and 6-speed auto is likely to result in a class best. Talking about the gearbox, it is the smoothest ever tested, so seamless and efficient.
Handling and ride takes a bit more to explain. Because settings of transmission, adaptive damping, DSC stability control and traction control can be altered manually, you have to test and learn which setting suit what conditions. Once learned that, the 7-series can be a sports sedan as well as an American-style magic carpet depends on wish.
Set the damping and transmission to Sport mode (the former also reduces steering assistance by 20%), the car feels responsive and agile. It corners flatly, flatter than an ABC-equipped S-class yet rides more supple. This is because BMW's system alter anti-roll bar but not suspension springing. The new rack and pinion steering with 3.0 turns lock to lock is quick, well-weighted and provides good feedback. The car changes direction fluently, with amazing eagerness for its size.
In the most comfortable setting the suspensions can be very soft but the car can also be reluctant to change direction and rolls excessively. Whether you like this is your business. The 7-series just give you more choices.
Can the new BMW flagship beat the mighty Mercedes S-class ? it seems yes, but we still need to wait for a full comparison test between the two German arch-rivals before we can make a judgement.