740d - invest the future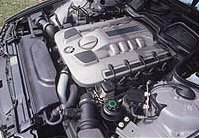 To make the diesel 740d matching 735i in terms of performance, the price is rather heavy. You can count the additional components involved : a common rail direct injection system, a pair of turbochargers with variable geometry turbines, a pair of intercoolers, a specially machined crank bearing block and a cast iron block made by a special process. When BMW announced a price of only 5% more than the 735i, no doubt the 740d is sold at considerable loss.

Although beating Mercedes and Audi to launch the first V8 turbo diesel, the Munich firm expect to sell just "a few thousand units" annually. They know this is just an experimental step. Brighter future will appear for V8 turbo diesel cars since 2004, when the toughest-ever emission regulation be effective. According to their understanding, large capacity petrol engines are unlikely to pass the regulation, leaving diesel engines the only possible solution.

We rarely talk about diesel engines. If you are not familiar with their characteristics, please read AutoZine Technical School - Modern Diesel Engine. Now I assume you are OK.

The heart of 740d is a 3901c.c. V8 with aluminium head and cast iron block. 2 banks of dohc, 16 valves head has the same design as 320d and 530d. The high pressure common-rail direct injection system is doubled in the V8. Like many diesel engines, a strong cast iron block is adopted to cope with the 18.0:1 compression ratio plus the turbocharged pressure. Noise reduction is very crucial to diesel engines, so BMW added vermicular graphite to the block during casting, this also lighten the block by 20%. Anyway, with so much components added and without aluminium block, 740d found itself 150kg heavier than 735i.

Added with twin turbo and intercoolers, the result is 245hp (versus 238hp of 735i). However, the advantage of diesel is always torque - 413 lbft at 1750-2500rpm. In other words, this is even more than the 369 lbft of M5's 5-litre V8 and 361 lbft of 750i's 5.4-litre V12 ! To make good use of the low-rev character (peak power occurs at 4,000rpm), a very small final drive ratio is used, just 2.65. Also because of the abundance of torque, only 5-speed Steptronic automatic is provided.

The advantage of 735i could be noticed in 2 places : first, the throttle pedal. Once the turbochargers engaged at around 1600rpm, the engine is far more responsive than the petrol. Although the 0-62mph time of 8.4sec is 0.2sec slower than 735i, this is mostly due to the turbo lag at very low rev. In real world, its passing ability is superior. Second, the fuel gauge. Despite of the 150kg weight penalty, 740d returns a combined fuel consumption of 28.8mpg, compare with 735i's 23.3mpg.

However, as an additional 150kg is put on the front axle, handling must be deteriorated. Steering is reluntant, with too much understeer. The second problem is the noise. Although sound insulation is quite effective, it can't change the uninspiring style of the noise.