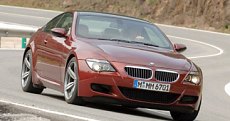 With M5 entered production last year, naturally the next development is M6. As 6-Series is derived from the 5-Series platform, M6 is also a development from the M5. The same 507 horsepower V10 powers both cars. What make difference is the packaging: the M6 is slightly wider, 9 cm lower and 45 kg lighter. Well, the last one is not very impressive indeed, considering the M6 lost 10 cm wheelbase, 2 rear doors and a proper rear seat.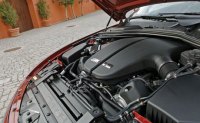 BMW told us it tried very hard to reduce weight. Apart from the aluminum bonnet, aluminum doors, thermoplastic front fends and composite boot lid already found in the regular 6-Series, the M6 adopted very thin forged aluminum wheels - each saves 1.8 kg - and a carbon-fiber roof panel like M3 CSL. The latter saves just 4.5 kg, but its benefit to center of gravity should not be ignored. Anyway, 45 kg lighter than the M5 is not something you can applause, neither is the 1710 kg kerb weight.
One of the reasons is the V10 engine. It's a source of magic as well as a cause of overweight. At 240 kg, this engine is 3 times heavier than the other BMW V10 engine (well, that engine was only sold to Frank Williams). But by any standard 240 kg is not something in compliance with BMW's over-advertised "Lightweight Concept". The fact hurts: Porsche has a V10 that undercuts the M-Power by 26 kg yet produces 100 more horsepower.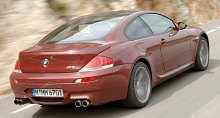 This make the M6 a strange thing. Its engine, suspension tuning and tires work every bit like a sports car. But its size and weight says otherwise. When you switch the power mode to P500, flick the suspension damping and steering servo control to Sport mode and the gearbox to S6 mode, floor down the throttle and the V10 screams craz
ily (and addictively), pushing your neck hard on the headrest, storms to 60 mph in 4.5 seconds and 100 mph in something around 9.5 seconds. Oh my God, this is the supercar territory ! well, M5 was already in the supercar territory.
Steer the M6, it has the meaty feel and high accuracy like its saloon brother. Just everything goes faster and harder. Thanks to the wider track and lower center of gravity, it corners even faster than the M5. The soft-compound Pirelli P-Zero Corsa tires - the same one as Ferrari 360 Stradale and 911 GT3 RS - provide incredible grip. The M6 has a little understeer in default, but when you switch off DSC and apply power to the rear wheels, it can drift cornering as beautifully as M5.
But the advantage over M5 is too slim. At the same time you lost the proper 5-passenger accommodation and you pay £80,000 for the M6 compare to the M5's £65,000. Moreover, the M6 rides harder and harsher than the saloon - itself was already too hardcore to some people.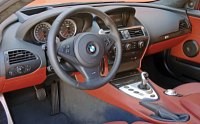 Ridiculously, M6 is supposed to be a high-performance GT rather than a sports car. But its suspensions - even with 3 modes of damping to choose from - is even harder than pure sports cars like 911 and Noble M12. This is partly blame to the stiff sidewall P-Zero Corsa tires, but mostly because BMW tried to hide its size and weight by firmer suspension setting. This means M6 is not a good companion for cross-country trip.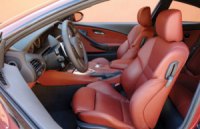 Fast though it is, the car has a couple of problems prevent it from matching real sports cars. The first one is lack of steering feel. The second is a brake prone to fade after continuous hard use. Ironically, both problems are succeeded from the M5 because they share the same steering rack and brakes. Unfortunately, we cannot forgive these in a car supposed to be sportier than M5.
So, what is M6 ? it is neither a sports car nor a grand tourer. It is not as sensible as M5, nor as charismatic as Porsche 911. More problematic is: it is really expensive. You can buy a dedicated sports car like 911 Carrera S or even GT3 for less money.



In fact, its predecessor M635CSi had the same pricing problem. Back in 1986, M635CSi was sold for
£41,000, more than the contemporary Porsche 911 Carrera by
£10,000. But M635CSi was not just about 286 fire-breathing horsepower. It was also a beautifully-styled, elegantly-built, good riding and comfortable 4-seater coupe. It provided many things that traditional sports cars and grand tourers lacked of. That's why M635CSi had become a classic, the definitive BMW performance coupe.

The latest M6 has almost doubled the power from M635CSi, but it falls into an identity crisis. Today the BMW top coupe is neither as fun to drive as Porsche 911, nor as competent (the poor brakes, the lack of feel), nor as comfortable to ride, nor as beautiful, and it still ask for more money. That's the problem.