BMW 3-Series (E90)

Debut: 2005
Maker: BMW
Predecessor: 3-Series E46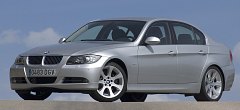 Everybody in the class wants to beat BMW 3-Series. With an astonishing 528,000 units sold in 2003, it is not only the best seller in the class but also by far the most important model for BMW, accounting for 57% of the brand's total sales.
The first 3-Series, codenamed E21, was born in 1975. It evolved to E30 in 1982, E36 in 1990, E46 in 1998 and E90 recently. The latest 3-Series grows slightly bigger again, being 49 mm longer, 78 mm wider and 9 mm taller than E46. Wheelbase has been stretched by 35 mm, adding 25 desperately needed millimeters to rear legroom. There is also more shoulder room for all occupants. However, rear headroom is slightly reduced, limiting its occupants to no more than 6 feet tall. This is to ensure the 3-Series won't steal sales from the 5-Series. But with another 7 years or so lying ahead, can it fend off the competition from the roomier next generation Mercedes C-class, Audi A4 and Alfa Romeo 159 ?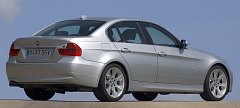 Another worrying thing is styling. Journalists described the new 3-Series as the least radical design from Chris Bangle, which sounds a good news. But is it pretty? The answer is definitely "no" to me. The problem lies not only on the imposing double-kidney grille and eagle-eyes headlamps, but also the unbalanced proportion. More disappointing is the cabin: following the 7 and 5-Series, the new 3-Series has replaced BMW's traditional driver-oriented dashboard with an ugly, camel-shaped twin-binnacle dashboard. This is simply equivalent to taking away the jewel from the crown and replace it with a stone. We can never understand this, and we can never forgive Chris Bangle.
The cabin has another problem: visual quality. It looks not only uglier, but also more plasticky and therefore less expensive than the E46. Strangely, the plastic materials employed are actually of higher grade, but the convex-concave shape of the dashboard generates more light reflection, hence amplifying the sense of plasticky. The pronounced assembly gaps between different plastic parts also downgrade the quality feel. The same goes for the very fake wood trim – unless you are King of the Jungle, you'd better to avoid wood trim and choose the aluminum trim instead.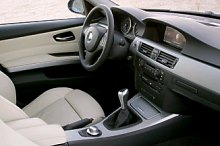 We have enough disappointment up to this point. Fortunately, starting from here everything is more positive. The E90 follows the footprints of its predecessors to be an exciting driver's car, thanks to a balanced chassis, fine tuning and excellent powertrains.





The chassis of E90 is 25% stiffer than E46's yet without any increase of kerb weight. What it cannot improve is the already perfect 50:50 weight distribution. Yes, BMW 3-Series is still the only car in the class and one of the few front-engined cars in the world achieving 50:50 balance. Unlike rivals, BMW is willing to sacrifice cabin space in return for good handling. Therefore it pushes the engine accompany with the cabin rearward, resulting in better balance. Besides, it places the battery at the boot and deliberately uses steel to construct the rear suspensions (while front suspensions and subframe are aluminum). All these contribute to the perfect chassis balance.





The front suspensions are again MacPherson struts, but the rear switches from Z-axle (which can be dated back to E36) to a new 5-link suspension sharing with 1-Series. Overall, the 3-Series has 40% components shared with the 1-Series. This include engines and gearboxes of course.





BMW's inline-6 engine is world famous, but it is no longer as powerful as rivals (e.g. the 272hp Mercedes 3.5 V6 and 255hp Audi 3.2 V6, not to mention Honda Legend's 300hp 3.5 V6). Surprisingly, BMW decided not to increase capacity, but to keep its straight-6 at 2.5 litres and 3.0 litres. It seeks extra power by improving efficiency. In my opinion, the R6 is the most sophisticated mass production engine in the world, employing a lot of advanced technologies: Bi-Vanos VVT, 3-stage variable intake manifolds, Valvetronic, and the world's first magnesium-aluminum crankcase. The latter makes it undercutting the outgoing engine by 10 kg. In 3.0 litre form, it produces 258 horsepower (compare to the previous 231hp) yet drinks 12% less fuel than the old engine.





However, what makes the 3-Series a half-million seller is not just the straight-6, but also a full range of world class engines, including the entry-level 2.0-litre Valvetronic 4-pot (150hp) and the 2.0-litre 16V turbo diesel (163hp), which is very popular in Europe. The current 218hp 3.0-litre turbo diesel inline-6 will also find home at the new 3-Series, and it could get another power boost. All engines work in companion with a new 6-speed manual or 6-speed automatic gearbox.



On the Road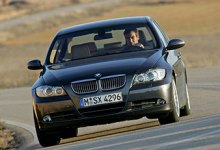 Bad taste styling aside, the 3-Series is everything car enthusiasts want. It is fast and genuinely fun to drive. Its handling exceeds everyone else in the class by a convincing margin.



Unquestionably, the 3-litre straight-6 is a masterpiece, being superbly smooth, eager and linear across a very wide band. It might not be as torquey as its larger rivals, but from 2000 rpm it already delivers respectable punch, and no one else can be so eager to spin to 7000 rpm redline. No coarse sound, just a characterful music that only BMW's inline-6 can make.

What it lacks in torque is compensated with 6 gear ratios, a slick manual gearshift and a relatively lightweight body. 330i can easily squeeze into the 6 second barrier for 0-60 mph acceleration (note: Car and Driver clocked 5.6 seconds), faster than anything else in the class. The 330i is also one of the few 3.0-litre cars that can reach an electronic limited 155 mph (250 km/h). You can't help praising its efficiency.



The 3-Series is the only car in the class genuinely communicates with the driver. Its steering is precise and feelsome. Its throttle, clutch and brake pedals are accurate and nicely weighted. Its gearbox shifts crisply. All controls encourage the driver to exploit maximum performance from the car. BMW must have spent a lot of time and effort in tuning the controls.



The chassis is also a source of wonder. Incredible chassis stiffness gives the E90 simultaneously higher precision in body control and more supple damping while reducing NVH to the cabin. Ride quality is still firmer than Mercedes, but body control is obviously out of reach by its rivals. However, most outstanding is the superb balance of the chassis. The 3-Series feels small and light to steer. It reacts instantly to steering input and is easy to steer by throttle once you switch off the DSC stability control. Nose-heavy cars can never display such pure control.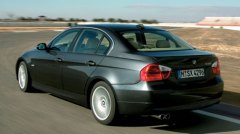 Nevertheless, the chassis is not without flaws: when it approach cornering limit, it displays a little more understeer than good drivers desired. In fact, BMW deliberately tuned the chassis like this to please the majority of customers. For those pursuing ultimate driving fun, they can choose the optional Sport suspension package, which include 15mm lower ride height and stiffer suspensions. Ride quality suffers a little, but the package eliminates understeer and body roll.



Another flaw of the E90 is the Active Steer, which was first introduced in the 5-Series. After a year, most car journalists are still unconvinced with its unpredictable variable steering ratio. So it is better not to waste money on this optional equipment. In fact, the standard hydraulic power steering is so good that who bother to have Active Steer?



Overall speaking, the 3-Series once again pull away from its Mercedes and Audi rivals. To driving enthusiasts, it is the best choice of the class, at least for the time being. But prettier and more powerful cars like Alfa 159 and Lexus IS could threaten its position in the near future. We are looking forward to see a close fight.


The above report was last updated on 7 Apr 2005. All Rights Reserved.
The sophisticated R6 engine

Note: the internal codename of R6 was later known as N52


BMW's M54 inline-6 engine won praises all over the world. But the new R6 engine is better in every way, no matter power, weight or fuel consumption. In 2.5 and 3.0-litre form, it produces 218hp and 258hp respectively, compare with the old engine's 192hp and 231hp. This translate to 86-87hp per litre, the highest specific output of the class – we talk about mass production naturally aspirated engines of course.
The outstanding efficiency is contributed by several technologies. Like the outgoing engine, it has double Vanos continuously variable valve timing at all camshafts. What's new to the inline-6 is Valvetronic system, which eliminates throttle butterflies by varying valve lift according to throttle pedal. This reduces pumping loss at partial throttle, thus allows the R6 to drink 12% less fuel than the old engine.
In the past, the first generation Valvetronic used in BMW's V8 and inline-4 engines were seen as a fuel-reducing means rather than a power-enhancing design, although it is actually a variable valve lift system (think of Honda's VTEC). This was because the Valvetronic mechanism was heavy, limiting the revability of the engine. In the new R6 engine, the second generation Valvetronic employs aluminum parts to reduce moving mass. The camshafts are also converted to hollow type to save some 1.2 kg. This allow its variable lift function to excel at high rev, pushing maximum rev from 6500 rpm to 7000 rpm. This account for most of the power gain.
The R6 produces no more maximum torque than M54, but the torque curve is improved by using a 3-stage resonance variable intake system instead of the outgoing 2-stage system. For example, the 3.0 engine used to produce its maximum torque at 3500-4750 rpm. The new engine becomes 2500-4000 rpm.
Another advance is the use of electric water pump instead of engine-driven pump. It can save up to 2kW or 2.7 horsepower.
However, the biggest advance over M54 is weight reduction. Weighing 161kg only, it is claimed to be the world's lightest 6-cylinder engine, although Audi's 3.2 V6 is not far away at 169.5 kg. Contributing to the weight saving is the use of magnesium cam cover and the world's first magnesium-aluminum hybrid crankcase. The crankcase consists of 2 parts: magnesium housing and aluminum insert. The magnesium housing contains the oil channels and provides mountings for peripherals such as gearbox and alternator. The aluminum insert is employed to handle the high temperature and mechanical stress that magnesium cannot cope with. Despite of the addition of Valvetronic, the R6 is 10 kg lighter than M54.
The only weakness of R6 is the lack of space for enlargement. The 3.0 engine has a 85mm bore and 88mm stroke, while distance between bore center is just 91mm. That nearly rule out the possibility for enlargement. Most of its competitors now employ V6 engines displacing between 3.2 and 3.5 litres. Can the R6 find ways to increase power and, more crucially, torque in the future? or switch to turbocharging? I will be very interested to see.
The above report was last updated on 7 Apr 2005. All Rights Reserved.
3-Series Coupe (E92) and 335 engine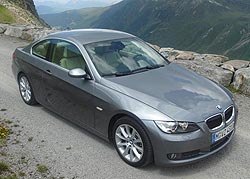 Well, the new 3-Series Coupe may be not as beautiful as Alfa Brera or Audi TT, but it is definitely a vast improvement from the ugly 3-Series sedan. Its side profile is cleaner, its front end more elegant (thanks to the new grille, headlamps, bumper and a 3-dimensional bonnet) and its new taillights far easier to the eyes than those ugly units in the sedan. It is the best Chris Bangle design to date, and together with 6-series it proves that Bangle draw coupes better than sedans.

As always, 3-Series Coupe is mechanically nearly identical to its sedan sister, unlike many rivals which use shorter wheelbase and different chassis for the coupe versions. Cost is one reason, but equally important is that BMW wants to offer 4-people accommodation and comfort close to the sedan. Remember, the root of 3 Coupe traces back to the original 3-Series E21, which was strictly a 2-door sedan. It was joined by a 4-door version since the second generation (E30), and then itself finally evolved to 3-Series Coupe in the third generation (E36). From the very beginning, 3 Coupe has been a 2-door version of the sedan as well as a genuine 4-seater. The latest car is no exception. It shares the same 2760 mm wheelbase with the sedan and its overall length is only 60 mm longer due to the extended overhangs necessary for pretty styling. Its windscreen and rear window are angled slightly faster. It employs 2 large doors with frameless windows, surrounded elegantly by chromed stripes. Inside, the cabin is let down by the same odd dashboard (too expensive to engineer its own item). Rear seats become 2 individual seats, each capable of sitting 6-foot-plus passenger behind a front occupant of similar height. Apart from 3 Coupe, which coupe can do that?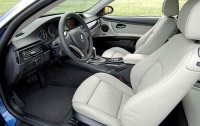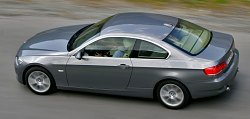 Engine by engine, the Coupe is no lighter than the Sedan, so performance is virtually identical. However, its handling is slightly superior, thanks to a 20% increase of chassis rigidity (due to the loss of rear doors), a 12mm lower ride height and stiffer suspension setting. Considering the sedan is already an excellent driver's car, the coupe is even more appealing. Its near perfect weight distribution and rear-drive architecture are elem
ents that most rivals can only dream of. Its well-judged tuning and mechanical integrity are beyond the approach of most rivals.



335i engine




The biggest news for the 3-Series Coupe is the introduction of the 335i engine, although undoubtedly it will be applied to the sedan and most other BMW series soon. While the name of the car suggests a 3.5-liter V8, in fact its heart is a twin-turbo 3.0-liter straight-6. Codenamed N54, it is a development from the normally aspirated 3.0-liter unit (now updated to an astonishing 272hp and is called N53). This is BMW's first turbocharged petrol engine since the 1980 745i. For a quarter of a century, the company insisted to use only normally aspirated engines in order to deliver the best linearity and throttle response to delight its demanding drivers. Nevertheless, as the technology of turbochargers progressed quickly in recent years, and the market / legislation calls for more efficient engines, turbocharging is once again put on the map of BMW.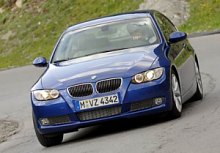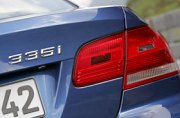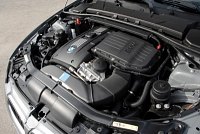 The N54 engine employs a pair of small turbochargers to boost a very light pressure - only 0.4 bar. Therefore it produces "only" 34 more horsepower than the updated normally aspirated version, or a total of 306 horsepower at 5800 rpm. However, the small turbos in addition to the most sophisticated piezo direct gasoline injection (faster response than regular solenoid injectors) allows a normally aspirated-like compression ratio of 10.2:1 and a very strong torque curve, with a peak of 295 lbft (up 63 lbft) running continuously from 1300 rpm all the way to 5000 rpm. This made the variable intake manifolds and Valvetronic redundant, therefore discarded. The higher mechanical and thermal stress called for a negative change though: the magnesium outer crankcase is replaced by a conventional aluminum block with cast iron liners. At 190 kilograms the twin-turbo N54 is 28 kg heavier than the magnesium normally aspirated engine. Audi S4's 344hp 4.2-liter V8 is only 5 kilos heavier. Nevertheless, sticking with 6 cylinders allow the BMW engine to return remarkable frugality - 29.7 mpg according to EU combine cycle. Audi manages only 21.2 mpg.

On the road, the 335i engine is a gem. It feels like a large capacity V8 instead of a turbocharged six, thanks to the absence of turbo lag, the astonishing bottom-end tractability and the quick throttle response. You will be difficult to sense that it is actually a turbo engine. Yes, when approaching the 7000 rpm redline it could feel slightly breathless, and at most rev the engine produces a deeper, bassier noise than the normally aspirated version. That's the only indication of its real identity.

While 0-60 mph in 5.2 seconds may not sound too much improvement from 330i, 335i has far superior real world performance due to its strong torque curve. It could be even quicker than an E46 M3 if both drivers are driving at 90 percent effort - think of those 343 horsepower releases at a heady 7900 rpm and only 269 lbft of torque is available at no earlier than 4900 rpm. Combining "junior M3" performance and the frugality and civility of regular 3-series coupes, BMW's decision to return to turbocharging can't more more correct.


The above report was last updated on 21 Aug 2006. All Rights Reserved.
335d Coupe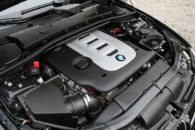 We used to think the twin-turbo petrol 335i Coupe is the perfect coupe to satisfy our requirements for fun and practicality simultaneously. But many motoring journalists keep telling us that the diesel 335d Coupe is even better. On paper, the diesel version takes longer time to reach 60 mph, although still in an impressive 5.9 seconds. It carries 45 extra kilograms compare with a 6-speed manual 335i Coupe. Moreover, it does not offer any manual gearbox to please those who like to shift by themselves. It also costs a little more money to purchase. So how can it better the petrol version ?

The answer lies on the engine. This 3-liter inline-6 with variable twin-turbocharger was first introduced to 535d in the form of 272 horsepower, but later improved to 286 horsepower at 4400 rpm. The clever combination of two different size turbos – the smaller one for low rpm and the larger one for high rpm – and the smooth transition between the two turbos enable an almost instantaneous response and virtually free of turbo lag. The engine is so efficient, just 20hp short of the petrol 335i and it returns superior fuel consumption at 37.7 mpg. More telling is the tremendous torque curve which peaks at 428 lbft from 1750 rpm to 2250 rpm. No other 6-cylinder turbo diesel engines are so punchy !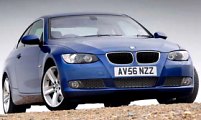 With so much torque, no wonder the 335d Coupe feels faster than its petrol brother in real world. We used to think 335i effortlessly quick, but 335d sets new standard again. So effortless that there is no point to insist a manual gearbox. The 6-speed automatic is both silky smooth and responsive thus is a perfect companion with the diesel engine. The engine itself is also very refined. Apart from a slight diesel-like vibration at cold startup, you are not easy to tell whether it is a diesel or a petrol engine.

Compare with an automatic 335i, the 335d gained only 30kg over its front axle. This makes the steering heavier and the ride a little firmer at low speed, but otherwise it handles and rides as brilliantly as 335i.

Back to our question, is 335d better than 335i ? that depends on your preference. If you prefer effortless driving style, 335d will be the better choice. If you prefer to play with engine rev and gearshift and enjoy the best possible ride and handling, then 335i will be the ultimate choice.
The above report was last updated on 3 May 2007. All Rights Reserved.
3-Series Cabriolet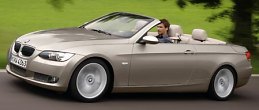 In my opinion, BMW 3-Series Cabriolet should have stuck with traditional soft roof. Switching to folding metal roof added complexity and a weight penalty of 200 kilograms on the top of the equivalent Coupe. This hampered its performance and civilized its handling. No wonder in its first road test event, BMW offered journalists to test only the most powerful model, 335i Cabriolet. As predicted, most journalists described the car felt slower than 335i Coupe, but the tremendous bottom-end and mid-range torque from the twin-turbo direct injection six reduced the damage to the minimum. Try a 330i or 325i instead and do you think the journalists will give the same favourable comments ?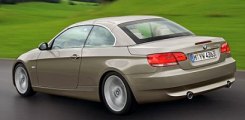 Well, at least the chassis is very stiff. Among the added kilograms, about a third is spent to reinforce the chassis, which is 50 percent stiffer in torsion than the last generation Cabriolet. The roof mechanism is also well built. It comprises of 3 pieces like Volvo C70, so it does not require raking the windscreen to reduce the size of roof panel, or lengthening the boot to accommodate it. With the roof up, the new Cabriolet looks almost the same as the Coupe. It even provides the same large glass area to lighten the cabin ambience.

The steel roof takes 22 seconds to open and 23 seconds to close, considerably faster than Volvo C70. When it is up, it provides very good noise and thermal insulation – that's the point of building coupe-cabriolet. When the roof is down, the Cabriolet suppresses wind buffeting very well. This car demonstrates extremely high standard of finish like any other BMWs.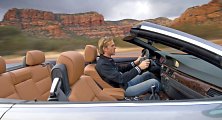 The boot can swallow 350 liters of luggage with the roof is up, or reduces to 210 liters when the roof is down. Both figures are average to the class. Unfortunately, with the roof in the boot, it is difficult to access luggage through the narrow opening.


The front half of the cabin remains unchanged from the 3-Series Coupe. Inevitably, the rear passenger space gets narrower and shorter due to the roof mechanism and chassis strengthening. The seatback is more upright yet legroom is reduced. This place is better suited to children or short adults.

However, the problem of this car does not lie in practicality, but the fact that the 3-Series Coupe performs, handles and rides so much better. Having tried the Coupe, you will be regret to sacrifice all the finesses for open air motoring.
The above report was last updated on 5 Feb 2007. All Rights Reserved.
2007 engine upgrade


In 2007 the 3-Series had most engines updated. All petrol engines got direct injection in place of the less efficient Valvetronic to boost output - 318i increased from 129 to 143hp, 320i from 150 to 170hp, 325i from 204 to 218hp, 330i from 258 to 272hp. Four-pot diesel engines received 3rd generation common-rail injection to boost power as well - 318d increased from 122 to 143hp and 320d from 163 to 177hp.

Fuel efficiency was lifted also by the "Efficient Dynamics" measures, including brake energy regeneration, low rolling resistance tires, on-demand water pump and air conditioning. The four-pot engines also got auto start stop to boost fuel efficiency in urban driving.


The above report was last updated on 15 Aug 2009. All Rights Reserved.
2008 facelift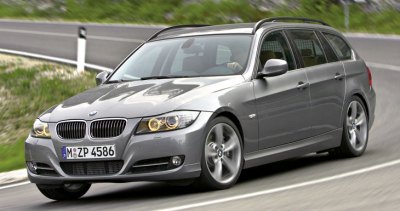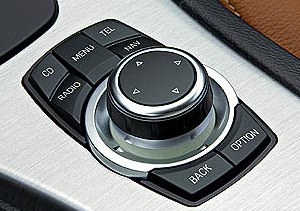 In July 2008 BMW unveiled the facelifted 3-series saloon and touring. Although their fascia, bumper, headlamps and bonnet are all reshaped, they are not much prettier than the original design. Those seeking a stylish junior executive car will still find Alfa Romeo 159 and Audi A4 more convincing. Inside, the cabin is mostly unchanged. This mean it still trails Audi and Mercedes for quality. The only significant upgrade in the cabin is the notorious iDrive control system. Its user interface now provides 4 additional buttons for faster access to CD, radio, telephone and air conditioning. Besides, short-cut keys can be programmed. It finally works ! Now it is easier to use than similar systems by Audi and Mercedes. Less significant changes include a larger color LCD screen and BMW's new in-car internet access system called ConnectDrive.

Like most facelifts, this one alters little the chassis. The only change worth mentioning is a 24mm wider rear track on the 6-cylinder cars, which helps handling a bit. Most engines are carried over unchanged, except the 3.0-liter turbo diesel that serves 330d, whose power increased from 231hp to 245hp thanks to the use of 1800 bar common-rail injection. Brilliantly, its fuel consumption also improves from 46.3 to 49.6 mpg. This is unbelievably economical for a car capable of going from 0-60 mph in 5.8 seconds (claimed) and topping 155 mph (electronic regulated) !

On the road, the facelifted 3-Series shows no noticeably difference from the outgoing car in terms of ride and handling. Admittedly, it still tops the class and narrowly beats Mercedes C-class in overall dynamic excellence. In terms of powertrain, performance and fuel efficiency, there is simply no rivals. What feels a little outdated is actually its design and packaging.
The above report was last updated on 24 Oct 2008. All Rights Reserved.
335is Coupe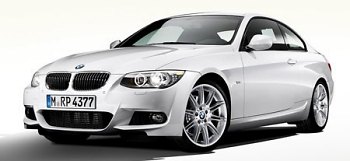 Although it is born as a North America-only model, there is no reason why 335is coupe cannot be offered in Europe and the rest of the world. The conversion from 335i to 335is is easy. You take the outgoing N54 bi-turbo engine (now 335i has switched to single-turbo and Valvetronic-equipped N55), increase its boost pressure, smoothen its intake, install a throatier exhaust and give it an additional radiator for better cooling, then you will get 326 horsepower (DIN), or 20 more than 335i. Maximum torque improves too, from 295 to 332 pound-foot, accessible from a still respectably wide band between 1500 and 5000 rpm. By remapping the engine management software, you can even get an overboost to 369 lb-ft for at most 7 seconds without overheating the engine. The higher tuning can only happen in the twin-turbo six. In this way, BMW has reshuffled the roles of N54 and N55.
The extra power gives 335is higher performance, of course. We are talking of 0-60 mph in 4.9 seconds instead of 5.2. In other words, it bridges the gap between 335i and M3. On the road, the deeper resonant of its exhaust note is more obvious than the performance. Besides, passer-bys will notice the M-sport aero kits and the new bumpers resembling M3. Suspensions and brakes are the same as before. Considering how good 335i used to corner, BMW found no reasons to upgrade them. Overall, 335is is not a headline model. It is just a logical application of the same engine powering 740i and Z4 sDrive35is.
The above report was last updated on 19 Feb 2010. All Rights Reserved.
Specifications
Table 1

11

12

13


General remarks
Layout
Chassis
Body
Length / width / height
Wheelbase
Engine
Capacity
Valve gears


Induction

Other engine features
Max power
Max torque

Transmission
Suspension layout


Suspension features
Tires


Kerb weight
Top speed
0-60 mph (sec)
0-100 mph (sec)

320i sedan (2005)

Front-engined, RWD

Steel monocoque
Mainly steel

4520 / 1817 / 1424 mm
2760 mm
Inline-4
1995 cc
DOHC 16 valves, DVVT, VVL (Valvetronic)

VIM

-
150 hp

147 lbft

6-speed manual
F: strut
R: multi-link

-
205/55VR16


1320 kg

137 mph (c)

8.5 (c)

-

330i sedan (2005)

Front-engined, RWD

Steel monocoque
Mainly steel

4520 / 1817 / 1424 mm
2760 mm
Inline-6
2996 cc
DOHC 24 valves, DVVT, VVL (Valvetronic)

VIM

-
258 hp

221 lbft

6-speed manual
F: strut
R: multi-link

-
225/45WR17


1450 kg

155 mph (limited)

5.9 (c) / 5.6**

15.3**

320i sedan (2007)

Front-engined, RWD

Steel monocoque
Mainly steel

4520 / 1817 / 1421 mm
2760 mm
Inline-4
1995 cc
DOHC 16 valves, DVVT


VIM

DI
170 hp

155 lbft

6-speed manual
F: strut
R: multi-link

-
205/55HR16


1370 kg

142 mph (c)

7.7 (c)

-
Table 2

21

22

23


General remarks
Layout
Chassis
Body
Length / width / height
Wheelbase
Engine
Capacity
Valve gears


Induction

Other engine features
Max power
Max torque

Transmission
Suspension layout


Suspension features
Tires


Kerb weight
Top speed
0-60 mph (sec)
0-100 mph (sec)

330i sedan (2007)

Front-engined, RWD

Steel monocoque
Mainly steel

4520 / 1817 / 1421 mm
2760 mm
Inline-6
2996 cc
DOHC 24 valves, DVVT


-

DI
272 hp

236 lbft

6-speed manual
F: strut
R: multi-link

-
225/45WR17


1480 kg

155 mph (limited)

5.8 (c)

-

335i sedan (2007)

Front-engined, RWD

Steel monocoque
Mainly steel

4520 / 1817 / 1421 mm
2760 mm
Inline-6
2979 cc
DOHC 24 valves, DVVT


Twin-turbo

DI
306 hp

295 lbft

6-speed manual
F: strut
R: multi-link

-
F: 225/40WR18
R: 255/35WR18

1535 kg

155 mph (limited)

4.9** / 5.0***

12.1** / 12.3***

330d sedan (2008)

Front-engined, RWD

Steel monocoque
Mainly steel

4520 / 1817 / 1421 mm
2760 mm
Inline-6, diesel

2993 cc
DOHC 24 valves


VTG turbo

CDI
245 hp

384 lbft

6-speed manual
F: strut
R: multi-link

-
F: 225/40WR18
R: 255/35WR18

1535 kg

155 mph (limited)

6.0*

15.0*
Table 3

31

32

33


General remarks
Layout
Chassis
Body
Length / width / height
Wheelbase
Engine
Capacity
Valve gears


Induction

Other engine features
Max power
Max torque

Transmission
Suspension layout


Suspension features
Tires


Kerb weight
Top speed
0-60 mph (sec)
0-100 mph (sec)

335i coupe

Front-engined, RWD

Steel monocoque
Mainly steel

4580 / 1782 / 1375 mm
2760 mm
Inline-6

2979 cc
DOHC 24 valves, DVVT


Twin-turbo

DI
306 hp

295 lbft

6-speed manual
F: strut
R: multi-link

-
F: 225/45WR17
R: 245/40WR17

1525 kg

155 mph (limited)

5.2 (c) / 5.4* / 4.9**

12.8* / 12.1**


335d coupe

Front-engined, RWD

Steel monocoque
Mainly steel

4580 / 1782 / 1375 mm
2760 mm
Inline-6, diesel

2993 cc
DOHC 24 valves


Sequential twin-turbo

CDI
286 hp

428 lbft

6-speed automatic

F: strut
R: multi-link

-
F: 225/45WR17
R: 255/40WR17

1570 kg

155 mph (limited)

5.9 (c) / 5.8*

13.8*


335i cabriolet

Front-engined, RWD

Steel monocoque
Mainly steel

4580 / 1782 / 1384 mm
2760 mm
Inline-6

2979 cc
DOHC 24 valves, DVVT


Twin-turbo

DI
306 hp

295 lbft

6-speed manual

F: strut
R: multi-link

-
F: 225/45WR17
R: 245/40WR17

1735 kg

155 mph (limited)

5.5 (c)

-

Table 4

41

42

43


General remarks
Layout
Chassis
Body
Length / width / height
Wheelbase
Engine
Capacity
Valve gears


Induction

Other engine features
Max power
Max torque

Transmission
Suspension layout


Suspension features
Tires


Kerb weight
Top speed
0-60 mph (sec)
0-100 mph (sec)

335is coupe

Front-engined, RWD

Steel monocoque
Mainly steel

4580 / 1782 / 1375 mm
2760 mm
Inline-6

2979 cc
DOHC 24 valves, DVVT


Twin-turbo

DI
326 hp

332 lbft

7-speed twin-clutch (DCT)

F: strut
R: multi-link

-
F: 225/45WR17
R: 245/40WR17

-

155 mph (limited)

4.9 (c) / 4.6**

11.4**






Performance tested by: *Autocar, **C&D, ***R&T
Copyright© 1997-2010 by Mark Wan @
AutoZine