Audi TT

Debut: 2006
Maker: Audi
Predecessor: TT Mk1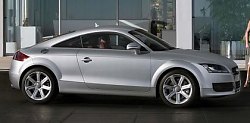 When the original TT was born in 1998, I was not at all convinced by its styling. Impressive and pretty it certainly was, but did it look like a sports car? Unlike conventional sports cars, its body profile was short and fat, just like comedian Danny DeVito. No one would confuse it with Porsche Boxster just like no one would confuse Danny DeVito with Carl Lewis. But surprisingly, the TT was eventually proved to be the most influential design of its era. Its shape was imitated by Daihatsu Copen, Nissan 350Z and Ford StreetKa, while many of its features were copied by other car makers. Today, whenever you see cars featuring a machined metal filler cap or an alloy-decorated cabin, you know which car influenced them.

Thanks to the fine work of Freeman Thomas, Walter de Silva must found it difficult to repeat the success. In the creation of the Mk2 TT, he injected his beloved single-frame grille and a pair of new headlamps. He forged the body profile to be more boxy, sharpened the shoulderlines, tightened the rear screen angle… the result is a design less original than the original. Some pureness has been lost, replaced by a fair degree of sportiness. In short, it's like Danny DeVito evolving towards Carl Lewis.



Well-engineered chassis



Somehow, the profile of the new TT is healthier, because it is longer and wider. Wheelbase has been stretched by 40mm to 2468mm, still 110 mm shorter than Golf V on which is it based. The overall length of 4178mm is also compact by class standard, but no one else in its class can match its 1842mm width. Undoubtedly, the wide body is designed to improve cornering stability without resorting to very stiff suspensions.


The new TT might look more edgy, but it actually improved on aerodynamics – drag coefficient is lowered from 0.34 to 0.30, finally a modern figure. Although its frontal area increased from 1.99m2 to 2.08m2, the CdA is still considerably lower. To deal with high-speed aerodynamic lift (which caused various accidents in the early TT), it added an electric rear spoiler which normally recesses smoothly into the tail and raises once the speed exceed 120km/h. Besides, there are underbody sealings to reduce turbulence.

However, the biggest improvement is the chassis. Danny DeVito was compact but hardly lightweight, so DeVito II has undergone a strict diet. The new chassis is a hybrid of ASF (aluminum space frame) and steel. Most of the chassis elements are made of cast, extruded or stamped aluminum, while stamped steel is used mainly at the rear floorpan to balance the car. Likewise, the bonnet, front fenders, doors and roof are made of aluminum while panels of the rear body remain in steel. The whole bodyshell weighs only 206 kg, 66 kg of which is steel and 140 kg is aluminum. Were it made entirely of steel, it would have added 100 kg to the car !




ASF-Steel hybrid chassis

The chassis consists of (by weight):


Red

: cast aluminum (22%)

Blue

: extruded aluminum (16%)

Green

: stamped aluminum (31%)

Grey

: stamped steel (31%)

Thanks to the ASF hybrid chassis, the new TT is considerably lighter than its predecessor. The base TT with 4-cylinder turbo engine and manual gearbox weighs only 1260 kg, while the V6 Quattro tips the scale at 1410 kg, or 90 kg less than the old generation. Apart from lightweight, the ASF chassis has more advantages. Its aluminum panels and roof lighten the upper part of the car, thus lower center of gravity. Besides, its torsional rigidity is 50% higher than the old TT. All these point to better handling.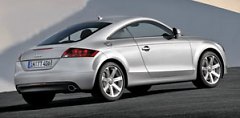 Another improvement is the suspensions. The old TT had its front-drive version ride on torsion-beam rear suspensions and Quattro version ride on a reworked multi-link setup. In contrast, new TT has made the multi-link rear suspensions standard as it is derived from the Golf V platform. You know how well the current Golf GTI handles, the TT can only be better because of its much wider tracks, lower center of gravity and lower weight. Not just that, it is benefited by the (optional) magnetorheological adaptive damping, similar to the ones being used by Corvette and Ferrari 599 GTB. The damping stiffness can be adjusted infinitely by applying current to the magnetorheological medium.

From the adoption of aluminum chassis, electric rear spoiler and magnetorheological damping, we can see Audi has invested heavily into the new TT and determine to make it a true driver's car. Today Ingolstadt won't tolerate poor handling anymore.



World Class Powertrains



As before, the TT has two powertrain configurations to choose from: front-wheel-drive or Quattro 4-wheel-drive. The Quattro is actually a part-time system using a Haldex electromagnetic multi-plate clutch to engage the rear wheels whenever the front wheels need help. Normally this happen when the car is struggling for traction in bends or running on slippery surfaces.


Engines and transmissions are always the strength of Volkswagen group. Naturally, TT employs some of the best engines and transmissions in the world. The front-wheel-drive version is powered by Golf GTI's 200-horsepower 2-liter FSI Turbo engine. The Quattro version runs the 250-horsepower 3.2-liter narrow-angle V6 from Volkswagen Golf R32. Both can be coupled to a 6-speed manual gearbox or the famous 6-speed DSG dual-clutch automated manual gearbox (now called "S Tronic"). With the dual-clutch gearbox, 0-60mph takes 6.1 sec for the 2.0 TFSI and 5.5 sec for the V6. Top speed are 149 mph and 155 mph (regulated) respectively. That's a considerable improvement from the outgoing TT 1.8T and 3.2 V6.

In this report, we'll concentrate on the V6 model.

The 3189 cc 15-degree all-alloy unit is probably the only asset left by the old TT (it joined the car in 2003). It has a variable intake system and fully variable valve timing to broaden the torque output. 236 lbft is available from 2500-3000rpm, while peak power is 250hp at 6300rpm. Note that this engine does not employ direct injection, like Golf R32 but unlike Passat 3.2 V6. The compact VR6 is as good as you can get in the TT, because no other V6s can fit into its short engine bay.



On the Road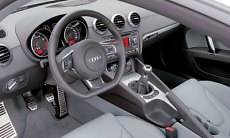 The cockpit of TT remains to be a rare combination of quality and style. It gains a little more space, but the atmosphere is still very confined due to the high shoulderline and small windows. The cramped rear seat is best reserved for luggage or to punish naughty children. The "+2" here does not pronounce as loud as Alfa Romeo Brera, meaning its closest rivals are actually 2-seaters like BMW Z4, Nissan 350Z, Mercedes SLK and even Porsche Boxster / Cayman 2.7.

As expected, the VR6 engine is smooth, willing and flexible. It will pull the car at top gear from just 1000 rpm. Nevertheless, it does not feel especially powerful at the top end. Figures say it matches the more powerful 350Z, SLK350 and Z4 3.0si in 0-60mph, but that is mostly down to the extra traction of Quattro. Once the cars are on move, the TT will fall behind its rivals bar the small-engined Porsche.

On the positive side, the DSG / S Tronic gearbox is simply great. Gearshift is both fast and seamless. Now who still want a manual gearbox ?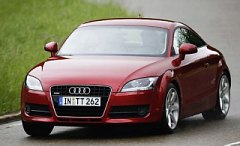 Handling also has been improved substantially. The lightweight chassis, the wide tracks, lower center of gravity and sophisticated damping all play to lift its handling. Now it has good resistance to roll and pitch, while the ride is firm but composed. On winding roads, it runs fluently according to driver's input. The steering is responsive and accurate, light at low speed and weighs up at high speed to promote confidence. Yes, Volkswagen's electro-mechanical power steering is not as feelsome as Porsche's and Nissan's rack, but it is still more communicative than BMW Z4's.

The strength of TT V6 is of course 4-wheel-drive. In corners, the natural tendency is understeer, but if you keep flooring the throttle and cooperate with steering, the 4WD system will shift power towards the rear wheels, correcting its orbit and let the TT storm out of bend fluently. The presence of Quattro compensates for its front heaviness, allowing it to match the dynamic balance of its rear-drive rivals. On wet surfaces, it even comes into a class of its own.

From the well sorted handling and ride, we can see TT Mk2 is a very well engineered all-rounder. What it misses is perhaps a bit of sensation – it has nether the great engine sound of Alfa V6, the tactile handling of Porsche Boxster / Cayman nor the raw power of Nissan Z to excite your pulse. However, considering the premium build quality and style, not to mention the competitive price, those purchasing the TT will find their money spent smartly.


The above report was last updated on 28 Jun 2006. All Rights Reserved.
TT 2.0 TFSI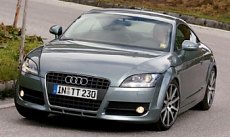 Audi wants to sell 65,000 TTs annually to justify its high investment. This target will not be met without a cheaper entry-level model, 2.0 TFSI. In UK market, it is sold at £24,500 against the V6's £29,500. The price difference is accounted by the use of a four-cylinder turbo engine and the loss of 4WD system.

The engine comes intact from Volkswagen Golf GTI. It is a 2-liter 16V engine employing all kinds of technology you know – a light pressure turbocharger (i.e. the "T" in its name), direct injection ("FSI"), variable intake manifold and variable valve timing. It also employs aluminum head and block to relieve the weight at the nose. In addition to the discard of Quattro, the whole car is 150 kg lighter than TT V6.

As you have read many times from AutoZine, the 2.0 TFSI is a marvelous engine. Its power delivery is smooth and linear, completely free of turbo lag. It also is highly flexible - max torque 207 lbft is available from 1800 to 5000rpm, believe or not ! it produces 200 horsepower early at 5100rpm, but it will continue spinning happily to 7000 rpm cut-out. This mean in real world the car is almost as quick as the heavier V6 Quattro. It accelerates from rest to 60 mph in 6.1 seconds even if it lacks the initial traction of Quattro. Top speed is a remarkable 149mph.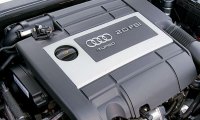 The 2.0 TFSI is not only cheaper to purchase and cheaper to insure, but also cheaper to run. Its light pressure turbocharger and direct injection achieves a remarkable combined fuel consumption at 36 mpg, versus the V6 Quattro's 27mpg.

In normal driving, the loss of 4WD shows no signs of deterioration in handling. On the contrary, its lighter engine lets it feel more agile and sweeter to steer. However, push it harder in bends will reveal more understeer. Once its front wheels run out of traction, its handling is hopeless. In contrast, the Quattro is quicker through bends yet more adjustable. Neither cars can match the handling of Porsche Boxster / Cayman, but it is the V6 Quattro that comes very close.

Unquestionably, most people will find the 2.0 TFSI a smarter buy, no wonder Audi believes it will be the best seller. What a pity the 2.0 TFSI engine and Quattro system are not available at the same time. The combination would have delivered even better handling than the V6 Quattro. Besides, it can be easily tuned to 240 horsepower, just like the forthcoming Seat Leon Cupra. Come on, Audi, bring us this car !


The above report was last updated on 28 Jun 2006. All Rights Reserved.
TT S

| | |
| --- | --- |
| | Here's an answer to a question we have asked for long: a powerful yet lightweight 4-cylinder turbo engine |

We love Audi TT, but we used to have some reservation about its engine choices. In short, we question whether its range-topping engine should be the 250-horsepower 3.2 V6. That engine was neither powerful enough nor as lightweight as a 2-liter turbocharged engine can be. The situation became even more embarrassing when Audi introduced a 265hp version of the 2.0TFSI engine into S3. Why isn't the TT offered with this engine ? Now Audi gives us an answer: it is reserved for the hotter TT S.

Being priced slightly higher than TT 3.2, TT S sits above the latter at the model tree of TT. Its engine is similar to the S3's unit, but even more powerful. The 2-liter engine gets reinforced head, block, pistons and connecting roads to withstand 2.2 bars of turbo boost. Larger intercooler and modified intake and exhaust complete the straightforward tuning. The result is 272 horsepower from only 1340 kilograms of kerb weight, some 22 horses more and 90 kg less than the old range topper. Moreover, most of the weight is saved from the front axle, making the TTS better balanced front to rear. Maximum torque of the engine is 258 lb-ft from 2500-5000 rpm, easily eclipsing the V6's 236 lb-ft from 2500-3000 rpm.

With S Tronic (DSG) gearbox selected, the TT S can complete 0-60 mph acceleration in 5 seconds flat (6-speed manual takes a couple of tenths more). Top speed is as high as most German performance cars, as they are electronically regulated at 155 mph. From these figures, the TT S is faster than most rivals in its class, including BMW Z4 3.0si, Mercedes SLK350 and Porsche Cayman 2.7, while fuel consumption is a class-leading 35.7 mpg according to EU combined cycle. By any objective measures, it is hard to beat.


| | |
| --- | --- |
| | In terms of price, TTS has entered the territory of Porsche Cayman and Boxster... |

Subjectively, however, the four-cylinder turbocharged engine is not as desirable as its six-cylinder rivals. Although there is little turbo lag to speak of, this heavily boosted engine provides little punch under 2,000 rpm. To see its true color you need at least 3,000 rpm, only then it will become truly powerful and responsive to throttle. Even though the rush of power arrives quickly, its rotational smoothness is no match with a 6-cylinder engine. Ditto the sound quality of its turbo-masked exhaust noise. These subjective qualities are even more important than performance figures.

In terms of handling, TT S is of course the most capable driving machine in its family. With Quattro 4WD system and the excellent magnetic adaptive damping installed as standard, plus modifications like stiffer suspensions, 10 mm reduction of ride height, upgraded brakes, a less intervening ESP setup and more aggressive wheels and rubbers, its chassis response is sharpened a lot, body motion is tightened, cornering limit is higher than ever... while ride quality is still good enough if you leave the damping setting in comfort mode. The general refinement and 4WD security still makes it a useful daily car.

The problem is, at £35,000 when including S Tronic gearbox, TT S has entered the territory of Porsche Cayman or Boxster. A comparison between them will find the handling of Audi is quite inert - uncommunicative steering in typical Volkswagen style, strong understeer at the limit and the lack of throttle adjustability mid-corner. Storm through a series of mountain roads, you will find the Porsche a far more intimate companion. Up to this level, the front-drive-based TT chassis has finally run out of potential.


The above report was last updated on 6 Jun 2008. All Rights Reserved.
TT RS

| | |
| --- | --- |
| | Headline figures are 174 mph top speed, 4.5 seconds for 0-60 mph sprint and a price equivalent to the very best Porsche Cayman S... |

How high Audi TT can stretch its market presence is something we haven't known yet. For style, quality or sheer desirability, the TT is right on a par with Italian and British exotics that costs multiple times its price. For performance and mechanical integrity, however, it is still bounded by its hot hatch origin. Last year's TT S showed that the usual go-faster modifications are not quite enough to rewrite its "hairdresser's car" image. This year, Audi's performance division Quattro GmbH took the surgical knife, using its experience of producing RS4, RS6 and R8 to convert the lukewarm TT into the super-hot TT RS. Headline figures are 174 mph top speed, 4.5 seconds for 0-60 mph sprint and a price equivalent to the very best Porsche Cayman S. Is it really as good as the Porsche ?

From outside, it doesn't look so. Although the visual effect of RS is intensified by a pair of huge cooling intakes up front as well as enhanced aerodynamic kits – in particular a fixed rear spoiler – its short and front-heavy profile has nothing to do with a thoroughbred sports car like Porsche. In fact, it looks more like one of the existing tuner conversions of TT. Inside, the cockpit is also remarkably similar to lesser models with the exception of new bucket seats. But that is not important, as the TT cockpit has always been great for both visual and actual quality.


| | |
| --- | --- |
| | Its short and front-heavy profile has nothing to do with a thoroughbred sports car like Porsche... |

Moreover, once you start the motor, you will hear a very different soundtrack – a super-bass exhaust and an offbeat rhythm reminiscent of Ur Quattro. Open the bonnet, you really see a 5-cylinder engine like the Ur Quattro, just lying transversely instead of longitudinally in the engine bay. Scan through the spec sheet, you will see all the critical numbers: 2480cc, 340 horsepower and 332 lb-ft of peak torque. Where did it get this engine ?

Knowledgeable readers may remember Volkswagen has a 2480cc inline-5 engine being produced exclusively in Mexico for the American market Jetta. It is a low-cost design and it produces only 170 horsepower. Believe or not, it forms the basis of the TT RS engine. Of course, to realize double output it needed some serious modifications. In order to withstand the tremendous internal stress, which is obvious for an engine pumping out 137 horsepower per liter, the engine block was converted to vermicular-graphite cast iron like some advanced diesel engines. This mean it is heavier than aluminum alloy but lighter than cast iron while stiffer than both. Running inside the block are stronger and lighter pistons and con-rods. The top end was also thoroughly redesigned, with twin-continuous variable valve timing and direct fuel injection. The combination of a high performance intercooler and a large turbocharger allows up to 1.2 bar of boost pressure, yet the compression ratio is an incredible 10.0:1. No wonder this engine produces its maximum 332 lb-ft of torque from 1600 to 5300 rpm. All out, it will rev to 7000 rpm red line. Who still think Ford Focus RS had the best 2.5-liter five-pot engine in the world ?


| | |
| --- | --- |
| | Who still think Ford Focus RS had the best five-pot engine in the world ? |

A combination of 340 horsepower, 1450 kg kerb weight and all-wheel-drive traction ensures the TT RS can sprint from rest to 60 mph in a supercar-rivaling 4.5 seconds. It flats out at the usual 155 mph, but you can pay extra to raise its limiter to 174 mph (280km/h), which is about the potential of the car. Such performance eclipses Cayman S and Lotus Evora. Call it a mini R8 !

That's why the RS needs those aggressive lip and tail spoilers to keep it sticked to the ground, otherwise its inherent aerodynamic lift could result in many Autobahn tragedies like the first generation TT. The rest of chassis is also beefed up to take on the increased performance - its stiffer suspension is set 10mm lower to the ground, while its disc brakes are enlarged to 370mm front and 310mm rear. The only slight disappointment is the lack of double-clutch gearbox, as Audi's S Tronic is not yet sturdy enough to take on so much torque.


| | |
| --- | --- |
| | Once you have switched on Sport mode, it becomes simply brutal... |

On the road, the hottest TT feels noticeably more aggressive than even the TT S. In normal mode, its ride quality and noise level are just bearable. Once you have switched on Sport mode, they become simply brutal. The exhaust bass gets intrusively loud. The fiercely-revving powertrain transmits some vibration into the cabin. The devil side of RS is released. Meanwhile, the stiff springs and hard setting of magnetic adaptive damping result in a hard ride that you can feel every expansion joint on motorway, let alone the irregularities on pavement and potholes on a twisty B-road. In return, you get a tight body control and keener turn-in. However, you may wonder why those thoroughbred sports cars like Lotus Evora and Porsche Cayman can smooth out the same uneven surfaces while deliver even sharper turn-in and better dynamic stability. They simply possess a ride and handling in a different league. Again, blame goes to the TT's Golf V platform, whose weight distribution and suspensions are far from perfect.


| | |
| --- | --- |
| | Boy, it listens to computer commands and laws of physics rather than your will... |

Find a fast corner, brake hard and turn the steering wheel, in the beginning the TT RS may impress you with its strong braking, but then you'll feel the mass over its front axle. The artificially heavy and elastic steering is mute of communication. Push harder and the chassis runs into unavoidable understeer when the supposedly clever Haldex multi-plate clutch is searching for wheels with more traction. Boy, it listens to computer commands and laws of physics rather than your will. A true sports car should not behave like that, even though it might not boost as much traction as the Audi.

The problem of TT RS is, even with enhanced performance and handling, it still fails to gel with its driver. Yes, its engine and performance is very strong, but unfortunately everything else are not worth mentioning. For a car costing £43,000, that is not enough.


The above report was last updated on 29 Jun 2009. All Rights Reserved.