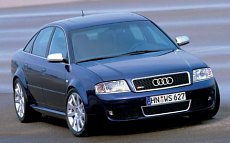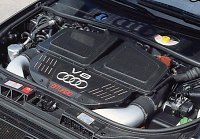 Since M5 brought 400 full horsepower to sports sedan segment, I believed a war of power was about to break. The BMW was soon followed by Aussie HSV GTS and Jaguar S-Type R. The latest member of the 400-horsepower Club is Audi RS6, which lifts the game even higher to 450hp. What a number! I remember in my childhood the most powerful supercar in the world was Porsche 959, whose 2.85-litre twin-turbo flat-six pumped out the same 450 horsepower (and less torque, by the way). And that was the most exotic car then, using what was called racing technology and was therefore made in limited number. The world has changed a lot since then. Now 450hp is standard on a production 4-door saloon (and even the Avant estate) dressed like just an ordinary Audi A6 and is so well-mannered that it is willing to serve you to shopping, to take your children to school and the whole family to picnic. This is your everyday 450hp!
The world has changed also in the way high power is generated. Sky-high turbo boost to a small engine is no longer favoured by car makers. For smooth power delivery they prefer big capacity engines with light pressure turbochargers. The Audi V8 has a lot of c.c. to begin with - no less than 4172. This engine, in normally aspirated form employed by S6, already produces 340hp. Audi's UK engineering arm Cosworth Technology added a pair of KKK turbochargers plus intercoolers and therefore easily boost max power to 450hp. Running a rather light boost pressure and an unusually high 9.8:1 compression ratio ensure a lag-free power delivery as shown in the torque curve - from just 1950rpm continuously to 5600rpm, the engine pumps out a steady maximum torque of 413lbft.
You might notice that the Audi's maximum boost pressure of 0.8 bar is not especially low. For reference, the aforementioned 959 ran at 0.9 bar and new 911 Turbo at 0.94 bar. In fact, the Cosworth-developed engine rarely reaches maximum boost pressure. 0.8 bar just occurs at very low rev. As you can see, from 1950rpm upward the boost control deliberately limits turbo pressure in order to prevent from hurting gearbox. The Tiptronic 5-speed automatic is taken from the previously most torquey Audi - the 405lbft A8 W12. Sadly, Audi did not choose the newer ZF 6-speed automatic which can withstand even the 513lbft Volkswagen Phaeton V10 TDI, otherwise it could have released full potential from the RS6. Engineers said they could have obtained 443lbft given a suitable transmission.
Anyway, the RS6 already beats S-Type R and M5 convincingly. They produce 399lbft at 3500rpm and 369lbft at 3800rpm respectively.
Just don't say it will be the ultimate powerhouse. Mercedes' coming-soon E55 AMG will run an even bigger V8, with supercharger to produce 26 more horses and an astonishing 103 more pound-foot than the RS6. The war of power will undoubtedly continue...
Back to the Audi engine. Cosworth also tweaked its intake and exhaust. 5-valve per cylinder heads are re-cast to include more effective water jacket for cooling. Sodium-filled exhaust valve improves cooling as well. Variable-length intake manifold has been replaced by a fixed one made of carbon fiber (an odd observation: A6 V8 has 3-stage intake manifold, S6 has 2-stage, RS6 becomes 1-stage - Audi seemed demonstrating that the less stage the intake has, the more exotic the car is).
The Tiptronic transmission now offers paddle shifters at steering wheel. It is also reprogrammed to guarantee quicker shift. Audi does not provide any manual transmission, but that's not a big problem considering how torquey the engine is.
Super performance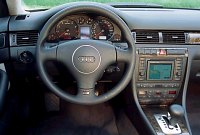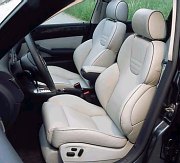 Launch the RS6 and you will find it easily beat M5 and S-Type R at any speed. Although it weighs a hefty 1840kg, from just 1500rpm it has so much more torque that no other performance sedans until now can keep up with its pace. The biturbo V8 is never as exciting to ears as M5's normally aspirated V8, and perhaps too quiet, but exhaust note is well tuned. Because of its subtle interpretation of power and speed, you are unaware that it actually accelerates from zero to 60mph in just 4.5 seconds until you see the Ferrari 360 Modena drift behind. Flat out, it will knock the 155mph limiter effortlessly. If you want ultimate performance, Quattro GmbH can disable the limiter and release its 190mph potential. This is really a monster.
So, the super Audi wins the performance battle. What about handling? a thing that almost all performance Audi fail to inspire?
Chassis
Basically, the chassis, suspensions and running gear remain unchanged from S6. The Quattro 4WD system employs a Torsen center differential to split 50:50 torque to front and rear in normal condition. There are no LSD at front and rear axle, just using software to brake individual wheels to simulate the function of LSD. Or in Audi's words, EDL (Electronic Differential Lock).
The biggest shortcoming of Quattro is that it makes the car very nose heavy. In order to drive the front wheels, the whole V8 must be placed in front of the front axle. Behind it is clutch and differential and then transmission. Open the bonnet and you will see how forward the engine is placed. More weight at the nose results in more nose dive under braking and rise during acceleration, also unresponsive steering and understeer at the limit.
That is what troubling RS4 and prevented it from being a great driver's car. Now Audi finally found a solution - they call it DRC (Dynamic Ride Control). A simple, pure mechanical damping system invented by Yamaha and, interestingly, not unlike what Citroen fitted to its 2CV half a century ago. Basically, DRC connects the hydraulic of front right damper to rear left damper together, the same goes for front left damper and rear right damper. When the car is braking into corner, deceleration and cornering force lead to front outside suspension compress and rear inside suspension expand, thus damping fluid flows between them and damping force is increased. This counters nose dive and tail rise.
Apart from DRC, Audi also moved the battery from engine compartment to the boot in order to improve balance.
The RS6 is by all means a heavyweight machine. Despite of a size smaller than rivals, it tips the scale at 1840kg (Avant adds another 25kg), more than M5's 1756kg and S-Type R's 1800kg. In addition to its forward weight bias, no wonder it needs the most spectacular front brakes in the industry - floating discs measuring 365mm in diameter, clamped by 8-pot calipers. The rear use single-pot calipers and 335mm discs.
Handling
So now the super Audi comes to its final and most critical test - handling. If it succeed, it will immediately take over M5 as the greatest performance sedan today.
In the first high speed corner, you will find the car remains rock-steady while quattro and fat tyres simply make it glue on the road. Speed seems irrelevant to its stability. But then you realize that RS4 also did that.
So push the RS6 into tighter, slower corner and you will be immediately amazed by its new found throttle adjustability. If you push quick enough and back off throttle mid-corner, it will swing its tail out; then apply a crisp opposite lock and you will find the car is 4-wheel-drifting. Vola! driving fun - which disappeared since the original Quattro - is finally back to Audi!
Thanks to DRC, nose dive is no longer a problem. Though still not the best balanced chassis, the RS6 never feels nose heavy or unresponsive to steer. Its only big problem is lack of steering feel. In this field, Jaguar's rack are clearly superior and even the recirculating ball of M5 feels more natural. The Audi's steering rack just feels numb.
Another small problem is a rather stiff ride. Again, Jaguar comes first and BMW comes next.
For pure handling fun, RS6 is still some way behind M5 and S-Type R. The M5 thrills you with power slide, the Jag inspires you with feelsome steering. The RS6, though greatly improved from RS4, still trails its competitors in subjective feeling.
Therefore it is not enough to gun down M5 and S-Type R yet. Some may disagree, but it doesn't matter, because all of them will be overshadowed by Mercedes soon.