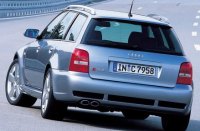 German prestige car makers have gone crazy. Just 15 years ago 380 horsepower was reserved for the fastest Ferrari and Lamborghini only. Today, a version of Audi A4 is offering so, together with all-weather 4-wheel drive and the practicality of a wagon. Built by Quattro GmbH, a subsidiary of Audi, in a limited production scale, it will be even more exclusive than the S4.

Of course, what we are talking about is the latest RS4. Depends on your understanding, the "R" in its name might mean "Racing", "Rare" or even "Riches", all are suitable to describe the car. One thing is sure : the RS badge is going to spread to all other models, from A3 to A8, plus TT and probably the baby A2, as the hottest versions which make the existing "S" models seems civlised (they are !).

Obviously, the RS4 is a beef-up version of the S4 and is exclusively in the form of Avant (in our word is "estate"). The 2.7-litre twin-turbo V6 has been highly tuned to deliver a supercar-beating 380hp, that is, some 40hp more than the forthcoming BMW E46 M3 and some 33hp above Mercedes C55 AMG. Compare with the S4, this is an increment of a mighty 115hp ! What have been done ?

The larger KKK turbochargers (hence higher boost pressure) account for most of the power gain. They are supported by larger intercoolers which also reduce pumping loss. The manifolds and ports in both intake and exhaust side are enlarged, further aided by a low back pressure twin pipe exhaust. The cylinder head is redesigned and cast by Cosworth Technology, which has been another subsidiary of Audi since last year.

Larger turbochargers didn't add too much turbo lag. The peak torque of 324 lbft is obtained as low as 2500rpm. At the top end the 140hp / litre specific output levels with the famous RS2. Remember this car ? It is the spiritual predecessor of the RS4, created by Porsche in 1994.

As a result, performance could raise the eyebrow of BMW and Mercedes. 0-60mph in under five seconds is guaranteed. The only question is how many tenths it could knock out from the five. My estimation is 4.7 sec.

Other modifications are quite straightforward. The control arms of 4-link front suspensions are now made of aluminium. The springs and dampers have been recalibrated for more stability instead of comfort. The wheel arches have been widened to house the 255/35ZR18 tyres. Ride height has been lowered by 20mm compare with A4. Aggressive body kits all round plus rear spoiler at the tail gate improve down force. Front bumper incorporates 3 big air intakes, among them the center one responsible for cooling radiator while others cool the intercoolers.

The brakes are racing spec. floating design. Front disc has an astonishing 360mm diameter. Rear is 312mm. However, front and rear calipers have just 2 and single piston respectively.

Could the RS cure the problems of the S4 ? in order to beat the BMW and even Skyline GT-R and Lancer Evo VI, just more performance is not enough. It should improves steering feel and cut understeer. We shall see later.

On the Road

380 hp is no kidding. Bye bye Lotus Omega, HSV GTS 300, BMW M5, new M3, C55 AMG .... this Avant is definitely the fastest accelerating saloon in the world, no doubt at all. If not the voluntary 155 mph limiter, it is likely to enter the 180 mph territory. More outstanding is how well it translates the power into real-world performance, covering the ground in lightning speed in style. Tremendous traction and grip, neutral handling, fluent body control, strong brakes, linear power deliver, abundance of torque ... all these elements contribute to a super ground-covering machine that requires no special effort and concentration to deliver maximum performance. The grip from Quattro (plus the 255 rubbers) can hardly be broken. Ultimately, the fool-proof ESP (which never intervene until the very last moment) will be the final safe-guard.

On the negative side, as usual, effortless performance also implies lack of driver involvement. Not as uninspiring as other S-models (simply because the RS4 has lower and stiffer suspensions), but it is no where near the M5 and - may I use this for comparison - Skyline GT-R. Steering, engine response, brake feel and gearshift quality are all inferior. Let's talk about the engine first. Although this twin-turbo V6 is by far less laggy than expected, and it is very tractable at low speed, say, 1,500 rpm upwards, its throttle response still lags lightyears behind a normally aspirated engine. And we're not comparing with M5's Sport Mode engine mapping. This reminds me why BMW never favour turbocharging.

The power delivery of RS4 is like this: below 3,000 rpm, it's fine. From 3,000 it starts getting strong. At 4,000 there is a surge and pushing strongly all the way to 7,100 rpm where the peak power occurs. It's unusually high-revving for a turbo engine, thanks to the work done by Cosworth. Since the TT, we discovered Audi builds the best turbo engines in the world, satisfying the conflicting requirement of maximum specific output and low-speed flexibility. However, we also found that Ingolstadt doesn't have the best acoustic engineers in its engine-development department. All its turbo engines, including this one, sounds uninspiring and isolated.

RS4 handles a lot better than the over-rated (by other magazines, especially American's) S4. Still, it has some unfavourable trace of the S4 - the steering is sensitive to road surfaces and acceleration. This doesn't mean a good communication, on the contrary, the steering kickback on potholes, steering get less responsive under body roll and there is change of feel in hard acceleration and braking, which proves that the 4-link front suspensions haven't cure the pitch & dive completely. When it corners really hard, there is quite a lot of body roll for a car with such performance. At the same time, steering becomes inert at this extreme condition. In contrast, a BMW M5 will remain focused and sensitive at the limit, although its RWD limit is relatively low. Again, this is the question of "involvement versus objective capability".

However, there is no space for argument about the inaccuracy of controls. While the BMW and Skyline are so good in providing near perfect controls, the hottest Audi offers a rubbery and long-travel gearshift (thanks to the donor S4), plus a mushy brake pedal feel. It's so sad, especially the brakes are actually powerful. To perfectionist, all these minor flaws are enough to make the RS4 unforgivable.

In short, the full-blooded RS4 isn't as driver-oriented as we like, but it still offers a good package of style, build quality (visually at least), comfort and Avant-convenient. It's unbeatable in straight line and corner, no matter wet or dry, as long as it doesn't meet the mighty GT-R. Of course, there's little to compare between a 2+2 and a 5-passenger estate.