| | |
| --- | --- |
| Published on 1 May 2007 | All rights reserved. |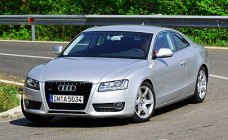 Audi is enjoying rapid growth in recent years. Last year, it sold a record 905,000 cars worldwide, or 9 percent more than a year ago. Nevertheless, the management at Ingolstadt is not content. It plans to increase sales to 1.5 million cars by 2015. To meet that target, it will introduce more models and broaden its range to cover more market segments. A couple of years ago, we already saw the addition of Q7 luxury SUV. Last year we had R8 sports car. This year the focus will be on the new A5 coupe. Besides, A1, A7, Q3 and Q5 are also on the pipeline. It is hard to imagine that, just a dozen years ago Audi's model range consisted of only A4, A6 and A8.

How to describe the A5 ? slotting between A4 and A6, it would be safe to assume that it is sized and priced in the middle. However, the truth is not as simple. Regarding price, yes, it will be more expensive than A4 and cheaper than A6. But in terms of size it is basically the coupe version of the next generation A4. In other words, A5 is the direct competitor of BMW 3-Series Coupe. Ridiculously, Audi adopted a nomenclature policy given up by BMW – the latter once planned to name the current 3-Series Coupe as the 4-Series. Using a larger number could help raising the perceived market positioning and misleading its customers to pay more money. A clever trick.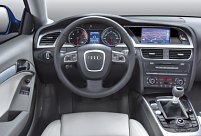 Of course, if a coupe want to ask for higher price, it has to look more beautiful than the equivalent sedan. Audi and Volkswagen group design chief Walter de'Sliva said "The A5 is the most beautiful car I have ever designed". Sure, the A5 has some great details, such as the flowing crest line over the shoulders. But to describe it a more beautiful design than his Alfa Romeo 156 and Seat Altea / Leon might be too exaggerated. No matter from photographs or from the comments of other automotive designers, the A5 cannot be described as a masterpiece. It is still more Germanic ice cool than Italian sexy, more about fine detailing than imaginative shape.

However, the interior is undeniably very stylish and desirable, although we have already seen similar designs in other Audis. As you would expect, the materials and build quality beats BMW 3-Series Coupe and Mercedes CLK easily. But the cabin is not as bright and airy as its rivals, blame to the thick pillars and high waistline, a common problem for most Audis. While the front seats are accommodative, the rear seats are very small. They are seriously short of head and legroom thus are only suitable for children or short adults. This is probably the biggest weakness of the A5, because 3-Series Coupe and CLK are genuine 4-seater. Strangely, the A5 runs a generous 2751mm wheelbase, so where is the legroom gone ? its exterior doesn't look as sleek as Peugeot 407 Coupe, so where is the rear headroom lost ? Walter de'Silva owes us a satisfactory answer. He should know that a good design must combine forms and functions, while a bad design fails to excel in forms and functions simultaneously...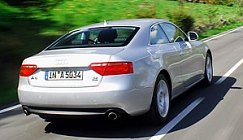 Anyway, the most significant thing to me is not the styling or the packaging, but the new platform that A5 introduces. Called MLB platform (Modularer Längsbaukasten, or modular length components), it will be used by the next generation A4, A6, A7 as well as Q5, virtually the majority of Audi's production cars. The MLB not only employs new 5-link front suspensions and updated trapezoidal multi-link rear suspensions, but the most important is that it is engineered to cure the nose-heaviness traditionally associated with Audi. Until now, all Audis with longitudinal engines have both their engine and clutch located in front of the front differential and axle. In the MLB, the front differential and axle locate between the engine and the clutch. This pushes the front axle forward by 12cm, reducing the weight over the nose and lengthening the wheelbase. To save further weight from the front half of the chassis, the A5 employs aluminum front fenders (so why not also aluminum bonnet ? I wonder). Another improvement is the steering rack, which is now mounted lower and closer to the wheel axis for improved feel and response. Moreover, the Quattro system has 40/60 torque split between front and rear axle to reduce understeer. If everything go as well as Ingolstadt claimed, the A5 might open a new era for dynamically exciting Audis...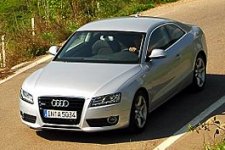 A5 offers 4 competitive engines for its customers to choose from: 170hp 1.8 TFSI (a smaller brother of the excellent 2.0 TFSI), 265hp 3.2 FSI V6 with new Valvelift system, 190hp 2.7TDI V6 turbo diesel and 240hp 3.0TDI V6 turbo diesel. They mate with either 6-speed manual gearbox or the excellent Multitronic CVT, whose manual mode now offers 8 speeds. All engines are competitive against BMW 3-Series Coupe, especially the 1.8 TFSI. The Valvelift 3.2 V6 is also a willing engine, if not as strong as the super-torquey 3.0TDI. The latter produces 369 lbft of torque from 1500-3000 rpm, enabling the A5 to sprint from zero to 60 mph in only 5.7 seconds with the help of Quattro traction. Most people regard the 3.0TDI as the best engine of the range. However, one should note that it is not as smooth and quiet as 330d or CLK320CDI. Besides, its extra weight means the car is less keen to change direction than the lighter petrol V6.

In terms of engines and performance, A5 runs neck to neck with BMW 3-Series Coupe. But what about chassis dynamics ? Disappointingly, despite of all the claimed improvement to drivetrain layout, steering and Quattro system, A5 still rides and handles like old-school Audis. While there is plenty of grip and little body roll, the chassis continues to feel heavy at its nose. It does not steer as keenly as the BMW. It runs into terminal understeer at tight corners. It does not offer any throttle adjustability, so the driving experience is uninspiring. The ride quality is also poor. Its suspension is stiff and only rides comfortably over the smoothest surfaces. Again, this is an Audi designed for Autobahn while ignoring all other countries.

Since RS4, Audi has made a lot of improvement on dynamics, especially in the recent TT and R8. Just when we expect to see another forward leap, A5 actually winds back. We cannot understand how it could wasted such good materials and resulted in packaging, handling and ride so poor. Now the guys at Munich must be laughing.
Verdict:



| | |
| --- | --- |
| Published on 1 May 2007 | All rights reserved. |
S5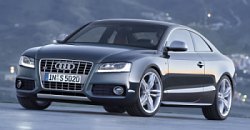 Before the arrival of RS5, S5 is the highest performance model of the A5 range. Compare with its lesser brothers, it has stiffer and lower suspensions, a front suspension tower bar for reinforcing chassis, 18-inch 245/40 tires (optional 255/35ZR19), larger brakes and, of course, a more potent 4.2-liter V8. The same 40/60 Quattro system is compulsory in this model, so is a 6-speed manual gearbox (although dual-clutch gearbox is expected later). Outside, the biggest differences are the more aggressive front bumper, skirts and a single-frame radiator grille added with vertical chromed bars.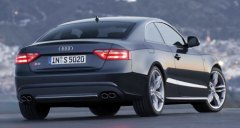 Undoubtedly, the V8 engine is the focus of the car. Transplanted from S4, it has all the technologies a high-performance engine needed - all-alloy construction, DOHC 32 valves, FSI direct injection, dual continuous variable valve timing and a two-stage variable intake manifolds made of magnesium. The result is 354 horsepower at 7000 rpm and 324 lbft of torque at 3500 rpm. This engine is rev-happy yet offers plenty of low down torque. For example, 85 percent of the maximum torque is available from 2000 rpm. This allows remarkable in-gear acceleration, saving the need to touch the notchy 6-speed gearbox too often. In addition to the excellent traction offered by Quattro, the S5 accelerates from 0 to 60 mph in only 4.9 seconds, some 0.3 second faster than the twin-turbo BMW 335Ci, its closest rival.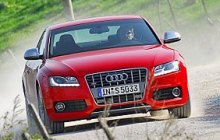 Not so good is the chassis dynamics. Given the more sporting pretension of S5, the result is even more disappointing than the rest of the A5 range. Its harder suspensions make the ride even harsher around town or on back roads. Its bigger engine makes the car even more nose-heavy. It feels big and unwieldy in twisty roads. Although the 4-wheel-drive and grippy tires offer a secured handling, it just fails to turn into corners as eager as a sports coupe should. The steering might be quick and precise, but it is too light and lack of feedback. Apart from the engine and performance, this car is shamed to wear the S-badge.

Overall, the S5 is a fast but unexciting drive. Although it is faster than BMW 335Ci, the latter is a far superior driver's car. The BMW is also much more rounder, with excellent ride, good rear seat space and far better fuel consumption (29.7mpg vs 22.7mpg combined). Moreover, there is a huge price difference between the two cars - £40,000 for S5 and £34,000 for 335Ci. Apparently, the Audi is seriously overpriced. Our choice cannot be any clearer.
Verdict:



| | |
| --- | --- |
| Published on 26 Jul 2009 | All rights reserved. |
A5 Sportback

| | |
| --- | --- |
| | Sportback sits something between A5 coupe and A4 sedan... |
The borderline between sedans and coupes get mushy with cars like Mercedes CLS and Volkswagen Passat CC. Audi joins the new segment with A5 Sportback. Based on the A5 coupe, with its wheelbase stretched for 60 mm to accommodate a pair of full-size rear seats, adding rear doors to ease rear passenger access and a large hatchback door to make loading cargo easier, the A5 Sportback sits something between A5 coupe and A4 sedan. Compare with the latter, it is slightly wider and lower, implying a sportier handling. The sleeker look, with a swoopy roof line and flowing waistline, is more attractive than the sedan - and the coupe as well, I would say.

Digging out the difference among A4, A5 and A5 Sportback has little meaning, because all of them are based on the same underpinnings. As a result, the Sportback shares its siblings' 40:60 Quattro system, 7-speed S-Tronic box, electronic adaptive damping, Dynamic Steering (i.e. active steering), Audi Drive Select (i.e. comfort/sport mode control) and a range of advanced engines. Our pick of the range is not the range-topping 265hp 3.2 Valvelift V6, but the cheaper and far more frugal 2.0 TFSI Valvelift four-pot which produces enough power (211hp and 258 lb-ft) to do 0-60 mph in 6.3 seconds when coupling to Quattro traction. In the diesel side, the excellent 240hp 3.0TDI V6 is definitely the choice.
| | |
| --- | --- |
| | Nice car arrived at the wrong timing... |
As expected, the Sportback does not alter the driving dynamics of its siblings. It is competent but not as interesting to drive as BMW 3-Series or Mercedes C-class. Like A5 Coupe, the ride is too stiff on S-Line suspension, or too civilized on the standard setup.

The interior shares the same genes with A5. The driver will find the same surroundings except a taller roof frees up the ambience a little. The backseat is strictly for two, but they offer plenty of space for passengers close to 6 feet. As the rear seats are mounted lower than in A4, rear headroom sacrifices by only 5 mm.

Audi expects the Sportback will add 50,000 units of sales annually. The question is how many of those will come from outside rather than stealing sales from its siblings. The arrival of A5 Sportback and BMW 5-Series GT prove that German premium car makers have already exploited their sales potential. Any further growth will need to explore from new segments. Unfortunately, the timing is wrong. With global demand expected to remain weak in the coming year, these cars seems arrived too early.
Verdict:




| | |
| --- | --- |
| Published on 30 Apr 2010 | All rights reserved. |
RS5

| | |
| --- | --- |
| | Quattro GmbH poured all the most sophisticated weapons in its arsenal to the RS5 without the slightest reserve... |
Until now, the A5 range, even in S5 form, has been criticizing for lack of dynamic finesse and driver interaction. In particular, its chassis feels nose-heavy, its steering talks little and its ride rock hard. This mean what originally supposed to be a "modern Quattro" turned out to be a big disappointment. The ultimate version, RS5, is the last chance to save its face. Engineered and built by Audi's performance division Quattro GmbH, whose track records include the very successful (last generation) RS4 and R8, as well as the fast but uninspiring RS6 and TT RS, it is not easy to predict the outcome. However, if Quattro GmbH does its best to the car, it will definitely have a good chance to succeed.

So it is promising to see Quattro GmbH poured all the most sophisticated weapons in its arsenal to the RS5 without the slightest reserve. First is a high-revving 4.2-liter FSI V8. It is a distant relative to the one serving the last RS4, but better in every respect. Output increased by 30 ponies to a total of 450 horsepower. Maximum torque remains at 317 pound-foot, but now available from 4000 to 6000 rpm instead of the previous 5500 rpm. Redline is raised from 8250 rpm to an eye-popping 8500 rpm - yes, higher revving than BMW M3 ! Reduced internal friction, regenerative braking, on-demand water/oil pump and 7-speed double-clutch gearbox resulted in 20 percent lower fuel consumption. Performance is predictably strong - 0-60 mph acceleration takes 4.4 seconds. Top speed is regulated at either 155 mph or 174 mph depending on which option box you tick, yet neither shows its real potential.
| | |
| --- | --- |
| | Power is produced linearly from 2000 rpm all the way to 8250 rpm... but the harder you work, the more reward you get... |
To resist instability at speed, the RS5 has a rear spoiler deployed at above 75 mph. Its pronounced lip spoilers, colored in aluminum, serve to reduce aerodynamic lift as well as drawing cold air towards the oversized cooling intakes. Visual effect is remarkably close to the TT RS, but the RS5 is better proportioned, of course.

More sophisticated technologies can be found in the chassis. RS5 introduced a new generation Quattro system which employs a new, crown-gear self-locking center differential instead of the usual Torsen device. It normally distributes 40:60 torque front to rear. In case of tire slip, up to 70 percent and 85 percent power can be directed to the front axle and rear axle respectively. Besides, the latest ESP and brake hardware allows torque vectoring - by soft-braking the inside front and rear wheels in corner, understeer can be eliminated. If you want more responsive and progressive torque vectoring, tick the option box of Sport Differential, which really uses multi-plate clutches to shift torque between the rear wheels.

The suspensions of RS5 sits 20 mm closer to the ground than other A5s. Like RS4, it incorporates Dynamic Ride Control to contain its pitch and roll due to the nose-mounted engine. DRC links the shock absorbers of the diagonal wheels (i.e. front right wheel to rear left wheel and front left wheel to rear right wheel) through hydraulic. A valve controls the fluid flow rate hence the degree of damping stiffness. This valve is controlled by the Audi Drive Select system, whose Dynamic / Comfort / Auto modes also alter the throttle, gearshift, steering, ESP and torque-vectoring characteristic. More interesting, you can tailor the individual settings of each mode if the default is not your cup of tea.

| | |
| --- | --- |
| | This is the best handling front-engined Audi since the Ur Quattro. |

Fast cars should have great stoppers. The RS5 is no exception. Its front brakes employ monster 365mm dual-cast discs and 8-piston calipers, which compare with M3's brakes like Big Mac versus regular hamburger. If not enough, you can pay premium for ceramic brakes.

But I don't think the ceramic brakes strictly necessary on the road. If you take them, together with the must-have sport differential, DRC and sports bucket seats, you will end up at 20-25 percent premium over BMW M3. Even without the super-expensive stoppers, the RS5 is still at least 10 percent more expensive than its rival.


On the Road



The 4.2-liter V8 is a masterpiece - actually the best part of the car. It is so smooth and free-revving. Power is produced linearly from 2000 rpm all the way to 8250 rpm. There is plenty of tractability at the bottom end, though it is not as manic as AMG's 6.3 V8. However, its strength starts from 4000 rpm, so you are always tempted to access the upper half of its power band. The addictive high-pitch exhaust roar also encourages you to do so. The harder you work, the more reward you get from the sound and power. Such an inspiring experience is rare to Audi.

The 7-speed S-Tronic gearbox is predictably smooth and responsive. The only complaint is its shift paddles, which are fixed to the steering wheel rather than steering column. Swivel the steering wheel in hairpin and you may forget which paddle operates downshift. The German always tries to differentiate from Ferrari for the sake of differentiation.
| | |
| --- | --- |
| | There is a layer of coldness between you and the car... |
The chassis dynamics is very good indeed. Predictably, the sophisticated Quattro drivetrain and massive rubbers generate tremendous grip and traction, resulting in excellent all-weather handling. Now the torque vectoring also tamed its inherent understeer, which is even less than the last RS4. With the control system set at Dynamic mode, the RS5 flows in the twisty with remarkable agility. You can carry huge speed into corner, relying on the powerful brakes to shed speed, the huge grip and torque vectoring to overcome the corner. This is the best handling front-engined Audi since the Ur Quattro.

However, dynamic mode does bring some harshness to ride quality if you are driving on less than smooth surfaces, even though it is more bearable than the stiff-legged S5. Switch to Comfort mode, the ride becomes more forgiving, but body control deteriorates significantly. The best compromise is Auto mode, which switches between hard and soft suspension setting automatically, and works quite brilliantly in the real world. It's no Lotus Evora, of course, but ride quality is no longer the Achilles' heel of this Audi.

What remains its weakness is communication, or the lack of it. No matter how strong its handling and performance is, it does not engage the soul of its driver through the heavy but numb steering, the artificial elimination of body roll, pitch and understeer. You get understand its cornering limit through trial and error rather than the signals it deliver. You have to believe in its competence with your brain, rather than feel its competence with your senses. This leaves a layer of coldness between you and the car, and prevent the RS5 from matching the mighty Quattro. The only area that gel with you is the powertrain, so there is a strange disharmony between the powertrain and chassis.

Thanks to its superb drivetrain and all-weather performance, the RS5 is an excellent cross-country express, especially now with its new found agility and composure. However, as an ultimate driver's car, it cannot beat BMW M3 and Mercedes C63. Both are sharper, more honest and more characterful than the Audi, and therefore more satisfying to drive hard.
Verdict:




| | |
| --- | --- |
| Published on 12 Oct 2010 | All rights reserved. |
S5 Sportback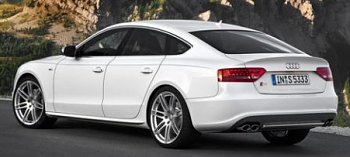 An S5 is essentially an A5 coupe enhanced with V8 power, so naturally, S5 Sportback should be the 5-door hatchback version of S5, shouldn't it ? Sorry, these days things don't happen so straightforward at Audi. The Ingolstadt guys thought that a V8 is probably too frenetic to the 5-door and decided to give it a more rational 3-liter supercharged V6. Yes, the same unit of S4 sedan. It gives away 20 horsepower at 7000 rpm but compensates with stronger torque across the whole spectrum. Needless to say, fuel economy is vastly improved from the V8, while performance loss is non-existent. So why does the S5 Sportback take more than 5 seconds to go from rest to 60 mph despite of its standard Quattro and 7-speed twin-clutch gearbox ? The only explanation must be weight, some 1.75 ton of it. It makes the car slower than either S4 and S5, and robs it of a breathtaking driving experience. Its acceleration is linear and refined rather than thrilling. Ditto the exhaust note, which can't match the V8.

In fact, you can tell a similar story for its handling and ride. The S5 Sportback is undeniably competent – lots of traction and safe handling from the 4-wheel-drive system, easy control thanks to the S-Tronic gearbox and well-calculated compromise between body control and ride quality. However, it is just not very fun to drive. Even if you tick the optional active differential and active steering, it still lacks the incisive response and feel of M3 or C63 AMG. Like most other fast Audis, you can feel it employs a lot of technologies to mask its flaws, but also filters away all feedback in the process.

Fortunately, this car still has a mass-destruction weapon – Style. It's beautiful enough to lure buyers from S4, even though it asks for 10% more money. To me, S4 is more sensible to buy, whereas BMW 335i is still the class leader.
Verdict:




| | |
| --- | --- |
| Published on 21 Oct 2011 | All rights reserved. |
S5 3.0TFSI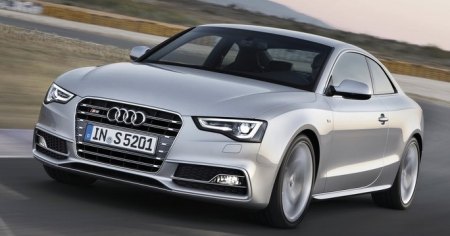 The trend for downsized turbocharged motors is unstoppable. We have seen Volkswagen replacing R32 with the four-cylinder turbo Golf R, Hyundai ditching V6 in its Sonata and BMW substituting its traditional straight-six with turbocharged four. Now Audi is also abandoning its 4.2-liter V8 in the S5. Taking its space is inevitably the 3.0 TFSI supercharged V6, which is already serving S4 and S5 Sportback. The transplant reduces CO2 emission dramatically from 283 to 190 grams per kilometer, or a saving of 33 percent !

Admittedly, not all that savings come from the reduction of cylinders. Part of it is contributed by the 7-speed S-Tronic twin-clutch gearbox, which is introduced to the S5 coupe for the first time. In the default automatic mode it employs lazier, fuel-saving shift patterns. Other contributing factors include the automatic engine stop-start and the new electromechanical power steering – both are now standard on the whole facelifted A5 range as means to enhance efficiency.

Talking about facelift, the S5 enjoys a style developed further from the new A6, in particular the angular headlights (with integral LED daytime running lights) and a trapezoidal grille. It is more elegant than before, but the S5 is still far from the most beautiful coupe that Walter de Silva wanted us to believe. Other improvements come together with the facelift are new Quattro system with crown-gear self-locking center differential, brake-actuated torque vectoring, optional sport (active rear) differential and Audi's Drive Select control system – all are benefited from the flagship RS5. The MMI and infotainment system have been improved, too.

What about the supercharged V6? At 333 hp, it produces 21 horses less than the outgoing V8, but its peak torque equals to the latter, and the torque curve is flatter (although the V8 was hardly peaky). This wider power band, together with the upgrade to 7-speed S-Tronic box, allows Audi to claim a 0.2 sec reduction to 0-60 mph, resulting in only 4.7 seconds. It is slightly quicker than BMW 335i Coupe, more so than Mercedes C350 Coupe, but not up to the level of M3 and C63 Coupe. Price-wise, the S5 is also sandwiched between the two groups, so I would say its performance is reasonable.

In our last report of BMW Z4 sDrive28i, we were not convinced by the switch from six to four cylinders. But going from eight to six cylinders is another matter. The Audi supercharged V6 is as smooth as the outgoing V8. It also sings very well, if not as characterful as the V8. Moreover, on the road you can feel the wider power band brings better response, so the quicker acceleration figure is believable.

In terms of driving thrills, the revised S5 is still a bit cold compare with some really great driving machines. Its electromechanical steering, though responsive and well weighted, is not totally transparent. The combination of new Quattro system and sport differential might have reduced understeer in corners, but still you can feel the weight it carries up front and the electronic trickeries working busily to correct things. Equally busy is the ride over bumpy roads, especially if you engage Dynamic mode. What you can't deny is its ease of driving. With abundance of traction, torque and countless of electronic driving aids, the S5 can cover ground quickly yet effortlessly.

Compare with RS5, the S5 offers 90 percent of its talent at 75 percent price. That seems to be a bargain. However, the best of the family is perhaps the Sportback version of S5, which has received the same facelift. It offers proper rear accommodation and a prettier look. Both cars are not perfect, but they should enjoy plenty of survival space as 3-series coupe is getting old and C-class coupe is underachieved.

Verdict: