Audi A4 and S4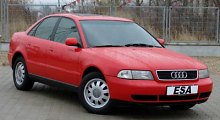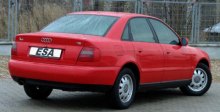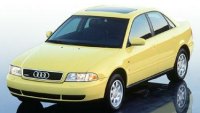 Being the most important Audi car since the original Quattro of 1980, A4 found the new way and established a new image for Audi. In the 80's, Audi was virtually a brand with no character and image at all. Although Quattro established the sporty image for a while, the application of its 4 wheel drive system on all other saloons received less welcome. The 80, small in space but high in price, failed to identify itself. The 90, orignally wanted to promote its sporty image, failed to provide real performance because of over-weight. The 100 stood between the bread and butter big sedan like Renault 25 and the prestige Mercedes W124, but it failed to impress buyers of both categories. Finally, the 200 had some success in being a sporty saloon, but this market would never attract big sales. Once and once again, Audi found itself hard to identify itself as the same kind of BMW/Mercedes or Europe's big six like Ford.
Enter the 90's, it eventually find its way - Between BMW and Mercedes. In terms of performance and driving fun, it has to be close to BMW. For quality, it should be comparable with Mercedes. In addition, to distinct itself from these 2 brands, Audi has to establish a more Niche and Young image, through styling and packaging. Of course, if without the chassis sharing policy with Volkswagen it would never achieve all these in a competitive price.

The first new model under this policy is A4. Since it would provide the basic chassis for VW Passat, Audi gained bigger budget to develop all it needs - the 5 valves per cylinder 1.8 engine, the multilink suspensions and a carefully designed body structure. As a result, it achieved considerable improvement over its predessor, 80.

Its overall length is shorter than 80, while width grown 38mm and height remain similar. Although exterior dimension has not much change, the interior space, expecially leg room in rear seats, increases a lot and so does the boot volume. Audi has finally solved the most confusing problem of 80, not only without any sacrifice but also has a weight reduction of 45kg ! Thanks to the clever packaging.

With high spec suspensions - multilink in the front and trailing arm at rear, handling really comes close to BMW's mighty 3 series, simultaneously offering comfortable ride. Although some serious drivers may argue for the lack of final involving feel of the BMW, Audi's high quality packaging and superb interior material should make the Munich brand feel shame. Moreover, its oval look help establishing a dynamic and niche image.

S4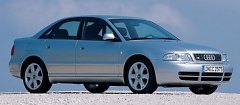 A

udi's "S" model is the same as the "M" model of BMW. It simply means "Sport". However, unlike BMW, Audi used to boost power by using turbocharging. So is S4.

Base on he 2.8 litres five-valves-per-cylinder V6, the bore is reduced slightly, and then 2 small KKK03 turbochargers and a pair of intercoolers are added to boost the power to 265hp and 295lbft. While the power is not so impressive compare with M3 and C43, the wide spread of torque should make it more useable than any rivals - the peak torque appears continuously between 1850rpm and 3600rpm ! As a result, S4 can sprint to 60mph from standstill in merely 5.5sec, nearly matching M3.

As expected, S4 adopt the famous Quattro 4WD to withstand the increased power. Again as expected, it generates strong grip but fails to provide communicative steering feel as well as the oversteering which appears in rear-wheel drive vehicles.

Once again, Audi fails to develop a really involving fast car to match BMW. Speed is without doubt, grip is respectable, effortness driving is guaranteed, but where is fun ?
Specifications
Model

A4 1.8T

S4

Layout

Front-engined, Fwd

Front-engined, 4wd.

Engine

Inline-4, dohc, 5v/cyl, turbo

V6, dohc, 5v/cyl, twin-turbo.

Capacity

1781 c.c.

2671 c.c.

Power

150 hp

265 hp

Torque

155 lbft

295 lbft

Transmission

5M

6M

Weight

1304 kg

1510 kg

Top speed

137 mph*

153 mph*

0-60mph

8.2 sec*

5.5 sec*

Best competitors

Alfa 156

BMW 318i

Mercedes C class

BMW M3

Mercedes C43 AMG

Volvo C70

Volvo S70 R

Autozine's choice in this class

Alfa 156

BMW M3
.
* Tested by Autocar
---
Copyright© 1997-2009 by Mark Wan @
AutoZine