Audi TT






Debut: 2014


Maker: Audi
Predecessor: TT Mk2





| | |
| --- | --- |
| Published on 18 Sep 2014 | All rights reserved. |

TT, a special name, a special car. Launched in 1998, the original TT was famous for style. Never before had we seen a sports car shaped like this. Never before had we found a small sports car so well built and so desirable – even though the driving experience was less so. Moreover, just like a Jaguar E-type, Lancia Stratos or Porsche 928, its look never aged. Whenever I see it on streets today I am still amazed how the German could create such a shape some 16 years ago (well, the answer is because it was designed by American designer Freeman Thomas). In fact, the design was so original and timeless that we can understand why its second generation failed to replicate.

The same can be said to the new TT Mk3. Audi seems to have run out of ideas – or more precisely, run out of talents, as Peter Schreyer hunted some good guys to Hyundai-Kia – so what we see is a shape barely evolved from the Mk2. It keeps the outgoing car's round shape, although the boot has been made slightly squarer to improve aerodynamics (i.e. an Achilles' heel of the original car) and boost luggage space by 13 liters. To make a difference, Audi decided to work on graphical elements instead. Now the front grille becomes a hexagon, whose sharp contrast to the round shape is virtually comical. Ditto the sharp trapezoidal LED headlights and Lambo-style polygonal intakes. It is still unmistakably a TT, but the coherence in its styling has been lost.


Size-wise, the new TT is remarkably close to the outgoing car. Its wheelbase has been stretched by 37 mm to 2505 mm, but brilliantly, its overall length and height remain unchanged, whereas width is reduced by 10 mm. It is more compact than a Porsche Boxster/Cayman, BMW Z4 or Nissan 370Z, if not as small as the likes of Lotus Elise or Mazda MX-5. In other words, about the same size as Mercedes SLK.

Although the TT is seen as a 2+2 sports car, it has always been derived from the Volkswagen Golf platform, which means it is essentially a hot hatch dressed in sports car clothes. The latest generation is no different. It is built on the latest MQB platform, powered by the same transverse engines, drives through DSG (S Tronic) gearbox and transmits its power to the road via either the front wheels or 4motion (Quattro) system. It goes without saying its weight distribution is not as ideal as a true FR or MR sports car. Steering feel is also more likely to be corrupted by torque. On the up side, the MQB platform gives it a variety of strong and frugal engines, and a cost basis much lower than its BMW, Mercedes and Porsche rivals. That is also a key reason why the TT has always been able to outsell them. In its good time it could shift 40,000 cars a year. Even in its last model year it still managed to sell 18,400 units, all assembled at the Gyor plant in Hungary.


When we say it is built on the Golf platform, the "platform" means component set rather than chassis. The TT does not share chassis with Golf, obviously. While a small portion of its floorpan components are taken from the MQB parts pool, the majority of the chassis is unique. In fact, it is the only MQB variant employing an aluminum-steel hybrid chassis. Its body sides and roof frames are stamped aluminum. Its roof rails, side sills and front crash beam are extruded aluminum and integrated to the structure using cast aluminum nodes (i.e. a feature of Audi ASF). Most body panels, like bonnet, fenders, doors and tailgate, are made of aluminum sheets as well. In total, aluminum accounts for 27 percent of its body-in-white by weight. The remaining, like the floorpan and front structure, are made of either conventional steel or ultra-high-strength (hot-formed) steel like Golf.

That said, its use of aluminum is actually less radical than the outgoing car. Turn to our Mk2 report and you will see its chassis illustration saying 69 percent by weight was made of aluminum. This included the whole front chassis, firewall and passenger compartment floorpan. The new construction is certainly cheaper to build and enables higher percentage of parts sharing with other MQB members. Nevertheless, advancement of technology, cleverer use of steel (there was no ultra-high strength steel back then) and other weight saving measures (like the 5 kg-lighter seats) allow the Mk3 to reduce weight again. In the leanest form, i.e. front-wheel-drive 2.0 TFSI with manual transmission, the TT weighs only 1230 kg, 50 kg less than what we recorded for the old car. Climb higher up the range and the balance is reversed, but the new car offers more power and standard equipment.


The rest of the chassis is more predictable as most components are sourced from MQB. These include the suspension consisting of aluminum-intensive MacPherson struts up front and multi-link at the rear, the latest generation magnetorheological adaptive dampers (standard on TT S), variable-ratio electric power steering and Quattro system employing the 5th gen Haldex multi-plate clutch, which should be slightly lighter and more responsive than before. It does not depart from the old formula.



In the Cabin



The cabin's style and build quality used to be a strength of TT, but the new car really takes it to a new level. The dashboard design is minimalist – simple, clean and tasteful. To do this it gets rid of the usual center console and integrates the infotainment screen into the 12.3-inch TFT instrument panel. This leaves the center console with a trio of jet-engine-style air vents and a slim row of buttons, greatly enhancing aesthetic and simplicity. The relocation of infotainment screen also enhances ergonomics, although touchscreen control has to be abandoned in favour of the tunnel-mounted MMI rotary knob. The digital instrument screen offers amazing clarity and functionality. If you switch on satellite navigation, it will display the map on background with 2 small instrument dials floating on the foreground. It is the next best thing to the huge screen on Mercedes S-class. Meanwhile, sense of occasion is guaranteed by the tasteful use of aluminum accents, chromed rims, soft-touch plastics, Alcantara trims (on TT S) and flat-bottom steering wheel. In addition to tactile switchgears, this cabin feels as expensive as those in cars costing double prices.


Some minor complaints though: the cabin feels a bit dark and confined due to the shallow windows; The driver seat cannot be adjusted as low as a sports car should; The rear seat is a joke to anyone taller than 4 ft 9 in, which is about as useful as that of 911.



On the Road



To me, the greatest asset of the new TT has to be

Speed

. Take the TT S for example, although it is not exactly the flagship model (that has to be the forthcoming TT RS), it is already good for 0-60 mph in an eye-popping 4.4 seconds. Four-point-four! That is faster than a Ferrari 360 Modena or Porsche 911 GT3 managed just 15 years ago. It is also quicker than today's 911 Carrera 3.4 or Cayman GTS. And giving it such performance is only a Volkswagen's mass production EA888 engine, displacing 1984 c.c. across 4 cylinders. Its spec. is basically the same as the version powering Golf R, with twin-variable cam phasing, 2-stage exhaust valve lift, dual-mode direct injection, a larger turbo and stronger internals. Output is rated at 310 horsepower, 10 ponies more than Golf R, and 280 lbft of torque arriving from as little as 1800 rpm. This engine is very well rounded, with good flexibility, smoothness, efficiency and high-end power. The exhaust note is also suitably sporty, if no match to the boxer-6 of Porsche for sound quality. It will do 40 mpg cruising on the one hand, or supercar acceleration on the other hand. The S tronic 6-speed dual-clutch gearbox is good, too, as usual.

Lesser TTs come with either the regular 2.0 TFSI engine with 230 hp or 2.0 TDI turbo diesel with 184 hp, neither could be called tamed.


The next best asset is roadholding, which is not so surprising considering the combination of 4-wheel-drive and 245/35ZR19 rubbers. The old car used to shine in this area, too, but it was associated with endless understeer. The new car still understeers more than desired at the limit – it could be frustrating so on track, but on normal roads the understeer is not obvious until you push it to 8 or 9-tenths. Its turn-in gets sharper, thanks in part to the faster steering rack. The EPS is well tuned for its kind, being precise and nicely weighted. It is not as feelsome as the examples on the rear-drive Porsche Cayman, BMW M235i or Toyota 86 though, perhaps due to the need to mask the front-axle torque. Ultimately, the Audi still sacrifices some driver thrills for roadholding.

Strangely, despite of the same underpinnings as the TT S, Volkswagen Golf R is actually better to drive. It feels more agile and its handling is more adjustable on throttle. It also rides smoother than the Audi on country roads, which is a touch too hard even in Comfort mode. Without the comparison with Golf R, we might be satisfied with how Audi made the new TT. It is undoubtedly faster yet more interesting to drive than the last two generations. It even has one of the most attractive cabins in the industry. Somehow, Audi engineers did not quite fully realize the potential of its underpinnings. Considering its shorter wheelbase and part-aluminum chassis, it could have been easily the best MQB variant in the dynamic front. Unfortunately, it just isn't good enough to break the mold of its predecessors. This is still very much a style-led product.

Verdict:




| | |
| --- | --- |
| Published on 22 Sep 2016 | All rights reserved. |
Audi
TT
RS

People keep making the same mistakes. 7 years ago, Audi put a 340hp 2.5-liter 5-cylinder turbo engine into the TT and created the first TT RS. It toppled everything else in the segment with a 174 mph top speed (yet that was limited electronically) and 0-60 mph time of merely 4.5 seconds. It was compact, grippy and served with Quattro traction. It had all elements needed to succeed. Somehow, its supercar-level performance failed to turn the TT RS into a world beater. Far from it actually, the car was known for dull to drive, lacking the communication and interaction that a car at this performance level deserved. 3 years later, Audi upgraded it to TT RS Plus. It got another 20 horsepower and the option of S tronic dual-clutch gearbox, cutting 0-60 mph time by another 0.5 second. Unfortunately, the car remained dull to drive. It answered a question nobody asked while refused to answer the question everybody asked. That was the Audi way of "improving" things.

History repeats itself. The latest TT RS gets even more powerful – now a full 400 horsepower, a figure reserved for Ferrari GTO a few decades back. It also gets 10 kilograms lighter. The S tronic gearbox gets 7 forward ratios for the first time (BTW, manual gearbox has been dropped). It also gets electronic launch control for the first time. The result is a staggering 0-60 mph time of 3.6 seconds while top speed remained capped at 174 mph. 0-100 mph should be accomplished in about 9 seconds, qualifying the title of "junior supercar". Its performance advantage over rivals in the £50,000 price range gets stronger than ever. For example, the new Porsche Boxster/Cayman S takes 4.0 seconds to do 0-60 sprint, while Jaguar F-type V6 takes 5.1 seconds. It answers the nobody-asked question louder than ever!


At the first glance, the 2480 c.c. five-cylinder motor seems to be much the same as before, but look closer and you will find it has the cast-iron block replaced with an aluminum alloy one, so the engine is a significant 26 kg lighter, which should improve weight distribution. The fuel injection system has changed to dual-mode injection (port + direct injection). The new turbocharger runs a maximum boost pressure of 1.4 bar, up from 1.3 bar on both the old TT RS Plus and the latest RS3. Moreover, its exhaust camshaft has been added with Audi's Valvelift mechanism probably in a bid to lessen turbo lag (like Honda Civic Type R).

Modifications to the chassis are more predictable. The ride height is dropped by merely 10 mm compared with the standard TT while springs and dampers get stiffer. Magnetic adaptive dampers remain on the option list, as are the expensive carbon-ceramic front brakes. Standard steel brake discs measure 370 mm up front and 310 mm at the rear. Wrapping around them are 245/35ZR19 rubbers. If that's not dramatic enough, you can opt for 20-inch wheels with 255/30 tires, which are shown in these pictures. Outside, the TT RS can be easily distinguished from lesser TTs by the prominent front splitter, recessed honeycomb grille, fixed rear spoiler and dual oval exhausts. The first two can be finished in either black or alloy color.

There is nothing wrong with the engine. Yes, the high turbo boost means more lag than desired at lower revs, but with a mid-range thrust so explosive and an enthusiasm sustaining until 7000 rpm, what can you complain about? Moreover, the inline-5's distinctive sound is a lot more delicious to ears than any 4-cylinder rivals, including the new Porsche 718. The dual-clutch box works seamlessly with the engine to deliver rapid acceleration off the line. The strong 4-wheel traction makes good use of the engine power. Powertrain-wise, it is close to perfect.


But not so is the chassis. Despite of the lighter engine, this car still has 59 percent of its weight loaded at the front axle. This explains why the steering feels so numb, although the car's turn-in is sharper than before. The unbalanced chassis also means the default behavior at the limit is understeer, which is most obvious if you push it on a track. On public roads you are unlikely to drive so hard, so it fairs much better and might impress you with its strong grip and traction and a proper sense of agility. However, if you want to power slide the car as in a BMW M2 or Ford Focus RS, you will be disappointed to find out it refuses to do so. Audi claims the updated Quattro system with rear-mounted Haldex multi-plate clutch is more eager than ever to shift torque towards the rear axle, but this happens only when the front wheels spin, so the car is still primarily a front-driver in normal conditions. There is little adjustability or driver interaction to speak of. As a result, the TT RS remains a very effective A-to-B weapon but not a very interesting driver's car.

Another shortcoming is ride quality. While it is better than before, it is still very firm beside a Porsche 718. The Audi just needs those stiff springs to cope with its unbalanced chassis. The good-looking 20-inch wheels don't help either.

After all, the TT RS is not designed to be a sports car from scratch. Built on the MQB platform, it is essentially a hot hatch in sportscar clothes. Problem is, Audi stretches the TT to a performance category too high for its chassis to cope with.

Verdict:













TT 2.0TFSI (Quattro)

2014

Front-engined, FWD (4WD)

Steel monocoque + aluminum spaceframe

Mainly aluminum
4177 / 1832 / 1353 mm
2505 mm
Inline-4

1984 cc
DOHC 16 valves, DVVT, VVL

Turbo

DI

230 hp / 4500-6200 rpm

273 lbft / 1600-4300 rpm

6-speed manual
(6-speed twin-clutch)

F: strut
R: multi-link

-
225/50R17
1230 kg (1335 kg)

155 mph (c)
5.7 (c) (5.0 (c) / 5.2*)

(14.1*)


TT S

2014

Front-engined, 4WD
Steel monocoque + aluminum spaceframe
Mainly aluminum
4177 / 1832 / 1353 mm
2505 mm
Inline-4

1984 cc
DOHC 16 valves, DVVT, VVL

Turbo

DI

310 hp / 5800-6200 rpm

280 lbft / 1800-5700 rpm

6-speed twin-clutch


F: strut
R: multi-link

Adaptive damping

245/35ZR19
1385 kg

155 mph (limited)
4.4 (c) / 4.2*

10.7*


TT RS

2016

Front-engined, 4WD
Steel monocoque + aluminum spaceframe
Mainly aluminum
4191 / 1832 / 1344 mm
2505 mm
Inline-5

2480 cc
DOHC 20 valves, DVVT, VVL

Turbo

DI

400 hp / 5850-7000 rpm

354 lbft / 1700-5850 rpm

7-speed twin-clutch


F: strut
R: multi-link

Adaptive damping

255/30ZR20
1440 kg

174 mph (limited)
3.6 (c) / 3.4* / 3.6**

8.6* / 8.4**










Performance tested by: *C&D, **Autocar









TT / TT S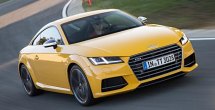 TT RS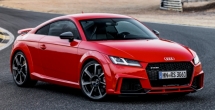 Copyright© 1997-2016 by Mark Wan @ AutoZine