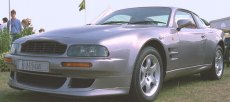 Aston V8, originally called Virage, is an old-fashion british sports car. It is heavy, bulky and not powerful enough to offset its near 2 tons weight. The only advantage is the leather and wood-rich cockpit which reflects British's traditional craftsmanship.

Its more powerful brother, Vantage 600, has far better performance. Despite even heavier than V8, its Eaton superchargers help increasing the power and torque dramatically to 600hp and 600lbft, thus cut 0-60mph time to only 4.3sec, very fast for a car weighing 2 tons ! In addition to the 300km/h+ top speed, it is in the super car territory. However, no matter how powerful it is, its chassis still lags after Ferrari, Lamborghini and Porsche for some 20 years. Too long, too heavy, too high center of gravity makes it more likely to compete with Bentley instead.

Picture by courtesy of Tim Cottingham.