Ascari KZ1

Debut: 2005
Maker: Ascari
Predecessor: no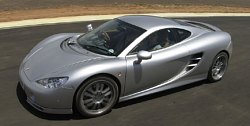 Ascari is an England-based sports car specialist born in the mid-90s. Its first car, Ecosse, was a 200mph mid-engined supercar designed by Lee Noble (before he started his own company). The Ecosse attracted Dutch businessman Klaas Zwart to invest and eventually bought the company. However, only 28 Ecosses were sold.

Ascari is apparently named after the legendary Italian GP racing driver Alberto Ascari. However, it has no relationship with the Italian's family, thus officially speaking Ascari is the short-write of "Anglo Scottish Car Industries". Don't laugh !

Naturally, the company's second supercar, KZ1, is named after Klaas Zwart himself. It was first shown to public as a prototype in 2002 but since then took 3 years for development. The car has a compact size like McLaren F1 and employs similar carbon-fiber chassis for lightness. A tuned BMW V8 produces 500 horsepower, allowing it to slip in the space between limited production supercars like Ferrari Enzo and series production sports cars like Ferrari 360 Modena.

That was a perfect plan… until the arrival of Lamborghini Gallardo and Ferrari F430. These cars came close to the Ascari in terms of power to weight ratio, have a more desirable brand name yet cost just half the price. In fact, at £235,000, KZ1 is closer to Pagani Zonda. Eventually, Ascari decided to build KZ1 as a limited production run of 50 cars to ensure its desirability to collectors. Alternatively, you can get a membership of Ascari's race resort in Spain to drive the KZ1 in its dedicated racing track. Pay member fee instead of buying the car. Zwart is a flexible businessman.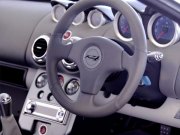 KZ1's smooth, flowing look is one of the most beautiful designs in sports car industry. Unlike other supercars, it refused to go wild. It praises good proportion and balance. It conforms to the human's inherent sense of beauty. Its shoulder line flows smoothly from the nose over the front wheelarch, rising to the rear wheelarch. Its Peugeot 206-sourced headlamps integrate surprisingly well with the nose to deliver a sharp look. Rear overhang is very short, therefore an electrically-raised rear spoiler is employed to increase downforce at speed.

The door is conventionally hinged. Once enter the cabin, you will find a conventional looking but elegantly decorated environment. All surfaces are trimmed with Connolly leather or Alcantara. The dials have aluminum crowns and the center console is covered with brushed aluminum. Fit and finish is good. What it lacks is a little more sense of occasion that you found in Zonda. However, the KZ1 cabin is richly equipped - standard equipment include air conditioning with climate control, CD player, central locking and NavTrak security tracking system. The driver is wrapped with Sparco carbon-fiber bucket seat. Driving position and the relation to steering and pedals are generally good.

By supercar standard, KZ1 is very compact. This remind me of another British supercar, McLaren F1. In fact, KZ1 measures almost the same length and height as F1, and it is just 3cm wider. Compare with Ferrari F430, you will find the Ascari being 21 cm shorter, 7cm narrower and 7.5cm lower. You can see how small it is.

Like McLaren F1, its chassis is a carbon-fiber tub and enclosed with full carbon-fiber body. All suspensions are classic double-wishbones with conventional dampers. Steering is electrically assisted. Braking is provided by AP racing brakes with ABS. The car weighs 1330 kg in dry, some 80 kg heavier than Zonda but probably a couple of dozen kilograms lighter than Ferrari F430.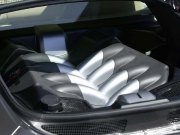 What made it heavier than we expected is the mid-mounted BMW 5.0-litre V8. It comes from the previous generation M5, in which it weighed 239 kg. In the M5, this engine produced 400 horsepower at 6600 rpm and 369 lbft of torque at 3800 rpm. In the Ascari, it pumps out 500 horsepower at 7000 rpm and the same torque at 4500 rpm. Ascari did not reveal who did the tuning, but it could be Hartge, which tuned the BMW V8 for Ecosse, or other BMW tuners such as Alpina. The tuning did not involve any change to internal parts such as pistons, con-rods or crankshaft. It only modified the intake and exhaust manifolds, the Vanos variable valve timing and the engine management software.

You may question how these changes can liberate another 100 horsepower, especially it occurs at just 400 rpm higher than the M5 engine. Does it really possess a full 500 horsepower ?

Probably not. Although the modified BMW V8 sounds more urgent than the M5 engine, the KZ1 does not feel any faster than Ferrari F430 and Lamborghini Gallardo. Officially it claims 200 mph top speed and 3.7 seconds from 0 to 60 mph. In reality it is probably slightly off these targets. That is still a serious performance, just fails to match its supercar price tag.

The KZ1's chassis was tuned by ex-Lotus engineers. Its suspensions are set very firm to resist the slightest roll. On non-smooth surfaces they transfer a fair amount of noise and harshness to the carbon fiber body and vibration to the steering wheel, but the car remains settled and balanced. Unlike McLaren F1 or Ferrari Enzo, its less powerful engine does not overwhelm the chassis. This means it feels easier to drive and more confident to exploit on normal roads.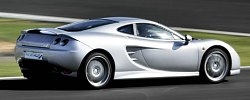 As the steering is crisp and responsive, the compact mid-engined machine turns into corners agilely. However, at the limit it does not feel very confidence inspiring. Perhaps the suspension setup is too stiff, there is little roll-induced steering feel changes. Moreover, the chassis biases too much towards understeer in tight corners.

Overall speaking, Ascari KZ1 is not as exciting to drive as Ferrari F430. It does not show any advantage in performance either. It would have been better if it started life with BMW's new V10, which in stock form already delivers more power than the current KZ1. However, even with 550 or so horsepower on tap, it would be hard to justify the double price over F430. Compare with Pagani Zonda or the like, Ascari KZ1 does not feel very memorable or exclusive. Despite of its beautiful design, I believe it will be forgotten quickly.


The above report was last updated on 18 May 2005. All Rights Reserved.