Alfa Romeo Brera
Debut: 2005
Maker:
Alfa Romeo
Predecessor: GTV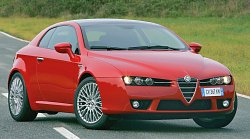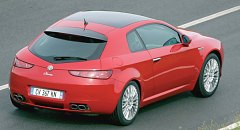 There is only one brand in the world can capture human emotion as strong as Ferrari. It is Alfa Romeo. Alfa knows so well how to make cars desirable: everybody loves beautiful cars, so it hired the best designers in the world to create some of the most beautiful cars ever made. For example, Pininfarina designed the Alfa Duetto, 164 and GTV; Giugiaro styled Alfetta GTV and Sprint; Zagato involved various Giulietta and Giulia special editions; Franco Scaglione shaped Type 33 Stradale; Marcello Gandini penned Montreal; Walter de Silva drew the 156… Not only that, Alfa gave the designers high degree of freedom to explore their imagination. Then its engineers worked hard to realize the designs. I suppose this is why Alfa Romeo could create so many beautiful cars during the past 50 years.

Brera was born in the same way. It was originally a concept car designed by Giorgetto Giugiaro for the 2002 Geneva motor show. Its name was taken from the Brera district of Milan, where art, history and fashion meet. The show car had an unusual shape, being a crossover between hatchback and coupe. Its long bonnet, short tail, low and wide stance delivered a muscular and sporty image. Its sleek nose integrated beautifully with Alfa Romeo's triangular grille and naked eyes consisting of 3 round headlamps each side. This tasteful front end design eventually found home at the 159 sedan, also Giugiaro styled.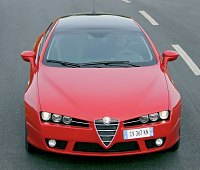 Originally, the Italdesign show car was said to be powered by Maserati's 400 hp V8 and drive the rear wheels through Maserati's transaxle gearbox. However, Alfa got interested with its attractive look and decided to use it as the successor to the long-serving GTV and Spider. While retaining the design mostly unchanged, Alfa productionized it by using the platform and engines of 159. This means the Maserati V8 was replaced by a transverse four-cylinder engine and V6, while the RWD drivetrain was replaced by FWD, or 4WD for the top model. As a result, the car degraded to a more affordable segment.

Basically, Brera is built on a short-wheelbase version of the 159 platform. Its 2525 mm wheelbase is 175 mm shorter than the sedan. The two cars not only share 55 percent components but they look very similar from the nose to the A-pillar. Thereafter they differ - the Brera's windscreen is more steeply raked and its roof is 45 mm lower. Its tail is much shorter than the sedan and it incorporates a tailgate for accessing to the useful, 300-litre luggage compartment. The Brera is believed to retain the immense stiffness of the 159 chassis, but it is 20-110 kg lighter than the sedan with equivalent engines, so it finds extra performance in this way. Moreover, the lower center of gravity, shorter wheelbase and sportier suspension setup should make it sharper and more agile in corners.

According to testers, the car looks very sexy in fresh, especially painted in the traditional Alfa Rosso. It is definitely one of the contenders of this year's AutoZine design award, although Citroen C6 will be hard to beat. The attractive design spreads to the interior as well. Here, the basic dashboard and console are shared with 159 again, but why not? especially the 159 cabin looks so wonderful and whose ergonomics are the best ever seen in an Alfa. You sit even lower in the Brera, facing the sporty twin-dial dashboard and aluminum-faced, driver-oriented console. The visual effect is so delicious, so tempting. The beautiful leather seats offer the right support and comfort. They also provide plenty of space - in case you are sitting up front. Due to the fast rear screen and a wheelbase even shorter than the GTV, you can't ask for a proper rear seat. Small children will be ok, but no adult please…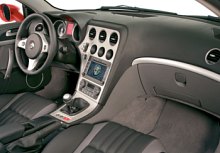 One thing we must open another paragraph to mention is quality. No matter how desirable the Alfa cars of the past, they couldn't escape from the criticism for poor quality and reliability - remember how rusting ruined the opportunity of Alfasud for becoming as successful as Volkswagen Golf ? Not so from now on. Since BMW man Karl-Heinz Kalbfell joined Alfa as chief executive, he has been turning around the quality aspect of the Italian company. He took some of his old BMW colleagues to Alfa to fix the quality problems. Now the improved quality is evident in the Brera. The materials are high grade and the fit and finish is up to the very high industry standard. Admittedly, the help from Pininfarina is also very important. Having been producing Duetto / Spider and GTV / Spider for Alfa Romeo continuously from 1966 to today, Pininfarina is once again granted the contract for assembling the new Brera in its Turin factory, although the car was designed by its arch-rival Giugiaro. I am glad to see such a legendary partnership continues. I am even happier to see Pininfarina raises its quality standard together with Alfa Romeo.

Another thing making Alfa cars so desirable is engine. Since the very early Giulietta Sprint, Alfa's twin-cam engines have been renowned for power, free-revving and sound quality. This tradition was carried over to the V6 and twin-spark straight-four of the outgoing GTV. In the 159 and Brera, these engines were finally replaced by GM's global four-pot and V6 engine to reduce cost. However, Alfa Romeo insisted to use its own cylinder head and intake manifolds to produce the right noise, and its JTS direct injection to boost compression ratio and power.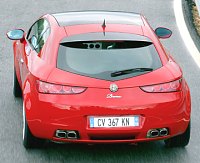 There are 3 engines in total. If you are a true fan to Alfa Romeo, you can forget the 200 hp 2.4-litre 20V inline-5 turbo diesel. It is a great engine by diesel standard, but no diesel engine in this world worth the Alfa Romeo name, unless one day you can make a diesel sing at 7000 rpm.

Naturally, the choice is between the 2.2 JTS four-pot and the 3.2 V6. The 2.2-litre DOHC 16V engine has virtually all sophisticated technologies you can imagine, namely, all-alloy construction, twin-balancer shafts, continuous variable valve timing at all camshafts and JTS direct injection. It produces a remarkable 185 horsepower, 20 up from the outgoing four-cylinder GTV. Unfortunately, the Brera also gained 100 kilograms from its predecessor, that's why it takes as long as 8.1 seconds to accelerate from 0 to 60 mph. If you take the elevated price into account, you may be even more disappointed. There are many cars cheaper yet faster. The Brera won't match them for performance per dollar. However, if your priority is quality instead of figures, then the Alfa 2.2 would be a perfect engine. At the bottom end it produces abundance of torque, at the top end it revs smoothly and eagerly beyond 7000 rpm. Moreover, which engine can produce a sound as beautiful as this one?

The answer is the V6. Alfa proves that it can really do miracle to GM's global V6, which sounds so flat in the form of Saab and Opel. Having received the bespoke cylinder heads with JTS, intake and exhaust continuous VVT and specially designed manifolds, the V6 revs freely and produces musical sound. Its 260 horsepower output, accompany with a flexible torque delivery, enables the 1630 kg car to sprint from rest to 60 mph in 6.5 seconds. If that's not enough, then you can wait for the GTA version, which will boost a 300hp version of the V6 and reduced kerb weight simultaneously.


For now, the 260hp V6 Brera is lovely enough. To handle the extra punch, it uses Alfa Romeo's Q4 four-wheel-drive system. A Torsen C differential (which combines front differential and center differential in the same unit) distributes 57 percent torque to the rear wheels in normal condition. In case of wheel spin, the limited slip differential can alter the torque split between 72:28 and 22:78. With the rear-biased Q4 system, the V6 Brera handles fabulously. Excellent traction and lack of understeer let it goes like an Audi S4 - but without the nose heaviness. Its nose turns exactly to where the driver points. Such obedience and accuracy inspire full confidence.

Even without the help of 4-wheel-drive, the Brera 2.2 JTS shows how good its fundamental chassis is. The low-geared steering is quick, weighty and precise. The body control is superb. The ride quality is a massive improvement from previous Alfas. It damps well over poor surfaces, keeping the car calm and tidy. Apart from 159, no previous Alfas displayed such a high level of refinement.

To offer such a high degree of mechanical fineness and quality, naturally, Alfa Brera won't be cheap. It will be priced directly against BMW 3-Series coupe. Some people might regard this too ambitious, but look at its beautiful shape and cabin, then turn to the odd 3-Series, tell me which car catch your emotion. The answer is definitely Brera. The Brera district of Milan is a place combining the best art, history and fashion of Italy. From now on, the name also represent the best design, traditional character and inspiration of Alfa Romeo.


The above report was last updated on 16 Nov 2005. All Rights Reserved.
Spider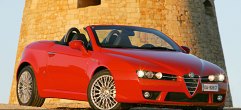 In my mind the Alfa Spider should be a stand-alone model. However, after the original Spider (1966-93) died, Alfa Romeo could no longer support multiple niche models simultaneously. The emergence of German and Japanese roadsters meant far tougher competition than ever. Alfa faced huge pressure to improve quality and reduce cost through increasing economy of scale. In this way, from 1995 the Spider became an open-top version of the GTV coupe. It lost its own character completely. A decade later, the GTV was replaced by Brera, and Spider became the open version of Brera.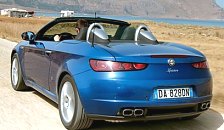 Were this car called "Brera Roadster", I would have been happier. The point is, from the look it is every bit the roadster version of Brera. Like many cabriolets converted from coupes, it cannot escape from the high shoulder line and tail. This mean the occupants sit deep inside the cockpit and they can hardly rest their arms on the door edge like what you usually watched from old Hollywood movies in which people driving relaxingly in their Ford Mustang convertible. Modern convertibles surround their occupants with vast of metal and plastic instead of fresh air. They lost the feel of freedom. They lost the reason for existence.

Back to the Spider, it is built by Pininfarina in its Turin plant like the Brera. Pininfarina also was responsible for the re-engineering and restyling of the car. It deleted the rear seats in order to fit the soft roof storage. A pair of metal hoops was added behind the seat to protect against rollover. They are partly concealed by a pair of stylish housings. The 5-layer fabric roof opens and closes by hydraulic in 24 seconds. It offers good noise insulation. The whole car feels very well built by Pininfarina, having no quality glitches of traditional Italian cars.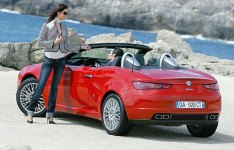 The Spider is 60 kg heavier than the equivalent Brera, which is already a heavy car. This mean the 2.2 JTS engine needs to struggle hard to deliver acceptable performance. The 3.2 V6 with 4-wheel-drive is much more satisfying, but it is not as quick as BMW Z4 3.0si or Nissan 350Z Roadster. After all, this car weighs 1.7 ton !

The addictive vocal of Alfa engines may compensate the lack of performance, but not the loss of chassis rigidity. The Spider has a torsional stiffness of 11,200 to 13,000 Nm/degree (depending on the roof opened or closed), way lower than the Brera's 28,000 Nm/degree. This reflect clearly on poor surfaces, where the chassis shake, vibrate and creak heavily. This ruin refinement as well as handling, especially to the front-drive 2.2 JTS.

Sadly, the conversion from Brera to Spider is far from successful. It is neither an exciting driver's car nor a relaxed cruiser. Were it designed as a stand-alone model, it would not have suffered from the compromises. Now it can only attract customers by its beauty and build quality.


The above report was last updated on 29 Jun 2006. All Rights Reserved.