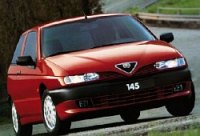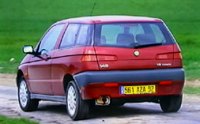 Alfa 145


Being given the upgraded power train and suspensions, Alfa Romeo 145 and its 5-drs version 146 finally makes itself stand away from the dozen of Golf-class competitors in Europe. Competitions in Europe is going to be tougher and tougher. Every car makers are working hard to improve quality, design, practicality while cutting cost. Alfa should have known a lot earlier that it has to be Italy's BMW, that is, emphasis on sporty image, otherwise it can hardly survive. Though late, at least it finally find its way. With the root-deep sporty reputation established by Giulietta, Giulia, Duetto and Alfetta, which car maker can be easier to become another BMW?

The original 145 and 146, which was launched 3 years ago, had stylish look and roomy cabin. Nevertheless, the old boxer engine had passed its golden days. Moreover, the flaw suspensions provided below-average handling and ride, making the car hardly to be called sporty. Eventually, Alfa put the a new 16 valves straight 4 engine to it, further with a heavily tuned suspension and steering mechanism. As a result, the road behaviour is completely transformed.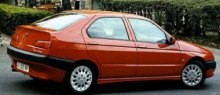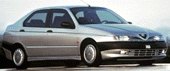 Alfa 146
Engine comes from Fiat's SUPER FIRE series, which also appeared in Brava / Bravo, Coupe and Alfa's own GTV / Spider. Of course, Alfa should have a better engine than those bread and butter Fiats. Therefore its engineers applied its unique twin-spark design which was originated from Alfa 75. Other part of the engines are already outstanding, with variable valve timing, 16 valves and aluminium alloy cylinder head. No wonder I regard SUPER FIRE as the most competent and versatile mass-produced engine currently. Capacity varies from 1.4, 1.6, 1.8 and 2.0, so many ! All of them are rev-happy and have remarkable power output - in 1.6 litres form, 120hp is available. Thanks to the variable valve timing, low-end torque problem which confused the previous boxer engine has gone. No matter in what rpm, the unit is willing to push, though it's still in favour of higher rpm. The 2.0 litres engine came directly from Alfa GTV, which incorporated 2 additional counter-rotating balance shafts to reduce vibration that usually appears in straight-4 engines. As a result, it became probably the sweetest and smoothest 4-cylinder in the world.
The 2.0 litres car adopt the name "Cloverleaf" which traditionally reserved for the hottest version. Cloverleaf gets a ultra-quick steering mechanism from GTV - left to right is only 2.2 turns ! This increase steering feel a lot. In addition to the magnificent engine, it comes very close to the class leader, Peugeot 306GTi-6 in terms of driving fun.