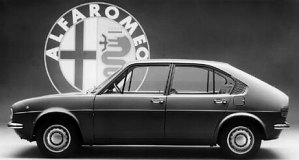 Which car was the best driver's small car in the 70s? Most say Volkswagen Golf GTi, but some people insist Alfasud. Both of them were the very first hot hatches (although it actually provided 4 doors), but Alfasud was born 6 years earlier than the first Golf GTi.

Being the first cheap Alfa, Alfasud was produced in Alfa's new factory in South Italy, thus gave it the name Alfasud ("Alfa South"). Expectation was high, and its production volume was supposed to transform Alfa Romeo into a big car maker. Inevitably, space-saving and cost-effective design was adopted, such as front-wheel drive, MacPherson strut suspensions up front and rigid axle suspensions at the rear.

Highlight was the new boxer engine (also called horizontally-opposed engine, or flat engine). Although returned to single-cam instead of twin-cam, superior smoothness and eagerness made it the sweetest engine available in the class for more than a decade. If the original power of 63 hp from 1186 c.c. was not completely convincing, at least its low center of gravity enabled exceptional handling. Of course, the sport-setting suspensions also contributed very much to the good handling.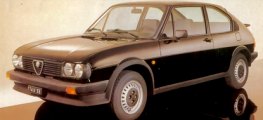 Later, the engine was enlarged to 1.3 litres, thus the car called 1.3Ti. At the end of the decade, it was even upgraded to 1.5Ti, with 105 hp on tap. Performance was of course superb - zero to sixty took just over 10 seconds, which was rocket-fast then. This could be only eclipsed by the 1600cc Golf GTi.

Journalists liked it very much then, but the public was not so. It was soon found that the cheapest Alfa had serious rusting due to using sub-standard steel from Soviet Union. Sales declined and Alfa Romeo's reputation dropped to the lowest level and was not recovered until the late 80s. After 1982, Alfasud was replaced by Alfa 33. A great little car ended its life in a sad way.

Sprint

(1976)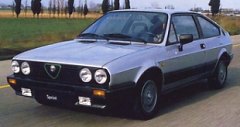 Luckily, the spirit of Alfasud lived - and lived long - in coupe form. Born in 1976, the 3-door hatchback coupe was originally called "Alfasud Sprint", then simply "Sprint" when Alfasud died. You might have heard the label "Sprint" from many other fast Alfas. It was adapted from Italian word "Sprinta", meaning "tuned".



Sprint was a beautiful little coupe. Its exterior styling looked like a mini Alfetta GTV because both cars were designed by the same man - Giorgetto Giugiaro. Also like its bigger brother, it was a geniune 4-seater as the rear seats offered surprising room for a coupe.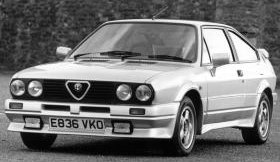 Sprint succeeded the best quality of Alfasud, namely, great handling and characterful boxer engine. Best of all, it did not have the quality problems of its mother. Early cars were quite underpowered, but later cars were upgraded to 95 hp or 105 hp 1490 cc engine (shared with Alfasud 1.5 Ti) and eventually 118 hp 1712 cc engine (shared with 33 Cloverleaf). When the car went out of production in 1989, it was already 13 years old.