911 Turbo S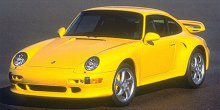 In specifications, 993 turbo S (the last real 911) seemed to be the application of 959's technology into mass production car. No way it actually was.

Its flat-six was purely evolved from 911, having no relationship with 959's engine. Still air-cooled, 2 valves per cylinder, it needed 3600 c.c. to output the same 450 hp. Twin-turbo operated in parellel rather than sequential. The 4-wheel drive was just a simple viscous-coupling design like any Japanese 4WD cars, by no means comparable to 959's PSK system.

Although having similar power, far more torque (431 lbft) and less weight (1456kg), 911 Turbo S still failed to match 959's acceleration as well as top speed. Starting from standstill, it took 3.9 sec to 60mph, 8.9 sec to 100mph and could only top 180 mph, thanks to the lack of PSK and inferior drag.
911 GT1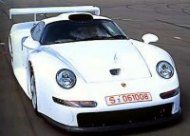 Contrary to 959, the 911 GT1 was purely designed for GT racing. Mechanically it was build on Porsche 962's chassis and engine. Of course faster than 959 in all conditions except top speed (because its aerodynamic was biased towards maximum downforce)

However, it was also the rawest supercar ever built. Very noisy, very stiff ride, very tout control, more turbo lag .... driving fun wouldn't appear outside racing tracks. Of course it was not 959's successor.
McLaren F1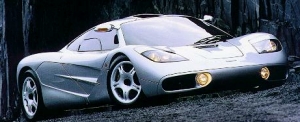 There were a few common between 959 and McLaren F1: both of them set new top speed record, both of them were seriously developed to be the finest, but everything else were different.

F1 followed the Formula One philosophy to make it as light, as low (center of gravity) and as powerful as possible. It chose a normally aspirated V12 instead of turbo. No ABS and 4WD for optimum weight saving. Carbon fiber monocoque was just transverred from racing. It did not show any technology breakthrough, unlike 959.
Bugatti EB110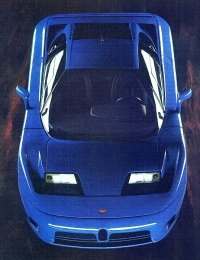 After 959, no other came closer to achieve all-round ability than Bugatti EB110. Undoubtedly, its 4WD combined with mid-engined and wider tyres enable even higher cornering grip and balance than 959. Like the Porsche, wet road security was no problem.

It tried to be sophisticated in engine - V12, 5 valves per cylinder, quad-turbo, only resulted in more turbo lag, though strong power in high speed could push the car to 212 mph. Its cabin, though not as comfortable as 959, had enough space and more grace - have you seen wood and leather in a supercar? You can find them in EB110 GT.

Like 959, EB110GT was not light. Therefore a Super Sport version was also available, with carbon fiber monocoque and other weight saving to achieve 1418 kg, lighter than 959 Sport.

Although Bugatti bankrupted very soon, EB110 was very well developed. It was very refined, unlike most supercars that pursued sheer performance in the price of refinement. Despite of less technology breakthrough for its time, EB110 was the closest car to 959's philosophy.