The Complete Story of 911
---
The Most Memorable 911s in 34 years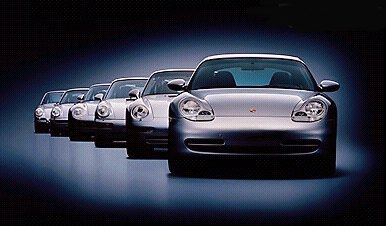 Well, 996 is out of our scope.
Choosing the most memorable 911 from the long list of its family members is really a headache. Performance chasers must choose the Turbo, or even its hotter derivatives such as Turbo S, SE, GT2 etc. Traditional keen drivers might choose one of the various RS or Club Sport, but the standard Carreras also had their advantages in providing the best combination of practicality and performance. Here, base on the general comments from car testers and with my own opinion, four 911s were chosen:

---
911 Carrera RS 2.7 (1973)

Best handling of all

As Porsche gradually built more and more understeer and put more and more weight into the 911, many hard-core 911 fans regard the RS 2.7 of 1973 as the best 911 ever made. Yes, which 911 had crisper handling ? Which one had more uncorrupted steering feel ? Which one sang more beautiful than that 2.7 engine ? There were many modern 911s ran faster and handled more secure, but which of them offered so much driving fun ? No, the Carrera RS 2.7 remains to be the ultimate driving machine among all 911 family members.

RS 2.7 was so successful because of its racing nature - it was designed to dominate the Group 3 GT racing, and it did. Most effort was spent into 3 aspects - weight reduction, engine and downforce.

Weight: 960-975 kg kerb weight made it to be the lightest 911 of all, thus improved acceleration as well as sharpness of handling. Any means could save weight were adopted: thinner body panels, hollow doors, thinner safety glass, lighter buckets, no rear seats, no sound-deadening material and of course no equipment at all.

Engine: the 2.7 engine was one of the first road cars to use Nikasil-coated cylinder, which allowed the bore to grow from 84 to 90 mm while maintaining cylinder wall thickness (hence strength and reliability). Nikasil also reduced friction, thus enabling the 2.7 engine to produce a high specific output of 78 hp / litre. This record was not matched by any naturally aspirated 911 until 20 years later. (911 SC/RS was not included as it was more a racing model)

Downforce: for the first time, the 911 was available with a rear spoiler. This "ducktail" spoiler reduced the rear aerodynamic lift by as much as 75% at high speed.

As a result, the RS is quick even by todayís standard - it could sprint from rest to 60 mph in merely 5.5 seconds and top 150 mph. However, its biggest strength was always in corners. A dozen years ago I saw an illegal supercar street racing in a twisty countryside road (in front of my house). The white RS 2.7 was not really the leader, but it was leading a Carrera 3.2, a Turbo 3.3 and even a Countach QV ! believe or not !

Porsche built a total of 1,036 lightweight RS 2.7, with another 564 finished in fully-equipped form. Today, many of those RS are still racing in classic car races.
| | |
| --- | --- |
| Model | 911 Carrera RS 2.7 |
| Year | 1973 |
| Layout | Rear-engined, Rwd. |
| Engine | Flat-6, sohc, 2v/cyl. |
| Engine Capacity | 2687 c.c. |
| Bore x stroke | 90 x 70.4 mm |
| Power | 210 hp / 6,300 rpm |
| Torque | 188 lbft / 5,100 rpm |
| Gearbox | 5M |
| Top speed | 149 mph* |
| 0-60 (0-62.5) mph | 5.5 sec* |
| 0-100 (0-99.5) mph | 13.0 sec* |
| Weight | 960-975 kg |
* Tested by Paul Frere
---
911 Turbo (1975-89)

Turbocharging revolution

Before 1975, the fastest 911s were all badged "Carrera". The 911 RS 2.7 and RS 3.0, though rarely known as "Carrera", actually had "Carrera" in its official name. Since 1975, another word was used instead: TURBO. With the introduction of turbocharging in the 911 family, all Carreras suddenly became "second class" models because the 911 Turbo was considerably faster and dearer.

The most memorable aspect of the Turbo was speed, the second was also speed, the third was still speed. The first Turbo 3.0 might not be as quick as the hottest RS in acceleration, simply because it was fully loaded with luxury items that most drivers wanted. However, the Type 930 turbocharged engine provided 260 horsepower to enable a RS-beating 153 mph maximum speed and, more important, a lot of mid-range torque for superior in-gear acceleration. In other words, itís an accessible performance car.

The Turbo was one of the first turbocharged road cars - after the awful Chevrolet Corvair and the race-purpose BMW 2002 turbo - and obviously the first one to be regarded as successful. Benefited by the experience of the 917 turbo racing car, Porscheís engineers designed a recirculating valve in the turbo system of the Type 930 engine, hence largely reduced turbo lag.

That doesnít mean the early 911 Turbo easy to drive. Being a rear-engined sports car with so much torque acting to the rear wheels, the Turbo always needed respect from its drivers. Thankfully, the wider rubbers and wider tracks generated tremendous grip and overcame any tail-happy tendency most of the time.

In 1978, the 3.3 litres version added with intercooler even pushed the Turbo to the league of supercars. Taking just 5.3 seconds for 0-60, it beat all supercars including the contemporary Lamborghini Countach LP500 and Ferrari 512BB. It kept the title of "most accelerative production car" until the appearance of Countach QV in 1985. Top speed, however, was bounded to 160 mph, once again saying the 911 Turbo was the most accessible rather than the most spectacular. Itís the most practical and comfortable supercar as well, thanks to spacious cabin, good driving position, comfortable leather seats, remarkable visibility and abundance of equipment.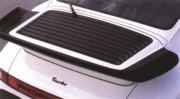 Turbo 3.3 output 300 hp. Higher rear wing housed the intercooler.
The biggest weakness of the early Turbo was, apart from over-the-edge handling, relatively weak brakes. The 3.3 improved that to 4-piston aluminium calipers front and rear, with ventilated discs. Since then, braking became another strong element besides speed.

Thanks to improved ignition and fuel injection, the 3.3 Turbo got 15 lbft extra torque in 1983. As a result, 0-60 reduced to 5.1 sec. In 1989, the long-awaited 5-speed gearbox replaced the old 4-speeder, reducing 0-60 to 4.9 sec. However, these were just minor update. The Turbo 3.3 survived for 13 years without major make-over.
Model

911 Turbo 3.0

911 Turbo 3.3

Year

1975

1978 / 1983 / 1989

Layout

Rear-engined, Rwd.

Rear-engined, Rwd.

Engine

Flat-6, sohc, 2v/cyl, turbo,

K-Jetronic.

Flat-6, sohc, 2v/cyl, turbo,

intercooler, K-Jetronic / KE-Jetronic

Engine Capacity

2994 c.c.

3299 c.c.

Bore x stroke

95 x 70.4 mm

97 x 74.4 mm

Power

260 hp

300 hp

Torque

254 lbft

303 / 318 / 317 lbft

Gearbox

4M

4M / 4M / 5M

Top speed

153 mph*

162** / 162* / 158* mph

0-60 (0-62.5) mph

6.1 sec*

5.3** / 5.1* / 4.9* sec

0-100 (0-99.5) mph

N/A

( '89: 12.0 sec*** )

Weight

1205 kg

1385 kg
* Tested by Autocar
** Tested by Motor
*** Tested by Auto, Motor und Sport
---
964 Carrera 4 (1989-93)

Radical rethinking

Claimed to be 87% new, believed that or not, the type 964 Carrera 4 was definitely the most radically re-engineered 911 up to then. It had new front and rear suspensions, modern aerodynamics, an advanced electronic 4-wheel drive system and a heavily revised engine. Compare with the previous Carrera 3.2, the 964 seemed like a revolution rather than evolution.

The monocoque chassis was basically unaltered, so was the general body shape that characterised 911 for a quarter of a century. However, the smooth, body-integrated and body-coloured front and rear bumpers indicated the great effort spent to aerodynamics. Instead of the predecessorís 0.42, the 964 achieved a remarkable drag coefficient of 0.32 while generating virtually no lift at high speed. Apart from bumpers, the flat undertrays which sealed front suspension, engine and transmission tunnel also played an important role to reduce drag and lift, so did the automatically raised rear spoiler which replaced a fixed wing. The little spoiler normally acted as ventilation for the engine and recessed smoothly on the engine lid. It raised at above 50 mph and dropped down (for the benefit of engine cooling) at under 6 mph. The movement was quite spectacular to look at.
| | |
| --- | --- |
| Rear spoiler rest at low speed ... | ... raised at above 50 mph |
The flat-six engine received so much modifications that it was given a new name, M64 series. Its major mission was to comply with stricter emission regulations, cope with the considerable weight increase of the 964 without compromising performance. Moreover, it was designed to be a "world engine" - suitable for all markets without any modifications. To achieve 250 hp and 228 lbft output (up from Carrera 3.2ís 231 hp and 210 lbft) even in the presence of catalytic converter, it was bored and stroked to 3.6 litres and employed a very high compression ratio of 11.3:1 which was made possible by twin-spark per cylinder and knock sensor. Advancer Motronic program worked in associate with ignition and sequential fuel injection. A 2-stage resonance intake manifold was introduced to improve mid to high speed power.

That enabled the Carrera 4 to sprint to 60 mph in 5.2 sec, slightly quicker than its predecessor. That was very respectable, considering the car weighed an astonishing 250 kg more. It topped 161 mph, which actually matched the contemporary 911 Turbo 3.3, thanks to superior aerodynamics.
For the first time, the 911 received a proper MacPherson strut suspension with concentric coil spring instead of torsion bar. As earlier we have mentioned, the original 911 chose torsion bar in order to give more luggage room at the front. However, as Carrera 4 had the 4WD system already engaged a lot of space, there was no reason to maintain the torsion bar setup. At the rear, a revision of geometry to the semi-trailing arms, plus addition of rubber bushing to pivot joints, enabled a passive rear-wheel steer (inspired by 928ís Weissach axle) to counter the oversteering. The new trailing arm was also made in cast aluminium instead of iron.

However, the biggest technology breakthrough must be the intelligent 4-wheel drive, which was simplified from 959. It normally transferred 69% torque to the rear axle, but in case of slide, the electronic control could send more to the wheels which had most traction. Active rear LSD also keep oversteer tightly in check. It was so effective that, accompany with the changes in suspension geometry, many 911 traditionalists criticised it as an understeerer ! In fact, not every motor journalists were convinced that the new-found traction and security of handling justified the lost of involvement. Many regarded it as the most boring 911 after the SC.

The launch of rear-wheel drive version Carrera 2 relieved some pressure from Porsche, but there was still something to be desired. Like the Carrera 4, it rode quite hard and was not all that beautiful. The RS and RS 3.8 were even harsher to live with.
| | |
| --- | --- |
| Speedster | RS 3.8 |
So, what made it one of "the most memorable 911s" ? Radical rethinking. Without a reform like this, the 911 would have never kept alive and popular in its last 10 years, and its successor 993 would have been either unsuccessful or non-existent.
Model

964 Carrera 4

964 Carrera 2

Year

1989

1990

Layout

Rear-engined, 4wd.

Rear-engined, Rwd.

Engine

Flat-6, sohc, 2v/cyl,

Motronic, twin-spark,

2-stage resonance intake

Flat-6, sohc, 2v/cyl,

Motronic, twin-spark,

2-stage resonance intake

Engine Capacity

3600 c.c.

3600 c.c.

Bore x stroke

100 x 76.4 mm

100 x 76.4 mm

Power

250 hp

250 hp

Torque

228 lbft

228 lbft

Gearbox

5M

5M

Top speed

161 mph**

164 mph**

0-60 (0-62.5) mph

5.2 sec*

5.1 sec*

0-100 (0-99.5) mph

( 13.2 sec** )

( 12.9 sec** )

Weight

1460 kg

1380 kg
* Tested by Autocar
** Tested by Auto, Motor und Sport
---
No one would have expected the already radical 964 would receive even more radical changes after serving for just 4 years, especially if one used to the rhythm of the carís development. Now, we know Porsche's decision was right - the 993 was not only a refined and modernised sports car, it also delivered a lot more driving fun than its predecessor, bringing the company a revival in sales after the slump in late 80s and early 90s. The mission of 964 was finally fulfilled by the 993.

The success of 993 was partially due to the failure of another car, the still-born 989 sports saloon which was cancelled at the last stage of development, after 150 million Deutschmarks spent. Without wasting the investment, Porsche transferred the carís advanced multi-link rear suspension to the new 911. That was a double-wishbones-based, 5-link design with aluminium links and mounted on an aluminium subframe which attached to the body via rubber bushings. The result was vast improvement of wheel control, ride comfort and quietness compare with the semi-trailing arm used by all previous 911s. It also enabled passive rear-wheel steering.

The tracks front and rear were widened by 25 and 70 mm respectively, accompanied with quicker steering ratio, ensured a handling to beat the contemporary Ferrari 348 and Honda NSX. In other words, the Carrera became the best handling production sports car.

The most obvious change in exterior was the overall shape - for the first time, 911's ugly "frogís eyes" headlamps were tilted to coincide smoothly with the body, just like the 959. The front bonnet was raised to enlarge luggage space, although that deteriorated aerodynamic drag by one point to 0.33. Both the front and rear fenders were widened to accommodate the increased tracks, but unlike any previous Turbo or Turbo-Look, the fenders integrated smoothly with the body. That said, the body shell was nearly all-new, although the roof rails and roof panel were obviously unaltered. Chassis strength was increased by 20% without any gain in weight. Overall speaking, the body looked stylish and modern, with high quality painting resulting from the new paint shop and improved fit and finish. The latter must thanks to the introduction of Japanese-style production method by new boss Wendelin Wiedeking.

Least effort was spent to the M64 engine because it was still competitive. Only lighter pistons, lighter con-rods and larger catalyst / siliencer were employed to boost an extra 22 hp to 272 hp. Torque were improved from 228 lbft to 243 lbft. On the other hand, magnesium and plastic were extensively used in various parts thus making the engine 6 kg lighter than 964ís.

Because the Carrera weighed more or less the same as its predecessor while its frontal area as well as drag coefficient were inferior, it performed just marginally quicker than 964 Carrera 2 (according to Auto, Motor und Sportís measurement). The difference between new and old Carrera 4 was more apparent, thanks to a simpler viscous-coupling 4WD system which weighed half (50 kg instead of 100 kg) and generated less frictional loss.

In 1996, Varioram variable intake system, first seen in the 993 RS of the previous year, was added to all 993 engines. Based on the existing 2-stage resonance intake system, it added a 2-stage long and short manifold system to create a 3-stage device to boost torque across the whole rev range. In addition to larger valves, it output 285 hp and 251 lbft. At mid-range, there was as much as 29 lbft extra torque available.

Therefore, the 993 offered great handling while providing refinement of a modern car. It would have been described as PERFECT, if not facing Ferrari's newer F355. Anyway, it is still certainly the most perfect 911 of all.

The 1995 Carrera RS was even better. Employing a 300 hp 3.8-litre version of M64, with kerb weight reduced to 1270 kg by usual measures, further enhanced with sportier suspensions and brakes etc., it was praised as the best handling 911 after the original RS 2.7.

Rear suspension
Model

993 Carrera

993 RS

Year

1993 (1995)

1995

Layout

Rear-engined, Rwd.

Rear-engined, Rwd.

Engine

Flat-6, sohc, 2v/cyl,

twin-spark, Motronic,

2-stage resonance intake,

(Varioram)

Flat-6, sohc, 2v/cyl,

twin-spark, Motronic,

Varioram

Engine Capacity

3600 c.c.

3746 c.c.

Bore x stroke

100 x 76.4 mm

102 x 76.4 mm

Power

272 hp (285 hp)

300 hp

Torque

243 lbft (251 lbft)

262 lbft

Gearbox

6M

6M

Top speed

166 mph**

172 mph**

0-60 (0-62.5) mph

5.2 sec*

5.0 sec*

0-100 (0-99.5) mph

12.9 sec*

N/A

Weight

1370 kg

1270 kg
* Tested by Autocar
** Tested by Auto, Motor und Sport
---
Copyright© 1997-2000 by Mark Wan
Return to AutoZine home page