Overall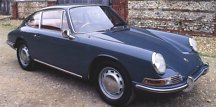 The subdued and pleasing noise from the back tells you where the engine is and so does the freedom from wheel spin and the ability to use a lot of the power on corners. But rear-engined handling characteristics have virtually disappeared - there are many front engined cars which are more sensitive to crosswinds and very fast roll-free cornering can be enjoyed with no worries about losing the tail except in special circumstances. Performance figures show that the 911 is a very much faster car than its production predecessors; a maximum speed of 130mph on 130hp says a lot for the drag coefficient and the acceleration times are astonishing for a 2-litre car weighing over a ton. It really comes into its own on long high speed journeys when the very smooth six cylinder power unit can be kept continuously in its best torque range between 3,000 and 6,000rpm by very free use of the superb, five-speed gearbox - this is no car for top gear drivers. Above all, it has that effortless feeling which suggests that hard driving is what it is designed for and will never wear it out prematurely.....

Engine
The engine doesn't like pulling hard below 1,500rpm and it only gets into its proper stride between 2,500 and 3,000rpm; after this it runs with complete smoothness and lack of strain to the rev limit of 6,800rpm. During the maximum speed runs the tachometer needle was sitting almost exactly on this limit at 130mph. It isn't a silent power unit - at low rpm there is a rumbling, rattling noise, which probably comes from the transmission, but once it rises into useful torque range there is nothing but a smooth mechanical whirr and a hard, deep and very subdued exhaust roar which together form just the right accompaniment to fast motoring in a car this purposeful character.....

Transmission
The synchromesh has that smooth, slicing action which is a Porsche speciality, the ratios are very close together and the gears are almost silent except at low speeds. To be always in the right gear for the present or potential situation demands little physical effort but a certain dedication and forethought which some will enjoy and others disdain.....The clutch operation doesn't quite live up to this standard. It is light but it has a long travel and an 'overcentre' feel.....

Handling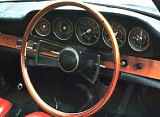 The 911 is the clearest reputation yet of the theory that rear-engined handling problems are insoluble without reverting to extreme counter measures which themselves have undesirable side effects. The basic oversteering influence of a 40/60 weight distribution is counteracted largely by a very high roll stiffness at the front and a considerable difference between front and rear wheel camber settings.....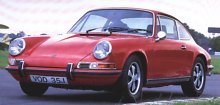 In fact, one might almost criticise the handling on the grounds that it is too neutral - the car can be pushed up to its very high cornering speeds without a clear indication to the driver of what will happen when it finally lets go. On dry roads this doesn't matter very much - it is most stable accelerating round a corner, when it maintains a very mild understeer, but the limits are so high that few people will reach them on public roads. On slippery surfaces the German Dunlop SP high speed tyres still grip tenaciously but the back end will break away if you use too much throttle in a low gear, or if you corner too fast on a trailing throttle - a moderate amount of power gives the best results. If you want to drive near the ragged edge you must remain alert because of the usual early warning symptoms of roll, tyre squeal and attitude change are almost absent.....
.....this gives the steering a rather lively feel - camber changes, bumps, ridges, all feed back their messages quite strongly ( but not harshly ) to the driver's hands, particularly when cornering fast.....

Brakes
An unusual feature of the all-disc braking system is that it uses a duo-servo drum handbrake - the drums are incorporated in the centre portion of the rear discs. This is very powerful.....no fade or roughness....they are light to operate and they showed very high stopping power on a dry road.