27 May, 2017

BMW 8-Series concept



Remember BMW 8-Series? It was produced between 1989 and 1998 as the company's range topper. Based on the then 7-Series platform and fitted with a 300hp 5-liter sohc V12 (later on 326hp 5.4-liter and eventually 380hp 5.6-liter unit on the hottest 850CSi), it was as fast as it was heavy. With only 30,000 copies built, it was not a sales success, but at least memorable enough in our childhood.
Now BMW is resurrecting the nameplate on the successor of 6-Series, as shown in this concept. It is described as very close to the production version (codenamed G17), with only minor details to be revised but expect the same sporty proportion to be carried over intact. The abandoning of 6-Series means BMW will target the car squarely at Mercedes S-class Coupe at a more upmarket segment and charge higher prices. It also implies the car will share the heavyweight powertrains of the current 7-Series, i.e. the 462hp 4.4 twin-turbo V8 and 610hp 6.6 twin-turbo V12. Seems to be going against the downsizing trend, isn't it?
Little has been revealed for the production car's technical details, but considering its substantial power, xDrive seems to be inevitable, which will make the car easily a 2-ton-plus in V12 form at least. Bentley Continental will have a new rival.
Regarding its look, there are high points and low points. It looks like an Aston Martin from some angles, but its purity is somewhat compromised by a bonnet too high (BMW's V8 and V12 use wet sump, remember, unlike Aston V12 or its forthcoming AMG V8). The tail is also unfashionably long, but it might please American who are still fond of Cadillacs in the good old days.
The interior design and use of materials seem to be a real progress from current BMWs, though character is what it is lacking. Lexus has an upper hand these days.
27 May, 2017
Industrial News

More on Mark Fields


Originally I wanted to suggest Mr. Fields to find a new job at Hollywood - he is better looking than many stars, isn't he? - but now it seems my advice can be shelved. It is reported that he will receive compensation, pensions and stock options etc. worthing US$57.5 million in total. Not sure if he will get a free Ford GT as his farewell present though.

25 May, 2017

Geely acquires Proton and Lotus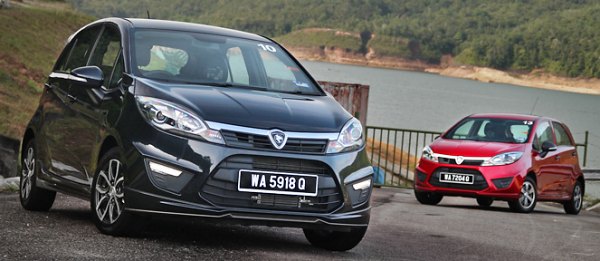 Finally the deal has been made. After searching for a new "foreign strategic partner" (or in our language simply "buyer", as the Malaysian is not willing to lose face) for almost a year, DRB-Hicom has agreed to sell Proton together with Lotus to Chinese car maker
Geely
. It is going to end Proton's status as the semi-national car maker, freeing the government from loans after loans to sustain its life.
Geely has been known for its successful acquisition of Volvo from Ford since 7 years ago, turning Volvo back to form and profitable with its financial support and hands-free management. More recently, Geely shows the promising Link & Co. sub-brand with the help of Volvo talents. By acquiring 49.9% stakes in Proton, Geely hopes to expand its market exposure to Malaysia and Southeast Asia. Hopefully it will acquire the remaining stakes in the future.
Naturally, the Malaysian hopes Geely will do the same as Volvo to Proton, avoiding head cuts while funding its development. However, the most cruicial will be to provide cars for Proton to build, as its current line-ups are really craps. The Link & Co. crossover might be the best hope to the Malaysian, but Geely itself has plenty of unused capacity back in China. How to use Proton's capacity of 350,000 cars would be a big question. Another is how to improve its build quality, supplier networks and efficiency.
Strangely, the price of the deal is not mentioned. Considering the heavy debts Proton is carrying and the mandate to secure jobs, I won't be surprised if it is given for free!
To car enthusiasts, what we care is actually Lotus. DRB-Hicom sells 51 percent of Lotus to Geely for around £50 million, while the remaining 49 percent goes to its owner Mr. Syed Mokhtar Al-Bukhary. Lotus is reported to have finally turned a profit last year, the first time in 20 years! But it is at the price of head cuts and lack of new product development. Now with the help of a stronger and more intelligent parent company, its prospect should get brighter. Let's hope so!
25 May, 2017
Industrial News

Ford sacked CEO Mark Fields


Mark Fields, the handsomest CEO in car industry, has been sacked by Ford suddenly. The 54-year-old executive had been serving Ford for 28 years, and the last 3 years as its top executive, succeeding Alan Mulally. He helped Mulally to carry out "The Way Forward" and "One Ford" strategy that saved the company from bankruptcy during credit crunch and made Ford the first Detroit car maker to globalize its cars.

Unfortunately, after setting new records in 2014 and 2015, Ford's profit slipped last year, and its share price dropped a lot since then. While its trucks are still selling well in America, the US market seems to have peaked already, and the company fails to show any promising future products. Under the leadership of Fields, Ford invests heavily into autonomous driving, car sharing and green technologies, just like any other global car makers. This eats into its profits, but the return on investment is hard to estimate. While the CEOs in other car makers would be praised for visionary ambition, the impatient shareholders of Ford and Jr. Bill Ford opt for alternatives. They showed Fields the door on Monday. His replacement is Jim Hackett, a guy spending most of his life selling furnitures and, ironically, was responsible for the autonomous driving and car sharing development of Ford in the past few years. But then you might argue that Alan Mulally was also an outsider before joining Ford.

19 May, 2017

Volkswagen Up finally goes GTi



Volkswagen Up has been in production for more than 5 years. It should be a good basis for a hot hatch version, but somehow, Volkswagen resisted the call until now. Finally, here comes the Up GTi. Outside, you can see a lot of enhancement to make it look sportier and more attractive, such as the restyled front bumper/intakes, side skirts, rear spoiler and 17-inch alloy wheels. Inside, it mimics the classic Golf GTi to employ tartan fabric seats, plus some red inserts to smart up the interior and a flat-bottom leather steering wheel.
The engine is a higher tuned version of the existing 1.0 TSI 3-cylinder direct injection turbo. Its power is increased to 115 hp, accompanied with a maximum torque of 147 lbft. Power goes through a unique 6-speed manual gearbox to the front axle. Volkswagen claims 122 mph top speed and 0-60 mph in 8.3 seconds, faster than the original
Golf GTi Mk1 1.6
, although by not much. In the A-segment hot hatch class, its chief rivals are to be
Fiat Abarth 595
(145hp or 165hp) and
Opel Adam S
(150hp), both are more poweful. However, the Up GTi is the lightest of them all, tipping the scale at just under 1 ton (997 kg).
At the chassis side, the modifications are predictable, i.e. stiffer suspension setup, 15mm drop of ride height, larger brakes and the aforementioned larger wheels. The standard Up has always been good to drive, so expect the GTi will take it to a higher excitement level.
19 May, 2017
Industrial News

Frank Stephenson reported to return to Mini

Frank Stephenson has been with McLaren since 2008, leading the design of all the modern McLarens you know, from MP4-12C to the latest 720S. However, most of us regard his best talent was to design small cars, as evident in his work on the first New Mini and the current Fiat 500. Now we have chance to see his great work again. Mr. Stephenson is reported to be returning to Mini as design director, taking the vacancy left by Anders Warming, who has jumped to Borgward (owned by China's BAIC). The question is, at 57 and after nearly 10 years working at a supercar maker, can he return to form? We will find out in a couple of years' time. Anyway, I am at least confident that he won't allow designs as unimaginative as the current Mini Mk3 and Countryman to pass through his supervision.

AMG sold 100,000 cars last year!

Thanks to the addition of the lesser '43 models, Mercedes sold 98,235 AMG cars last year, not only a new record but also a sharp jump of 44% from a year ago. Now one out of every 20 Mercedes is AMG.

1M 911 built

Porsche has built the 1 millionth 911, 54 years after its launch. It is a green 911 Carrera S and will be kept at the Porsche museum after a celebration world tour.